Skip Navigation
New & Current Students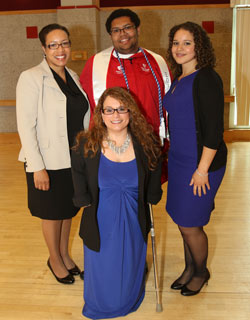 For Newly Admitted EOP Students:
Welcome to Stony Brook! As a pre-freshman admitted to the Stony Brook University through the Educational Opportunity Program, you have a chance to broaden your horizons and participate in rewarding new adventures. In the summer, before other freshmen arrive at Stony Brook, you will have the opportunity to get a head start by becoming familiar with the campus, and the chance to sharpen your intellectual and academic skills by experiencing the rigors of college-level courses.
Below are helpful links to assist you in the next steps of your enrollment, the University and in your preparation for the EOP/AIM Pre-Freshman Summer Program. Please take the time to visit each site and complete the necessary items.
Orientation
Incoming Freshmen are assigned an Orientation date of either Monday, June 4, 2018 or Monday, June 11, 2018.
2018 EOP/AIM Pre-Freshman Summer Academy forms are available on our forms page.
Please feel free to contact us if you have any questions.
For Current EOP/AIM Students:
Students whose semester and or cumulative GPA fall below 2.0 should contact their EOP counselor immediately.
Students in academic jeopardy can get more information from the Department of Undergraduate Education. Please utilize this link to find out university deadlines and policies.