Skip Navigation
Athletic Traditions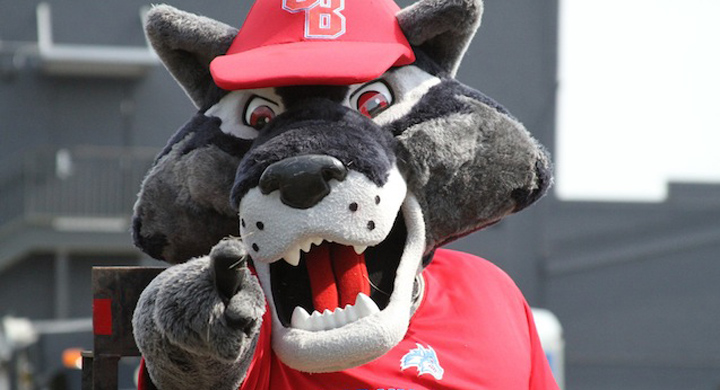 Seawolves
During the early 1950's, when the Stony Brook campus was located in Oyster Bay, the University's teams were known as the Soundmen or Baymen. From 1960 through 1966, we competed as the Warriors. We became the Stony Brook Patriots/Lady Patriots in 1966, and held that name for nearly 30 years. In 1994, in an effort to create an exciting new team identity in line with our move to the Division I level, then-Stony Brook President Dr. John H. Marburger III proclaimed a new team nickname: the   Seawolves. 
The 20 Seawolves NCAA Division I varsity teams include men's lacrosse, baseball, and football, women's softball and volleyball, and men's and women's soccer, basketball, cross country, swimming, tennis, and both indoor and outdoor track and field. Follow us at stonybrookathletics.com.
Mascot
Wolfie is the furry, fun-loving mascot who tirelessly promotes Stony Brook Athletics on campus and in the local community. Wolfie's preferred activities include leading the cheers at Stony Brook athletic contests and interacting with kids and other fans of all ages. Join  Wolfie's Facebook  page.
Marching Band
Our high-stepping, brass-blasting, reed-wringing   Spirit of Stony Brook  Marching Band came together in 2006. After a high-stakes, total-immersion band camp that will live in Seawolves memory, the fledgling bandsmen somehow got their act together in time for Homecoming celebrations. (Uniforms arrived just hours before game time.) The debut was a killer, and the rest is history. Today, our   Marching Band is a polished performance group and a surefire crowd-pleaser that builds Stony Brook spirit at games and events throughout the year.
Spirit Clubs
Stony Brook's  Cheerleading Squad   performs year-round during all home football games, along with all men's and women's home basketball games. The  Dance Team mixes elements of jazz, pom, and funk in their spirited dance routines at home games.  The Pack, Stony Brook's student fan group, is charged with raising the roof at Seawolves games and tailgates.