Skip Navigation
Obituary for Peter Paul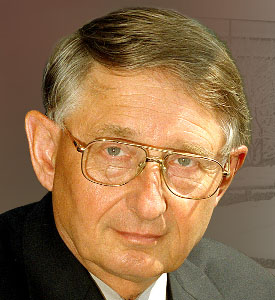 Peter Paul passed away peacefully, surrounded by his loving family at his home in Setauket on March 11, 2017 at the age of 84. Peter was born in Dresden, Germany. He received a PhD from the University of Freiburg and came to the USA for a postdoctoral position at Stanford University, where he met and married Aniko in 1963.
He was a Professor, and later a Distinguished Service Professor, in the Department of Physics and Astronomy at Stony Brook University from 1967 until 2015, serving as chairman twice. He was the recipient of numerous awards. Among them were American Physical Society Fellow, Institute of Physics Fellow, Sloane Research Fellow, Alexander Humboldt Foundation Senior Scientist, and the Order of Merit First Class from the German Government. In 2015, he was inducted into the Long Island Technology Hall of Fame.
In partnership with his colleagues, Peter built a first-class nuclear physics group at Stony Brook which is consistently ranked among the top four in the U.S. In 1973, Peter saw that the future of the group required improving the existing Van de Graaff accelerator at Stony Brook. He spearheaded a small group that developed, designed and constructed the Stony Brook superconducting linear accelerator for heavy ions, the first such machine at a university lab.
In 1980, Peter became a member of the Nuclear Science Advisory Committee(NSAC), that advises the U.S. Department of Energy and the National Science Foundation on the U.S. nuclear physics program. Later, as Chair of NSAC, he led the development of the 1998 Nuclear Science Long Range Plan which led to the construction of the Relativistic Heavy Ion Collider (RHIC) at Brookhaven National Laboratory(BNL).
In 1998 Peter was appointed Deputy Director for Science and Technology at BNL. From 2001 until 2003 he served concurrently as Interim Director of BNL. During his tenure at BNL, the lab made major advances in its large research facilities: RHIC began its highly successful research operation, the $100-Million Center for Functional Nanomaterials began construction; the electron-ion collider was conceptualized as successor to RHIC, and the National Synchrotron Light Source-II was inserted into the DOE facilities construction plan. Peter returned to Stony Brook, where he played an invaluable advisory role to our Nucleon decay and Neutrino research group. After 2011 he continued his engagement as Stony Brook's Associate Vice President for Brookhaven Affairs until his retirement in 2015.
Peter had great foresight in the way physics could be developed, and he helped lay the plans for many new facilities and new institutes. He was one of the first people hired by the young university, and he helped to build Stony Brook from a dream to a reality. He had many opportunities to leave for prestigious jobs at other institutions, but he was fiercely dedicated to Stony Brook and later BNL and stayed to help build them. He inspired many to come join him at Stony Brook and BNL, and he helped to develop their careers by his encouragement and leadership. Many of us will remember Peter for his infinite energy and enthusiasm, never giving any indication that he might slow down at some point. He will be dearly missed.