Skip Navigation

Stony Brook University's mission, vision and very essence are built on the principles of providing equal access to world-class education in a caring environment, where we respect and embrace our differences, take responsibility to protect our local communities, and practice civility at all times. We promote inclusion, welcome freedom of expression, encourage civil discourse, and take a firm stand against divisiveness and insensitivity in all venues and forms.  This site – Caring, Respect, Civility – provides resources and support to help us all remember these values and practice these behaviors. This is more important than ever in today's challenging and changing educational, political and social climate. Together, we can stay Stony Brook Strong, and continue to build and role model the culture that is the hallmark of our University.
Stony Brook University Unites for Suicide Prevention Month
On Monday, September 13, CPO is hosting the Send Silence Packing exhibit, where 1100 backpacks will be displayed on Staller Steps from 9 am to 4pm to raise awareness about the 1100 students who die by suicide annually and end the silence that surrounds mental illness and suicide.  Read More.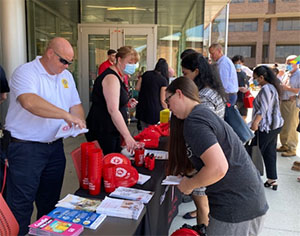 Hundreds of faculty, students and staff members got to find out more about critical university services at August 12's Stronger Together event.
Joan Dickinson, director of community relations for Stony Brook University, recently won the Presidential Excellence Award from the International Town & Gown Association (ITGA), presented in  recognition of  outstanding leadership   through volunteer service or educational achievement.
FROM THE PRESIDENT
Free Speech and Civility


...Stony Brook University is dedicated to open inquiry, knowledge, and insight. As such, free speech and peaceful assembly are fundamental to our mission. True freedom of expression demands that we acknowledge the rights of others to hold and express beliefs different from our own. 
So often this is easier said than done. Inevitably we will encounter speech we believe to be abhorrent, biased, or false. In keeping with our mission and values, we have the right to meet such expressions with a clear and persuasive response, but never with acts that restrain the speech of others...