Skip Navigation

Stony Brook University's mission, vision and very essence are built on the principles of providing equal access to world-class education in a caring environment, where we respect and embrace our differences, take responsibility to protect our local communities, and practice civility at all times. We promote inclusion, welcome freedom of expression, encourage civil discourse, and take a firm stand against divisiveness and insensitivity in all venues and forms.  This site – Caring, Respect, Civility – provides resources and support to help us all remember these values and practice these behaviors. This is more important than ever in today's challenging and changing educational, political and social climate. Together, we can stay Stony Brook Strong, and continue to build and role model the culture that is the hallmark of our University.
FEATURE STORY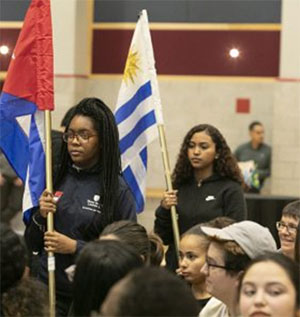 A long-standing Stony Brook University tradition, Hispanic Heritage Month (HHM) is celebrating its 32nd year on campus, focusing on stories and experiences that reflect this year's theme: "Dos Mundos/Two Worlds."
FROM THE PRESIDENT

"Half of the talent base in the world are women. We need to ensure that all of our talents have equitable access and opportunities ..."
See what else Maurie McInnis told GWEM (Global Women's Empowerment Movement) in a recent interview about gender equality, and the high bar SBU sets as a role model for parity and inclusivity.