Skip Navigation
About the Festival
Join us for the annual Shirley Strum Kenny Student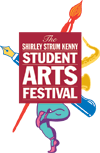 Arts Festival, which showcases the diversity of our students through their creative endeavors. Experience the many talents of Stony Brook University in an entertaining month long celebration showcasing artistic ability. Students, faculty, staff, and the community are all invited.
Calendar
April is for the Arts!
For 2023, the SSK Festival will host both IN-PERSON and VIRTUAL events!
April 6, 2023 - May 3, 2023
More Information Coming Soon!
See All Events
Follow Us

Join us on Facebook!
Student art will be exhibited throughout                            the Festival at the following locations:
Library Gallery, SAC Gallery, Zuccaire Gallery and Tabler Center Gallery.