Skip Navigation
Senator Mario Mattera Hosts Hydrogen Symposium at the Advanced Energy Center
September 21, 2023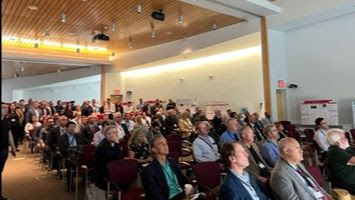 On September 21, Senator Mario Mattera hosted a symposium on the future of green hydrogen at the Advanced Energy Center in our Research & Development Park. Over one hundred representatives from labor, not for profits, and the energy industry joined a large cadre of elected officials across the State including, State Senators Steve Rhoads, Alexis Weik, Elizabeth Krueger, and Thomas O'Mara; State Assembly Members Jake Blumencranz, Ed Flood, Keith Brown, and Michaelle Solages; and government officials including New York State Public Service Commission Chairman and CEO, Rory Christian. 
 
During the morning program, attendees heard from Stony Brook University Provost Carl Lejuez, Senator Mattera, Matthew Aracich, President of the Nassau-Suffolk Building & Construction Trades, and Stony Brook University Professor, Dr. Devinder Mahajan. Afterwards, attendees toured the Advanced Energy Center to learn about the ways Stony Brook is engaging and leading in the field of green-hydrogen. 
 
The symposium then headed to Brookhaven National Laboratory for further discussions and a tour of the Laboratory facility.