Life at Stony Brook
Life is exciting at Stony Brook. You'll find a blend of people, activities, groups, and sports that will take your college experience far beyond academics.
Activities and Clubs
The fun begins with Opening Week and is sustained throughout the year with such events as Homecoming, Midnight Madness, the Roth Regatta, and the Strawberry Festival. A wide variety of lectures, seminars, concerts, exhibits, theatrical performances, movies, and sporting events are also scheduled regularly throughout the academic year.
At Stony Brook, you will find:
More than 400 student-interest clubs and organizations.
Student-run print and online newspapers; a 24-hour-a-day broadcast FM and webcast radio station; one-on-campus broadcast TV station; two student journals; and a yearbook.
More than 30 fraternities and sororities for students interested in building leadership skills, serving the community, creating life long bonds, and enriching their college experience.
Weekend Life Council offers free events every weekend including hypnotists, movie nights, a water park, and so much more.
Intramural and Club Sports — Whether you want to walk on the elevated track, shoot hoops, workout, or register for fitness classes, intramurals and club sports the Hawrys Recreation Center is the place to be!
Athletics
Go Seawolves! Stony Brook's NCAA Division I athletics programs offer a wide range of options for serious competitors and sports enthusiasts. Our new 4,000-seat Island Federal Credit Union Arena is home to the 2016 America East Men's Basketball Champions.
Living on Campus
At Stony Brook University, we offer outstanding academic programs, a thriving research environment, hundreds of clubs and activities, and a dynamic first-year experience in one of six small Undergraduate Communities. Living on campus puts you at the center of everything SB has to offer.
Location. Our six traditional quads and undergraduate apartments are within easy walking distance of the Academic Mall.
Furnishings. All rooms come furnished with an extra-long twin bed, desk, chair, dresser, and bookcase for each resident, have high-speed access to the Internet, and WI-FI. A cable access connection in each room provides premium service which include access to HBO GO App on all your devices.
Computing. All rooms offer high-speed Internet access. Each quad also has its own state-of-the-art computing center open seven days a week, offering daytime and late-night hours for residents.
Fitness. Each quad has its own fitness center featuring Nautilus and Cybex equipment. Some fitness centers offer aerobics classes, and all are staffed by trained students who can provide assistance.
Staff. Our diverse staff includes Quad Directors, Residence Hall Directors, and administrative offices within each quad. Each Residence Hall is supervised by a full-time, live-in professional Residence Hall Director who is available daily for guidance on academic and interpersonal issues.
Transportation. The University bus system provides free service seven days a week around campus.
Our Housing Guarantee:
New freshmen who will be at least 17 years old by Move-In Day of their first semester are guaranteed campus housing, provided the tuition/housing deposit is received and their new student preferences are submitted online by May 1 for the fall semester and December 15 for the spring semester. Those submitting their deposit and new student preferences after these deadlines will be accommodated on a space-available basis.
All new transfers who pay their tuition/housing deposit and submit their new student preferences will be assigned campus housing on a space-available basis. Eligibility will depend upon the timely receipt of both the tuition/housing deposit and new student preferences, as well as the actual availability of space. New transfers we are unable to offer on-campus housing will receive assistance with locating housing through the services of our off-campus housing office.
Because our supervisory capacity is not geared toward the accommodation of those under the age of consent, students who will be under the age of 17 are not normally eligible for campus housing. Such students may contact Mr. Alan deVries, Associate Director of Residential Programs for Administration and Services, at 631-632-6966 or Alan.Devries@stonybrook.edu to request special consideration for campus housing.
Visit Student Affairs for more information on Campus Living.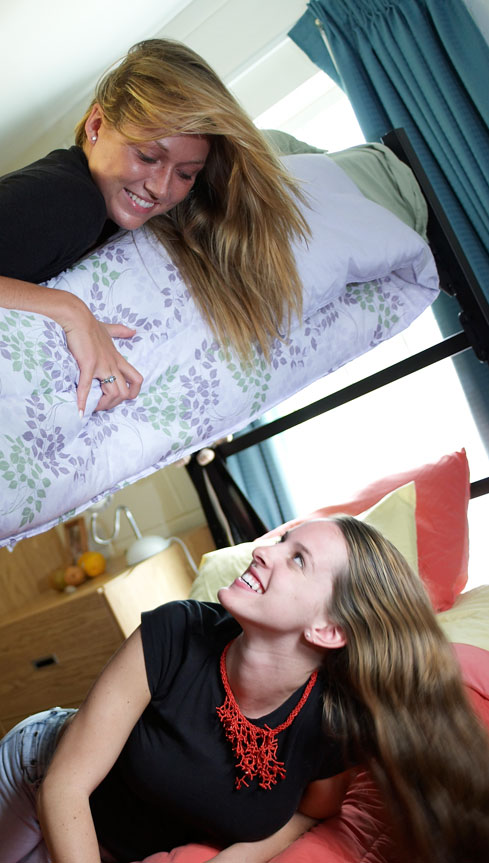 Eating on Campus
Stony Brook University Campus Dining offers something for every taste. A diverse array of delicious, high-quality food that emphasizes fresh ingredients ensures that you can always find the right meal to fit your mood. Inviting settings create opportunities for socializing and engaging experiences.
Dining venues across campus offer the elements that create enjoyable experiences, starting with serving great food with diverse options when and where you want it. Students with specific dietary requirements or preferences will also appreciate the multitude of options, including Halal, Kosher, gluten-free, and vegetarian/vegan selections.
Visit Campus Dining for more information.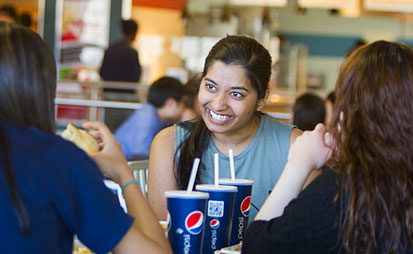 Commuting to SB
The Office of Commuter Student Services and Off Campus Living offers valuable programs and services to commuter students, and actively encourages commuter students to become full participants in campus life.
Off-Campus Housing Service (OCH) provides a current listing of available local housing. If you need assistance finding housing based on individual requirements, our friendly staff at OCH will provide a personalized search to assist you.
A Long Island Rail Road Station right on campus puts Stony Brook within easy reach from New York City and other points on Long Island.
Parking for commuters is abundant and easily accessible, with free bus service to all buildings on campus. Parking is available in the parking garages on East and West Campus and in metered parking areas. See the parking page for more information.
Motorist Assistance. If you experience a problem with your car, help is just a phone call away. Staff are equipped to jump-start cars, help if you have locked your keys in your car, assist with slow-leaking tires, and get you going if you run out of gas. If you have additional questions, please call the Parking Services Office at (631) 632-AUTO. (Monday through Friday from 8:00 a.m. to 3:00 p.m.)
The Office of Commuter Student Services is located in room 225 in the Student Activities Center.
The Arts at SB
Stony Brook offers many courses that examine the historical, sociological, and cultural implications of the arts. Dive right in and take a course in art, music, or theatre!
Consider our new BFA in Creative Writing and join a colony of artists embedded in our research university.
Whether you play a musical instrument, act, dance, or just enjoy watching from the audience, you'll find many opportunities to enjoy the arts at Stony Brook University. Our Undergraduate College of Arts, Culture and Humanities unites first-year students who share a common interest in creative expression and exploration through the use of various media. Learn more.
At Stony Brook, you will find:
Performances, Shows, Entertainment and More. The Staller Center offers a wealth of professional performances by popular artists from around the world. All new students can receive a free ticket to a performance of their choice.
Have acting experience? Take part in one of our theatrical productions! Each semester our musical ensembles hold open auditions.
Show Off Your Work. The Paul W. Zuccaire Gallery provides a forum for students with talents in the visual arts to showcase their works. Participate in artistic festivals held on our campus throughout the year, including an Undergraduate Art Exhibition and an Undergraduate Music Celebration.