Skip Navigation
Conference Workshops
Fiction | Poetry |   Nonfiction | Playwriting |   Children's Literature |  Other Ways to Participate 
Small, intimate workshops are designed for talented writers looking to take their writing to the next level. Our workshop  faculty  are some of the best in the industry. Workshop sessions consist of four (4) workshop meetings over five (5) intense days at either the beginning or the end of the conference (July 12-16 or July 19-23) or five (5) workshop meetings over the span of 12 days (July 12-23).
Of course, with the workshop you also have access to all morning and evening programming during your stay. This includes Roger Rosenblatt's master class, lectures, readings and panels with our guests and faculty. Take a look at our schedule for an understanding of how your days will be structured.
Looking for more time to write? Sign up for the Workshop+Residency option. Take a workshop, either at the beginning or end of your stay, with one of our outstanding faculty. Spend the other seven (7) days of your stay devoting time to your writing, attending readings and Roger Rosenblatt's Master Class.
Fiction
WRITING A NOVEL with Ursula Hegi: It's my goal is to help you make your writing stronger in a supportive and respectful atmosphere. You'll explore the necessary tension between the writer and her/his material by generating new fiction and receiving immediate feedback. You'll work with character and plot development, point of view, treatment of time, significant details, authentic dialogue, and other aspects of the writing craft. In our workshop discussions, we'll begin by identifying the strengths in each piece of writing. Only then will we discuss what doesn't work yet. In addition, you'll have the option to meet in small discussion groups with other participants from our workshop. Anyone for 3 AM?   (July 19-23)
THE ELEMENTS OF FICTION with Roxana Robinson: We'll be reading and writing every day. Each night we'll read a master work and write an exercise; the next day we'll discuss them both in class. We'll talk about the essential elements of great fiction; we'll talk about dialogue and character, language and conflict and empathy. One of the great joys of being a fiction writer is reading great fiction; writing is really learned through reading. In this class we'll do both.  (July 12-16)
SHORT STORY with Frederic Tuten: I have no belief in the hierarchy of fiction. For me, there is only exciting or dull writing, interesting or uninteresting work, whatever the genre. Every writer has, because they want to be writers, a genuine spark. The point is how to bring that spark into a flame. I will read and edit your work carefully and as constructively as possible and try to bring to fruition the thrust of your writing. I expect you to treat your fellow-writers' work with the same consideration. Of course, I know that we will have lively, passionate and helpful discussions and that we will all come out the wiser for it. So much for procedure, the rest is the unknown, mysterious chemistry of the workshop.  In particular, ours will concentrate on short stories—flash or long exposure. I shall be sending you a reading list of a variety of stories, some of which we shall consider in class. But the focus is, finally, and always your work.  (July 12-16)
THE FLABBY MIDDLE with Meg Wolitzer: Whether working on short stories or novels, all writers run into big problems sometimes.  These include the "Strong start/flabby middle" syndrome, the "I've been working this piece to death and I can't even see it clearly anymore" syndrome, the "Should I change it from third-person to first person?" syndrome, the "Is my long story actually a novel?" syndrome, or the "Should I abandon the whole thing and go on to something new, or stick with it until the end?" syndrome, among many others.  Working together and focusing on one another's manuscripts, as well as on short, dynamic exercises, this problem-solving workshop is designed to help writers figure their way out of a tight spot and transform their fiction.  (July 12-23)
Fiction/Nonfiction Cross-Genre
SHOW AND TELL with Brit Bennett: Writers are often admonished to "show, not tell", but good writing does both. So when do you show and when do you tell? In this workshop, we will examine the role of summary and scene in fiction and non-fiction, complete writing exercises, and compose original work in order to explore how showing and telling create narrative. (July 12-16)
WRITE YOUR HEAD OFF with Matthew Klam and Melissa Bank:  This is a workshop to help you write your head off. You'll actually be writing in class and, however impossible or painful that may sound to you, it will be great—hard work but really fun. Whether you're writing essays, personal histories, fiction or memoir, we'll give you prompts, which you can follow or not. Meanwhile, We'll be trying to help you identify what's unique and exciting in your work, as well as what may be getting in your way. If everything works the way it's supposed to, you'll leave Southampton with a fistful of stories started, and the will and inspiration to do the writing you're meant to do.  (July 19-23)
HUMOR with Patty Marx:
"Humor is emotional chaos remembered in tranquility."   James Thurber
"Comedy has to be based on truth. You take the truth and you put a little curlicue at the end."  Sid Caesar
"Tragedy is when I cut my finger. Comedy is when you fall into an open sewer and die."  Mel Brooks
 "...An amateur thinks it's really funny if you dress a man up as an old lady, put him in a wheelchair, and give the wheelchair a push that sends it spinning down a slope towards a stone wall. For a pro, it's got to be a real old lady."  Groucho Marx
 "What is comedy? Comedy is the art of making people laugh without making them puke."  Steve Martin
"You know, crankiness is the essence of all comedy."   Jerry Seinfeld
"Analyzing humor is like dissecting a frog. Few people are interested and the frog dies of it."  E.B. White
"Patty Marx is the best teacher in the Creative Writing Program."  Patricia Marx
One of the above quotations is false.  Find out which one in this humor-writing workshop, where you will read, listen to, and watch comedic samples from well-known and lesser-known humorists, and complete weekly writing assignments. Students already working on projects are welcome to develop them.  (July 19-23)
Poetry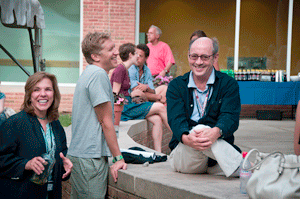 POETIC HYDRAULICS with Billy Collins: Simple as it may sound, this workshop will focus on the poem's transit from its beginning, through its middle to the end--so not to leave anything out.  We will observe how a poem launches itself, how it finds reasons to continue to flow, and how it finally discovers a place to settle at the end.  We will also examine a number of verbal maneuvers that can brighten a poem and even liberate it from itself, much to everyone's surprise and delight!  In the right hands, of course.  (July 12-23)
MINING THE DEEP: DISCOVERING OUR EMOTIONAL IMAGES with Natalie Diaz: This generative workshop will explore our notion of image—image is more than a thing you can see. Images are the vessels of story, history, mythology, action, and emotion, among other things. Using previous knowledge of our images of obsession, we will do a series of exercises to help discover and mine our new, emotional images. To paraphrase painter Francis Bacon, we will return the image to our nervous systems more violenty—meaning, we will build images that make us and our readers  feel.  Note: We will workshop one new poem from each participant throughout the course of our time together.  Workshop is open to all levels.  (July 19-23)
NEW POEMS BY EAR with Sharon Olds: This is a gathering given to writing new work.  Each meeting we will hear a new poem (draft, fragment) by each poet -- not revisions of the same poem, but another new first draft. We will try to describe the poem rather than criticize or revise it. We will spend much of the time on each poem after we have heard it by ear and before we have read it by eye. I think this helps us strengthen our listening, and gives each poet immediate response which is based on recognizing the unique voice of each poem and poet. We will also look at the xerox copies of the poem, but our primary emphasis will not be visual.  We will be describing, identifying, enjoying, praising, and taking chances!  (July 12-16)
Playwriting
PLAYWRITING with Lucas Hnath 
 Other Ways to Participate