Skip Navigation
Conference Workshops
July 11-15  |  July 18-22 |  July 11-22 | 
Small, intimate workshops are designed for talented writers looking to take their writing to the next level. Our workshop  faculty  are some of the best in the industry. Workshop sessions consist of four (4) workshop meetings over five (5) intense days at either the beginning or the end of the conference (July 10-14 or July 17-21) or five (5) workshop meetings over the span of 12 days (July 10-21).
Of course, with the workshop you also have access to all morning and evening programming during your stay. This includes all lectures, readings and panels with our guests and faculty. Take a look at our schedule for an understanding of how your days will be structured.
Looking for more time to write? Sign up for the Workshop+Residency option. Take a workshop, either at the beginning or end of your stay, with one of our outstanding faculty. Spend the other seven (7) days of your stay devoting time to your writing, attending readings and lectures.
July 11-15
NEW POEMS BY EAR with Sharon Olds: This is a gathering given to writing new work.  Each meeting we will hear a new poem (draft, fragment) by each poet -- not revisions of the same poem, but another new first draft. We will try to describe the poem rather than criticize or revise it. We will spend much of the time on each poem after we have heard it by ear and before we have read it by eye. I think this helps us strengthen our listening, and gives each poet immediate response which is based on recognizing the unique voice of each poem and poet. We will also look at the xerox copies of the poem, but our primary emphasis will not be visual.  We will be describing, identifying, enjoying, praising, and taking chances!  (July 11-15)
WRITE YOUR HEAD OFF with Melissa Bank: In this workshop, you'll actually be writing in class, and, however impossible or scary that may sound, it will be great—hard work, but really fun. In as much as you'll be writing about your own life, this is a memoir workshop, but we're not going to concern ourselves with the rules or rigors of that genre.  In fact, we're going to behave as if there aren't any rules at all.  As such, the class should be just as useful for writers of fiction. Basically, it'll go like this: I'll give you a prompt, a suggestion meant to spark something or get you started; you'll write for a short time; and you'll share your work with the class (or not).  Meanwhile, I'll be trying to help you identify what's unique and exciting in your work, as well as what may be getting in your way. If everything works the way it's supposed to be, you'll leave Southampton with a fistful of stories started, and the will and inspiration to do the writing you're meant to do.  (July 11-15)
SHORT STORY with Frederic Tuten:  I love fiction of all kinds. I have no belief in the hierarchy of fiction. There is only good or poor writing, interesting or uninteresting work. Every writer has, because they want to be writers, a genuine spark. The point is how to bring that spark into a flame. We will have lively, passionate and helpful discussions and that we will all come out the better writers for it. The rest is the unknown, mysterious chemistry of the workshop. (July 11-15)
DRAFTING YA: Unputdownable Openings, Satisfying Endings & All the Juicy Stuff In Between w ith Megan McCafferty: Straight talk: The book buyer browsing new releases, the agent considering you for a client, the editor judging your manuscript's commercial potential all know if they want to keep going before finishing the first page. You can't make promises like, "It gets really juicy on page 22!"  No one has time to wait until page 22. Hook your audience immediately! Of course, the rest of the book matters too. Without some idea where your characters end up, you just might find yourself on an frustrating journey to nowhere. Specific components of compelling story-telling (voice, characterization, dialogue, pacing, etc.) will be discussed in response to writing samples presented out loud to the group. Structured spontaneity—a drafting technique that balances plotting and "pantsing" —has gotten the author through ten novels and two works-in-progress. (July 11-15)
July 18-22
WHAT THE POEM WANTS with Cornelius Eady:  What does the poem want? It is not always what the Poet wants. This is a question that I'll ask and explore with you—through exercises, prompts, examples and informed talk we'll sort those drafts out. I read a lot—some of the manuscripts I've read for contests have turned into Nat'l Book Award and Pulitzer Prize winners. I'll bring that level of attention to your voice. Not to win prizes, but to help you along as you try to figure out how you sing on the page. We will write and rewrite every day. and you will leave with a clutch of drafts, and a few ideas as to how to shake verse out of this tumble we call the world. (July 18-22)
FICTION with Matthew Klam:  Whether they're writing a memoir, first person journalism, a piece of fiction or a graphic autobiography, my favorite authors use personal experience, carefully observed details, and facts, to make great stories. I'm thinking of writers such as Mary Karr and Alison Bechdel, Jon Krakauer and Ernest  Hemingway. There are so many fiction writers who inspire me, Lorrie Moore, Alice McDermott, Ben Lerner, and Tom Perrotta, to name a few. In this class we'll focus on creatively made but realistic fiction, writing every day, reading and discussing in class, while also talking about your own work in a helpful, constructive manner.   (July 18-22)
MEMOIR with Roger Rosenblatt: Good memoirs are usually made up of five components - description, emotion, information, thought, and fantasy, or dreams. In this workshop you will write pieces from prompts engaging each of these components. We'll talk about your pieces, and how they might fit in the larger scheme of your memoir.  (July 18-22)
ELEMENTS OF CRAFT with Marisa Silver :  How do we take the raw material of a first draft and shape it into a work that has the form and resonance of art? The class will be assigned nightly readings of masterworks which forefront particular elements of craft. Alongside our daily discussions of student work, we will analyze the assigned stories with an aim toward understanding how we might bring the elements of a writer's craft to bear upon our own drafts. (July 18-22)
REWRITING PRACTICUM with Lucas Hnath: This workshop will consider the  process of rewriting a play. Too often play development becomes a passive activity in which the writer is given notes. Rather, we will examine strategies for taking control of your rewriting process -- for diagnosing what works, what doesn't, and implementing a plan to make your play more the play it wants to be. For this work, workshop participants should bring in complete or partial drafts of plays-in-progress.  (July 18-22)
July 11-22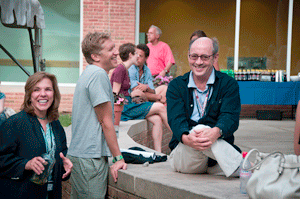 POETIC HYDRAULICS with Billy Collins: Simple as it may sound, this workshop will focus on the poem's transit from its beginning, through its middle to the end--so not to leave anything out.   We will observe how a poem launches itself, how it finds reasons to continue to flow, and how it finally discovers a place to settle at the end.  We will also examine a number of verbal maneuvers that can brighten a poem and even liberate it from itself, much to everyone's surprise and delight!  In the right hands, of course.  (July 11-22)
FICTION with Amy Hempel:  A standard workshop in which participants will discuss each other's stories (preferably RECENT stories) in terms of voice, pressure, and the question "What OF it?"  with particular attention to the point of entry into each story.  A brief response to a single prompt will also be required, and these will be read aloud with an eye towards continuing the brief responses into stories.  (July 11-22)
TV WRITING SUMMER INTENSIVE with Alan Kingsberg:  Create a pilot script for an original TV series. Learn how to build the writing portfolio that can get you an agent and a job.  Working from the ground up, students begin by creating a series concept that has both a powerful emotional core and a story engine that can sustain multiple seasons.  Next, students create stories for their pilot episode and then move on to writing scenes with dialogue – all in a constructive, supportive workshop atmosphere.   
 The class covers both half-hour comedies and one-hour dramas and is designed to mimic a professional writers room.  It is open to beginning and experienced writers.
 In addition, the class will watch, deconstruct and discuss a wide variety of TV shows in order to better understand how a successful episode is built. All the basics of TV writing are covered as well as strategies for breaking into the TV writing business. 
Participants are expected to write and develop their stories during non-class hours so they can advance their work each day.  Writers are welcome to attend solo or with a writing partner.   (July 11-22).
 Other Ways to Participate 
Lecture Series