Skip Navigation
Applied Health Informatics Master's Degree Program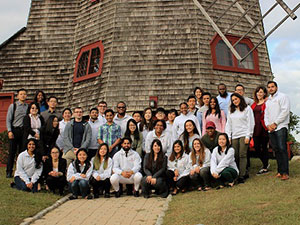 Welcome to the Master's in Applied Health Informatics (MS/AHI) program offered at the Stony Brook Southampton campus.
Health Informatics is an evolving discipline that is transforming how healthcare is delivered.  The profession focuses on how information is acquired, stored, and retrieved to improve patient care and outcomes and how to manage costs by eliminating unnecessary medical expenditures.
The Health Information Technology for Economic and Clinical Health (HITECH) Act, part of the American Recovery and Reinvestment Act (ARRA) of 2009, has accelerated the adoption of electronic health records and created an unprecedented demand for high-quality health informatics professionals.  In a March 2013 survey, Healthcare Information Management Systems Society (HIMSS) identified the top barrier (for the second consecutive year) was the inability to hire qualified health IT employees. The College of Healthcare Information Management Executives (over 1,400 CIOs) survey found 67% claimed that they are experiencing staffing shortages in health IT.
The MS/AHI program was developed with input from regional Chief Information Officers (CIO), health IT managers, and national experts to ensure that graduates have the knowledge, skills, and competencies that employers seek.
Why Choose MS/AHI at Stony Brook Southampton?
For detailed information about our program, visit the Applied Health Informatics Website , or contact us for additional information. 
Sincerely,
Debbie Zelizer, PhD, LCSW
Chair of the Health Science department
---
MS/AHI Main Website - Admission Requirements - Information Sessions - Curriculum - Contact Us