Skip Navigation
Marketing and Communications: What We Do
The Marketing and Communications team creates, promotes and facilitates compelling, on-brand communications that enhance the University's reputation and drive key initiatives. Specifically we:
Provide leadership and guidance to maximize brand effectiveness across the University's external and internal communications.

Create and distribute engaging content that raises awareness of the University's distinguishing benefits and all the ways that Stony Brook goes FAR BEYOND.

Develop and manage media outreach.

Advise on University marketing, Web and social strategies with an eye to ensuring the delivery of impactful, branded messaging and visual style.

Offer design and writing support for University events, initiatives, departments and partners.

Educate the Stony Brook community in the best use of the University's brand guidelines and consistently reinforce their use.
Marketing and Communications: Mission and Vision
Mission
To build momentum and reputation for Stony Brook University & Stony Brook Medicine—a premier institution that supports our community and impacts the world—with passion, pride, and a commitment to excellence.
Vision
Embrace change, break through barriers and expectations in our pursuit of excellence to share the Stony Brook story with the world.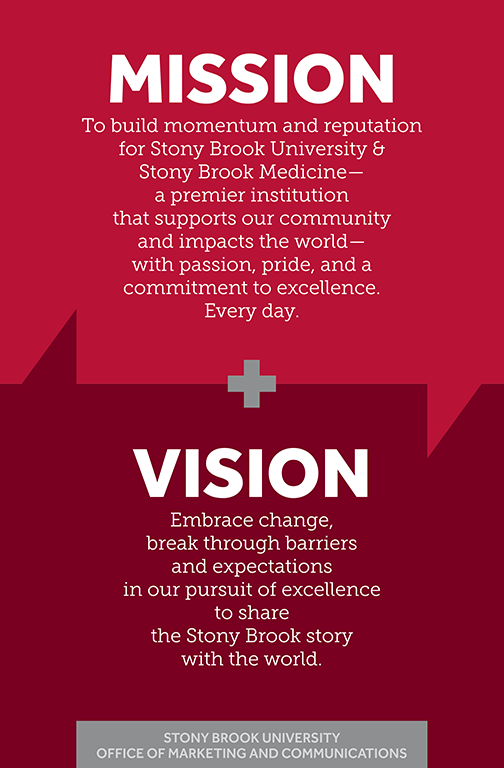 Marketing and Communications: Who We Are
William Warren
Vice President for Marketing and Communications
Meryl Altuch
Assistant Vice President, Marketing
(631) 632-1498
Meryl.Altuch@stonybrook.edu
Allie Seal
Senior Director, Digital Strategy
(631) 632-1085
Allison.Seal@stonybrook.edu
Susanne Walsh
Senior Director, Operations
(631) 632-6335
Susanne.Walsh@stonybrook.edu
Karen Leibowitz
Art Director
(631) 632-6335
Karen.Leibowitz@stonybrook.edu
Michael Gasparino
Associate Director, Web Content
(631) 632-6335
Michael.Gasparino@stonybrook.edu