Print Speech 1 of 5

Delivered at University Convocation, September 25, 2013
President Samuel L. Stanley Jr. , MD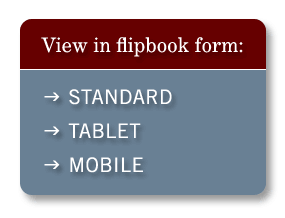 Welcome
Stony Brook University began slightly more than five decades ago with a bold vision—to create a flagship university for the State University of New York system that would rival the best public universities in the nation. We have made significant progress toward realizing that vision, and we now stand on the brink of becoming one of the premier research institutions in the world.
Think about it, in 56 short years we have gone from a modest teachers college to a member of the elite Association of American Universities (AAU), the top 62 research universities in North America. We have grown from a total enrollment of 148 to nearly 25,000 outstanding undergraduate and graduate students. We are among the top 10 most selective public AAU universities in the United States, with more than 30,000 applicants for a freshman class of 2700. And all of this has been built on the shoulders of an outstanding faculty that has grown from 14 brave souls at our founding to nearly 3,000 .
And so it is that today we welcome and celebrate the arrival of new faculty members to Stony Brook University. Please stand and accept our thanks for your decision to join our faculty and take this applause as a mark of our commitment to support you in all of your academic endeavors. You join some amazing colleagues, and today at 4 pm I invite you and everyone on campus to join me at Melville Library as we unveil the Faculty Honor Wall. It honors those faculty who have achieved extraordinary external recognition, including our Nobel Laureates, members of the National Academy of Sciences, the National Academy of Engineering, the Institute of Medicine, and many, many more. All will be revealed at 4 pm—it is something that I think all of us can be very proud of, and I hope I will see you there.
I'd also like to take this opportunity to acknowledge three new members of my senior leadership team. Each comes with unique expertise for their critically important role in furthering the mission of our great university.

Cole Camplese, Vice President for Information Technology and Chief Information Officer
Matt Whelan, Vice President for Strategic Initiatives, and
Chuck Taber, Dean of the Graduate School and Vice Provost for Graduate Education.
So for our new faculty, let me tell you a little more about the institution you joined. Just two decades ago our annual operating budget was $600 million, now it exceeds $2.2 billion. And a campus that was once known as "Mudville" is now beautiful , one that our students, faculty, staff and all New Yorkers can be proud to call their own.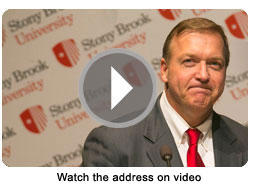 Along the way, we have become an institution that matters—to our region, our State, our nation and the world. We are educating tomorrow's leaders from an extraordinarily diverse student body that includes 6,044 Pell Grant-eligible students. In our research and scholarship we search out answers to the big questions, the questions that matter, the questions that excite, the questions that inspire all of us. Our students, faculty and staff explore the origins of the universe, the origins of man, how to power our world while preserving our environment, how the brain works, how to maintain and enhance our health, the impact of class on society, and the origins of ethics and morality. Our economic impact is significant—we are the largest single-site employer on Long Island, and our research discoveries have led to new technologies, drugs and companies that have changed the world. We support a vibrant arts community, outstanding athletic programs and provide state-of-the-art healthcare to our neighbors, near and far.
Our campus is unbounded. We educate and study in facilities in Kenya, Madagascar, Seoul, Manhattan, Southampton and Stony Brook. We manage Brookhaven National Laboratory, the only Department of Energy Laboratory in the Northeast, and share graduate students with Cold Spring Harbor Laboratory, the premier molecular biology institute. We are a global force, one of the top 100 universities in the world.
So we have come far, but now we seek to do more, to be more. We want to expand the scope and scale of our extraordinarily successful programs for educating economically disadvantaged students and underrepresented minorities to benefit more students, becoming a national resource for college attainment. We want to be innovators in education, using technology and outcomes analyses to develop new ways to teach that match how our students learn, allowing them to maximize their academic experience while still receiving the critical experiential, social and cultural experiences that come from being educated on this amazing campus. We want to grow research, scholarship and discovery, moving knowledge forward and improving the quality of people's lives. We want to be at the forefront of work that improves human health, on Long Island, in our State and around the world. And we want to be an economic engine, partnering with other great Long Island institutions to help create an innovation economy that can rival any in the world. We are the best public research university in New York, now we want to become one of the 20 best in North America. Long Island and New York deserve no less.
So how do we get to the next level?
We have to begin with education.
Next