Print Speech 1 of 6

Delivered at University Convocation, September 21, 2011
Samuel L. Stanley, Jr. , President
Welcome
Good afternoon. What an honor it is for me to extend official greetings to each of you at the beginning of this new academic year and to welcome you to our annual University Convocation, an institutional tradition for us here at Stony Brook. This year's Convocation is particularly meaningful, as we celebrate the life, work and memory of Dr. John Sampson Toll, who, I believe in some sense was Stony Brook's George Washington, the founding father of the University, serving as its second president from 1965 to 1978.
Before I introduce you to a few special individuals who have come to help us celebrate and honor the memory of Dr. Toll, I ask you to join me in recognizing Mrs. Deborah Taintor Toll, Dr. Toll's wife of 40 years, who shared her husband's passion for Stony Brook and contributed significantly to this institution's success during his tenure here.
Mrs. Toll, thank you for joining us today and for your continued support of Stony Brook University. I want to extend my most sincere gratitude for your many years of support of President Toll and for your role in helping this University become the institution that it is today.
Also, joining us today to help us honor the memory of Dr. Toll are former Stony Brook University President Shirley Strum Kenny and her husband, Bob; Richard Gelfond, Chair of the Stony Brook Foundation; John Burness, Visiting Professor of Public Policy at Duke University who served as an assistant to President Toll; and Robert de Zafra, Professor Emeritus, Department of Physics and Astronomy. Thank you for taking time out of your busy schedules to join us today.
I would now like to give each of our special guests an opportunity to offer a few brief comments about President Toll, from their own perspective, as a means of celebrating the remarkable man for whom this year's Convocation program is dedicated. They will each come forward in the order printed in your program. We will begin with comments from Mr. Rich Gelfond, the CEO of Imax who was a student during President Toll's time here at Stony Brook.
[Memorial remarks in celebration of the life and career of Dr. John S. Toll]
Introduction
Once again, I am pleased to welcome you to the beginning of this new academic year and to our annual University Convocation, which provides an opportunity for us as a University to reflect on the successes and challenges of the previous year, and to take a brief glimpse at our strategic road map for the coming year. I am especially delighted to welcome an outstanding group of new faculty and staff to our Stony Brook University family this year, and I am so pleased that many of them are here to join us in this year's special tribute to President Johnny Toll.
As I mentioned in my announcement to the University community a few weeks ago regarding the passing of Dr. Toll, I sincerely regret not having had the opportunity to personally meet him. This feeling has been heightened in recent weeks as I have heard more and more about his transformative approach to leadership and the great vision that he had for Stony Brook to realize its potential as a world-class research institution. Truly his impact on this University cannot be underestimated. One of the hallmarks of Johnny Toll's tenure here was his commitment to recruiting outstanding faculty, including Nobel Laureate C.N. Yang, who, regrettably, was unable to join us today.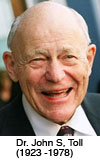 As we ceremoniously remember Dr. Toll, I would like to share with you part of a brief statement sent to us by Dr. Yang because I believe that it is not only reflective of Dr. Toll's impact on a number of very significant individuals in Stony Brook's history, but it also speaks to the quality of leadership that this institution has been privileged to have over the course of its formative years.
Dr. Yang writes:
One day in the spring of 1965, I received a call from John Toll who said he had just accepted an appointment as the President of a new campus of the State University of New York at Stony Brook. He wanted me to join him to make Stony Brook a major research-oriented State University, "the Berkeley of the East."

I had always liked Toll's open and dynamic personality, and had admired his leadership talents. I thought Stony Brook had chosen well to appoint him to lead the campus. But I and my family were happy at Princeton and had prospered in the Ivory-Tower like atmosphere of the Institute. Should I leave Princeton against the advice of many of my close friends to follow John to an entirely new career?

It was a difficult decision, but it turned out to be one of the major important decisions in my life: I accepted John's offer and spent the next 33 years at Stony Brook.

I am grateful to John for having the insight that I could fit into his vision of the development and growth of a major research university, and for all the help and advice he had given me during his lifetime.

With a similar sense of gratitude, I wish to formally acknowledge this institution's deep appreciation for Dr. Toll's vision for this University. Continue reading

View on Video:
Next