Conversation + Camaraderie = Confidence
"English Pal" program pairs students to enhance fluency through friendship
They're everywhere: grabbing a snack at West Side Dining, getting a massage at the popular pre-finals event Relaxathon, chatting on the train to New York City. Culturally diverse, with academic interests that go every which way, and often dressed in Seawolves gear, they can be hard to pick out from a crowd of Stony Brook students.
Who are they? They're the English Pals — students sharing conversation in English — and there are 200 pairs on campus. The English Pal Program pairs native or fluent English speakers with international students to give them an opportunity to practice their language skills in a casual setting.
"I joined because I like meeting people from all around the world and helping them communicate better in English," says senior Ela Profka, a business and economics major who is volunteering with the program for the third time. An international student herself, Ela comes from Albania and only first learned English in middle school.
Her English Pal last spring was Helen Zhang, an environmental studies and sustainability studies major from Taiyuan, Shanxi, in China.
"When I first got here, ordering food was probably my biggest issue," says Helen. "It was sort of embarrassing. I had no idea what things were, like burritos. What is a burrito? But after one week, that was my favorite food."
Helen came to English Pals through the Intensive English Center (IEC) program. "The people in the English Pal Program, they're all my peers. I don't have to worry that they'll judge me. It feels so comfortable. We are just friends who are chatting with each other and talking about our experiences."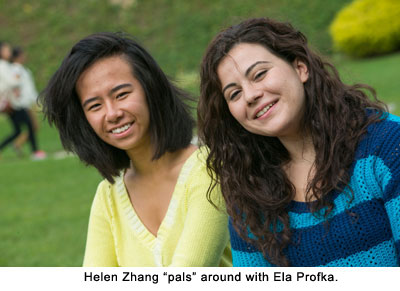 "Helen was very shy in the beginning," says Ela. "She would answer me, but she wouldn't initiate the conversation. But then, after a while, we had normal conversations."
The International Student Organization (ISO) and Golden Key International Honor Society work together to pair students in the program. At the beginning of each semester, the English Pal Program hosts a meet and greet. Thereafter, Pals meet in pairs or with groups of friends for lunch, campus activities, even trips into New York City.
"You do whatever you want," says Helen, and Ela finishes, "as long as you're speaking English!"
Verna Solomon, another English Pal volunteer, is a junior majoring in health science and minoring in biology. She was born in Ilocas Norte in the Philippines. "Where I'm from we speak Ilocano — a dialect of the national language, Tagalog. I learned English along with Tagalog and moved here when I was 11."
In her first semester as an English Pal volunteer, Verna was paired with Eui Taek Won, who is from Cheng Ju, South Korea. David, as he prefers to be called, found the rapid-fire English conversation around him intimidating at first.
"I learned English in Korea for 10 years," says David, who is studying to be an electrical engineer. "Reading and grammar — no speaking. But Verna was my friend. Because of this program I got some confidence."
"We mostly took advantage of the events on campus," Verna says. "We went to Relaxathon, took pictures and did different activities. We ate a lot on campus and talked about our different cultures. I found out that David was in the military for two years prior to coming to America."
The fear of making mistakes can overshadow the lack of facility in English for new international students. "It's hard to express your ideas out loud in English when you don't know every word that you want to say," says Ela. "You have to be very simplistic in expressing yourself, and that makes you feel dumb sometimes."
Says Verna about David, "Now I see him around, and he's talking with other non-Korean students, and I'm so happy. And I'm very happy that he's excited about the program and is willing to advertise it to his friends."
The English Pal Program has drawn students from countries such as Azerbaijan, Brazil, China, Hong Kong, Taiwan, Japan, South Korea, Pakistan, Vietnam, Spain, Sri Lanka, Russia, Turkey, Bangladesh, Germany, Iran, Italy and Venezuela. The program won the Educational Program Award at the 2012 Student Life Awards. ISO and Golden Key were also awarded the Student Collaboration Service Award from the Community Service Committee.
"The English Pal Program has proven to be an excellent avenue to meet new people and learn about a different culture," says Zorammawii Ralte, advisor to the International Student Organization and assistant director of Student Orientation and Family Programs. "Survey results reveal that both the international and domestic students have gained much more than just a partner to practice English conversation with. Individuals from both groups report that they are excited to have learned something new about their partners' culture and way of life. I love that it's a 'for students by students' program, which may be a large part of its success."
— By Toby Speed