Solar Boat Team Shines in Competition
Racing for pride and new strategies in the fight against global warming, Stony Brook's Solar Boat Team posted its best finish in five years — fifth overall — up from 15th overall in the Institute of Electrical and Electronics Engineers Solar Splash Competition in Cedar Falls, Iowa, in June.  In addition, the club earned the most improved team award.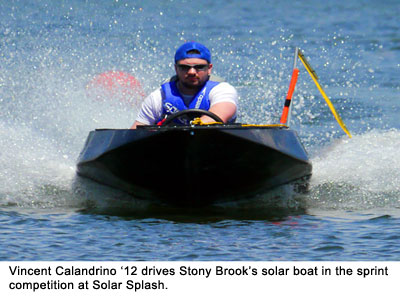 Engineering students on the Solar Boat Team, a College of Engineering and Applied Sciences-based club, work together to design, build, test, and compete a solar-powered race boat. The overall competition score is based on each team's performance in events such as a slalom course (3rd place), endurance and sprint challenges, and a qualifying round (2nd place). Also factored into the score are a technical report, visual presentation and the boat's design.
Four students and faculty advisor David Westerfeld, a Stony Brook electrical engineering professor, drove to Iowa in 2013 with boat in tow, but many more club members contributed to the boat's improvements between the annual competitions. The club does a test launch prior to Solar Splash at Ronkonkoma Lake.
A new, lighter and stronger 30-pound carbon fiber composite hull built two years ago, an improvement over a fiber glass- aluminum reinforced hull, initiated the upgrade, according to club Vice President  Han John Tse '15. But Tse credited a new drive train to this year's significant  jump in improvement.
Three teams — electrical, mechanical and solar — worked on the boat. Electrical engineering and physics major Anthony Tricarichi '13 designed the circuit boards for the boats, and Advanced Circuits, a Colorado-based company, fabricated them.
Panels of solar cells composed of silicon wafers adorn the boat's surface atop its glass and aluminum frame. Team members began charging batteries to power the boat upon arrival. "We're allowed to have a certain number of batteries in the boats and unlimited spares," said club President Ankit Tyagi.
Mechanical engineering major Vincent Calandrino '12 skippered the boat, and helped with machining, manufacturing, and design of the drive train.
Other key players who traveled to the competition were mechanical engineering majors Tyagi '14, Mike Petroglia '12 and Mohammed Uddin '14.
Industry sponsors, including the College of Engineering and the Department of Mechanical Engineering, help the club reach its annual goal of competing at Solar Splash, and their logos appear on the boat's hull.  Club members begin to work on the boat's design each fall after receiving funding.
One of the goals of the club is to draw attention to the issue of sustainability, according to Tyagi. "People are starting to raise awareness about green energy vehicles," he said. "If we can make solar boats accessible to the public, the industry can become more established."
Tyagi said the club is looking to expand its membership this year to include electrical and mechanical engineers who are willing to meet on a weekly basis and donate a few hours each weekend.
Solar Boat trailer by Han John Tse
The club, which had its origins in 2000, was revived six years ago.
For more about the Solar Boat Team, or to find out how to become a corporate sponsor, visit sbusolar.com.
By Glenn Jochum