Donate to the Crosson Scholarship Fund
A message from Elaine Crosson:
As the second anniversary of Matt's passing approaches, I want to let you know about the Matthew T. Crosson Scholarship Fund at Stony Brook University.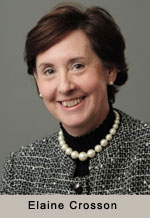 As you know, Matt had a strong commitment to public affairs and he valued public discourse on the major issues facing Long Island. His work on the "Cutting Edge" and "TV-55 Focus" programs exemplified that special junction where journalists and dedicated public servants have a common calling.  To honor his commitment to public dialogue, I have created a scholarship in his name, in the Stony Brook University School of Journalism, to support young journalists who will carry on the pursuit of public discourse that Matt promoted. 
The Matthew T. Crosson Scholarship Fund will provide scholarships to deserving Stony Brook journalism students who demonsrate a desire to pursue a career in journalism with a demonstrated interest in public affairs.  The recipient will also have the opportunity to intern at Newsday or at News 12.
The Stony Brook School of Journalism has been recognized as one of the top 50 journalism schools in the country and was described as "a program on the rise"!  The program permits students to develop practical skills that have real life value upon graduation. The students excel in specific disciplines of interest, and thereafter are able to enjoy success in the marketplace. In fact, almost three-quarters of our graduates are working in the media industry, and another 20% are working in fields related to media such as public relations. The faculty come from all walks of journalism and include Matt's friend and colleague (and Cutting Edge co-host) Jim Klurfeld. Matt would be proud to have his name associated with Jim's work and the work of the other talented journalists at Stony Brook. That's why I am so pleased to be able to create this scholarship for a qualified and deserving student.
Daniel and I have contributed $50,000 to start the scholarship. The $50,000 will be matched by a special grant to Stony Brook University by Jim and Marilyn Simons, meaning that the gift has the impact of $100,000. 
We are hoping to build on this $100,000, and I am seeking your support to help develop the next generation of public affairs journalists and to honor Matt's memory.
If you wish to give please donate online (type "Crosson" in designation search field) or send your donation (check made payable to the "Stony Brook Foundation") to:
The Stony Brook Foundation, Inc.
Matthew T. Crosson Scholarship
P.O. Box 1511
Stony Brook, NY 11790-0590
Daniel and I wish you and your loved ones a happy and healthy holiday season.  And we thank you for all the love and support you have given to us over the past two years.  We are healing but still miss him every day.
Warm Regards,
Elaine Crosson
Vice President for External Affairs, Stony Brook University
"The Stony Brook School of Journalism has been recognized as one of the top 50 journalism schools in the country and was described as 'a program on the rise.'"