Stony Brook Launches Three-Year MD Program
Program builds on national need to address physician shortage, reduce tuition costs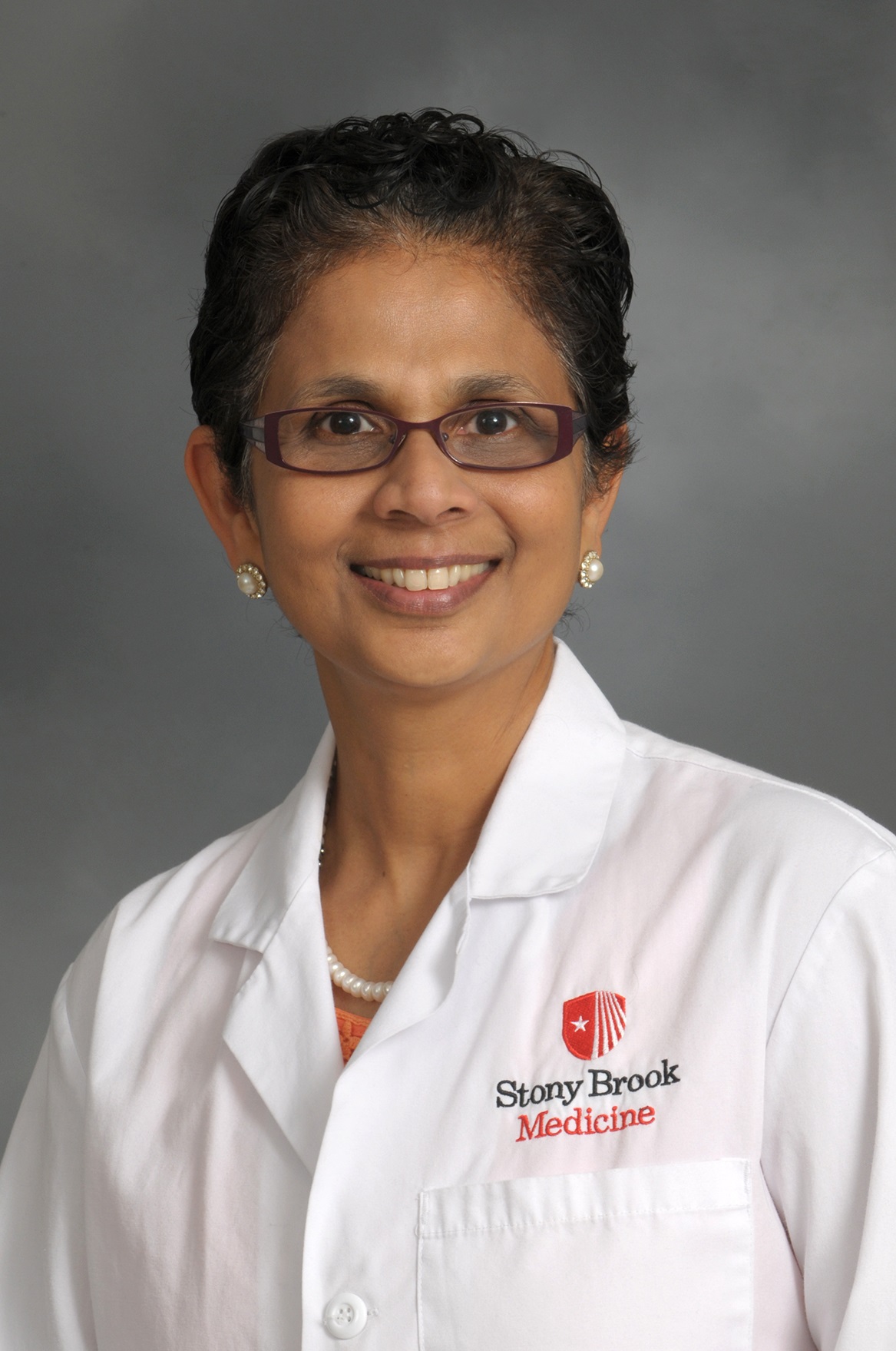 Latha Chandran, MD, MPH, Vice Dean of Academic and Faculty Affairs
STONY BROOK, N.Y., March 6, 2018 – Stony Brook University School of Medicine has created a new medical training curriculum that enables students to complete their MD degree in three years instead of the traditional four years. The new MD program is the first of its kind on Long Island and only the second one in New York State.
Medical schools nationwide are interested in developing optional three-year degree programs for two reasons -- such programs would graduate MDs sooner and help fill the national physician shortage more quickly, and the shorter termed program would help reduce significant student debt from tuition costs. The Stony Brook program will begin in July 2018, before the start of the 2018-19 academic year. Students accepted into the Stony Brook four-year program for the incoming 2018-19 year may choose to apply for the three-year program.
"This new program is an opportunity for our students to delve into their courses and clinical training more quickly, and gain immediate momentum in their journey to becoming physicians as they will be positioned to enter a residency at Stony Brook after graduation," said Kenneth Kaushansky, MD, Senior Vice President of the Health Sciences and Dean of the School of Medicine. "The program also provides a notably less expensive way for our students to become physicians and enter the workforce, which remains in dire need of more physicians."
Acceptance to the three-year program includes conditional acceptance into a Stony Brook residency program, of which there are some 20 medical specialties offered. A maximum of 15 students will be selected for the program in its first year.
"We hope the three-year MD program becomes a stronger trend nationally for the benefit of the students, many of whom have significant debt before becoming physicians," said Latha Chandran, MD, MPH, Vice Dean of Academic and Faculty Affairs and the Miriam and David Donoho Distinguished Teaching Professor. "We are confident training in this program will be strong, as the academic requirements are similar in both programs and the three-year students also have to reach additional academic and professional standards by the end of the term."
According to Dr. Chandran, the difference in tuition savings for the three-year tract students is essentially one year of tuition. At Stony Brook that would be more than $40,000 for students from New York State and approximately $65,000 for out-of-state residents.
The idea of developing three-year MD programs has existed for many years in U.S. medical education. But the actual development and approval of such programs has been slow. Currently there are only eight approved three-year MD programs in the nation.
For more details about the emergence of three-year medical school programs nationwide, and a professional perspective and summary of other national programs, see this 2017 AAMC article.
Stony Brook University School of Medicine hasreceived final approval from the New York State Education Department and the SUNY Board of Trustees to begin the three-year MD degree program with the incoming class.
About Stony Brook University
Stony Brook University is going beyond the expectations of what today's public universities can accomplish. Since its founding in 1957, this young university has grown to become a flagship as one of only four University Center campuses in the State University of New York (SUNY) system with more than 26,000 students and 2,600 faculty members, and 18 NCAA Division I athletic programs. Our faculty has earned numerous prestigious awards, including the Nobel Prize, Pulitzer Prize, Indianapolis Prize for animal conservation, Abel Prize and the inaugural Breakthrough Prize in Mathematics. The University offers students an elite education with an outstanding return on investment: U.S. News & World Report ranks Stony Brook among the top 50 public universities in the nation. Its membership in the Association of American Universities (AAU) places Stony Brook among the top 62 research institutions in North America. As part of the management team of Brookhaven National Laboratory, the University joins a prestigious group of universities that have a role in running federal R&D labs. Stony Brook University is a driving force in the region's economy, generating nearly 60,000 jobs and an annual economic impact of more than $4.6 billion. Our state, country and world demand ambitious ideas, imaginative solutions and exceptional leadership to forge a better future for all. The students, alumni, researchers and faculty of Stony Brook University are prepared to meet this challenge. 

Reporter Contact:   Gregory Filiano                  
631 444-9343