MONEY Magazine has released its 2018 list of Best Colleges For Your Money and Stony Brook University ranks #34 overall this year, a 20-place increase from its 2017 ranking, and #22 among public universities, a 10-place jump from last year. Stony Brook's rise in the rankings comes from an increase in graduation rates alongside a slower growth in tuition rates compared to other institutions. MONEY Magazine's rankings for the 727 eligible universities in the United States were based on the quality of education, university affordability during college and student debt payoff rates after graduation, and alumni outcomes, such as annual salary data from PayScale.com.
---
Study Of Ancient Forefoot Joints Reveals Bipedalism In Hominins Emerged Early
The feet of primates function as grasping organs. But the adoption of bipedal locomotion – which reduces the ability to grasp – was a critical step in human evolution. In the first comprehensive study of the forefoot joints of ancient hominins, to be published online in  PNAS,  an international team of researchers conclude that adaptations for bipedal walking in primates occurred as early as 4.4 million years ago, and in that process early hominin feet may have retained some grasping ability.
Featured Research Photo 

Endangered sharks like this great hammerhead swimming with SoMAS researcher Diego Cardenosa in the Bahamas are still being killed for their shark fins. Cardenosa and colleagues report in a paper published in Conservation Letters that a number of endangered shark species are common to the fin trade. Learn more.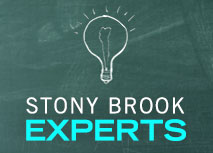 Stony Brook University Commencement 2018