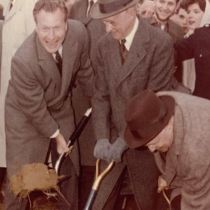 WELCOME TO STONY BROOK UNIVERSITY ARCHIVES
Documenting the History of Stony Brook University



NEW: Watch the film "Stony Brook's First Alumni: Reunion and Reflections"
From June 6 to June 8, 2014, a reunion weekend was held at Stony Brook University and at Planting Fields at Oyster Bay (first campus), in celebration of the 50th anniversary of the classes of 1961 to 1964, and reuniting the Founders Group, classes of 1961-1966. At Planting Fields, alumni were interviewed about their experiences and reflections of their time at the Oyster Bay campus and transitioning to the new campus in Stony Brook. Photographs from the University Archives are featured in the 16 minute film.

A full weekend of activities included: viewing an exhibition of archival materials in Special Collections and University Archives; campus tours; a visit to Oyster Bay; and inductions into the newly-established Brook Heritage Society, for alumni who had celebrated their classes' 50th anniversary year.