Skip Navigation
Scholarships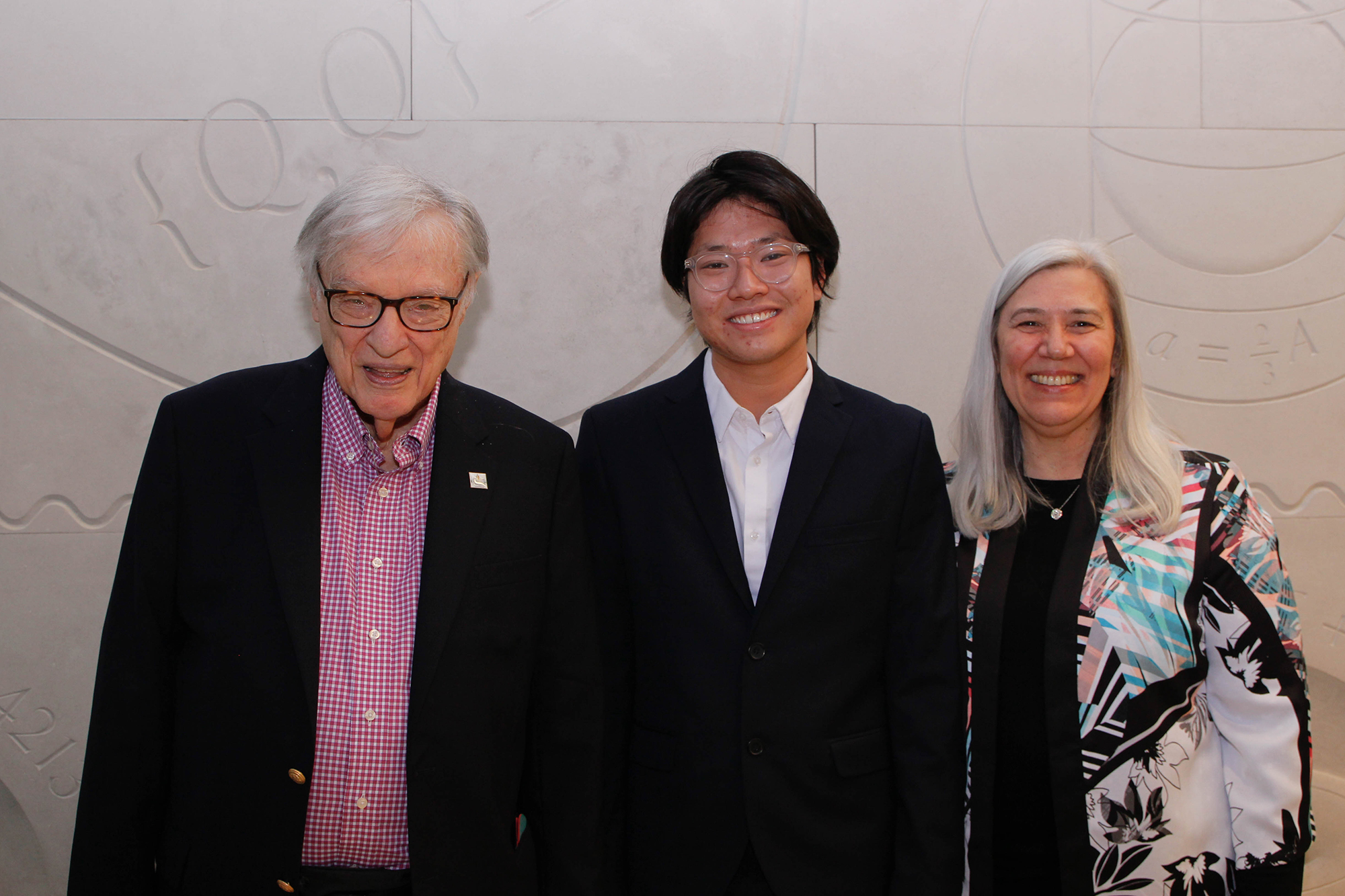 Thanks to the generosity of alumni and friends, thousands of dollars in scholarship money is available to help qualified  students pursue their education and their careers. Each scholarship is different.
The School encourages all students to consider applying for these prestigious awards. 
Applications for 2022 Scholarships are now available for SoCJ students on Blackboard. Applications must be submitted by EOD (5 pm) Friday, March 25, 2022. 
The Robert and Rhoda Amon Memorial Scholarship rewards an outstanding junior or senior majoring in journalism who has demonstrated a commitment to journalism, writes well in print or online, excels in class, and demonstrates a financial need for the scholarship. The winner of the Amon Memorial Scholarship will receive an award to be applied towards tuition at Stony Brook University.This scholarship honors the memory of Robert and Rhoda Amon, journalists who lived in Port Washington.

He was also a maritime historian who had worked as a press aide to New York City Mayor Beame. He died in 1992. She was a reporter for Newsday for 42 years, chronicling social trends and writing about the lives of ordinary people. She was among a group of women who fought for equal treatment at Newsday, a fight that led to a federal discrimination lawsuit that changed Newsday's hiring practices. Rhoda Amon wrote her last story for Newsday in 2008, a week before she died of breast cancer at age 85.

The Catherine M. Ayscue Endowed Memorial Scholarship recognizes and provides financial assistance to a student from the Stony Brook University School of Communication and Journalism. The scholarship honors Catherine M. Ayscue, a prolific writer and lover of the arts.

Catherine was managing editor of the university's literary magazine, Spoke The Thunder, a newscaster at the campus radio station WUSB, and worked with SBU artist-in-residence Francisco Donoso. She was named an Undergraduate College Fellow, serving as a peer mentor as a Residence Assistant and participated in the "Journalism Without Walls" 2014 program to Beijing, China. During her college search, Stony Brook rose to the top and was her first choice of colleges to attend; she often spoke about how much she loved Stony Brook University, her experiences, and the friends she made. Catherine Ayscue passed away in 2015. 

Journalists Harvey Aronson and Irene Virag established this scholarship in 2013 to inspire students to recognize and respect the special place narrative writing has in the world of journalism and to nurture their writing and story-telling talents. It is awarded to a junior or senior student who excels in long-from narrative writing and who shows exceptional talent, dedication and promise. It is open to journalism majors and minors. 

The winner will receive an award toward tuition at Stony Brook University. Graduating seniors also are eligible for this award. Aronson and Virag have taught in the School of Communication and Journalism since its founding in 2006. Together, they teach Introduction to Narrative Journalism and Magazine Writing and are known for nurturing the talents of young writers. 

They have worked together for more than 30 years, having met and eventually married while working at Newsday, where he was a feature writer, columnist, editor and writing coach, and she was a feature writer, garden writer and Home and Garden Editor. Aronson is the author of seven books, both fiction and non-fiction. He edited five Newsday books and shepherded a package on the Baby Jane Doe case that was the centerpiece of Newsday's 1986 Pulitzer Prize for local reporting. Virag won that Pulitzer Prize as a member of the Newsday team that covered Baby Jane Doe, an infant with spina bifida, and the political struggle over her treatment.  She has been a Pulitzer finalist in feature writing and explanatory journalism, is a 10-time winner of the New York Newswomen's Club Front Page Award, and is the author of two books.  Both have written extensively for a range of magazines.

Former Stony Brook Senior Vice President of Administration Barbara Chernow and her husband, William Farber, pledged $25,000 in 2013 to establish The Carol Chernow Memorial Scholarship in Journalism. The gift endows a scholarship to support the development of young writers – a life-long goal of the late Carol Chernow's professional career.

The Chernow scholarship is available to a qualifying full-time student enrolled in the School of Communication and Journalism at Stony Brook University. The recipient must demonstrate a desire to pursue a career in journalism with a demonstrated talent and interest in writing and language.Carol Chernow, mother of former SBU Senior Vice President Chernow, was a Brooklyn-born New Yorker, educated at Brooklyn College, who taught several subjects and grade levels in New York City public schools in Brooklyn and Staten Island. Along with her husband, Fred Chernow – a New York City school principal, administrator, author and motivational speaker – Carol Chernow wrote several books on classroom teaching procedures and discipline, some of which remain in use today. However, it was literature, writing and teaching effective communication to a diverse group of children and adults that became her eventual focus and passion.

Chernow believed that one powerful way to open doors and promote equal opportunity was to equip all individuals with better language skills. Beginning in 1963 with the publication of "Reading Exercises in Black History," she turned her energies to both teaching and creating practical educational resources for individuals in various communities. She held that race, ethnic background, economic status, birth language or prior educational experience must not be barriers to learning effective communication in English for any of her students. In addition, Chernow realized that those differences offered educators the opportunity to create and utilize innovative material targeted at developing better language skills, reaching and engaging more students.

"My mother believed that effective communication skills – whether through the spoken word or on paper – were the first, best tools for anyone wishing to be successful in today's world," recalled Senior Vice President Chernow. "She said that people judge you on how well you speak and how well you write. This was the basis of her approach to teaching, and you could call it her affirmative action plan for her students." 

The Daniel Conway Memorial Scholarship rewards full-time journalism major who has a distinguished record in audio and/or broadcast journalism. Dan Conway was a natural born storyteller. Although he was not a reporter, he was married to one and some of it rubbed off on him.

He developed an uncanny knack to get people to talk about themselves and made people feel at ease by using humor and warmth. It was a disarming quality that "good reporters" should strive for. This scholarship will go to an outstanding broadcast reporter that either shows excellence in in feature/humor reporting or business reporting, yes business, though it's sometimes hard to find the humor in that. But Dan was a business major in college, and throughout his life he worked in business and he often used his humor to seal the deal.

Recipients must have a 2.8 Journalism GPA, exemplary work in audio and/or broadcast journalism as evidenced by 3-5 examples of outstanding work. 

The Stony Brook School of Communication and Journalism received a $50,000 gift from Elaine Crosson and her son Daniel in 2013, to establish The Matthew T. Crosson Memorial Scholarship in Journalism, which endows a scholarship to support SoCJ students. A portion of the funding came from donations from family and friends, and the full $50,000 was matched by a special grant to Stony Brook University from Jim and Marilyn Simons and the Simons Foundation.

Special consideration will be given to students with demonstrated interest in, experience with, or commitment to advancing public affairs through ethical, respectful and fact-based communication.

Matt Crosson, the beloved and highly-touted former President of the Long Island Association, a title he held for 16 years, died unexpectedly on December 23, 2010 from complications following a stroke. He resigned from the LIA earlier that year and accepted a job as the Chief Executive Officer of the Las Vegas Chamber of Commerce. Following his death, Elaine and Dan moved back to their home on Long Island after Elaine accepted a position at Stony Brook University as Vice President for External Relations.

Awarded to an outstanding full-time journalism major or minor who demonstrates critical thinking, outstanding narrative writing ability and a commitment to social justice as reflected in his/her journalistic work, and/or an ability to make complex issues accessible to all audiences. This scholarship is for a rising sophomore or junior and preference will be given to journalism majors.

Submit three examples of outstanding journalistic work, done for class, a campus news outlet or a professional news organization. Submitted work may include photography, audio, video, written stories or a multimedia presentation, or any combination of the above.

The DeWan scholarship may be used for tuition and/or non-tuition expenses as determined by the Office of Financial Aid.

George L. DeWan was an esteemed journalist who retired from Newsday in 2001 after 44 years of reporting on poverty, minority affairs, banking, gardening and, most notably, the history series "Long Island Our Story." He died in 2014 at age 80. He was a passionate and meticulous reporter, with a love of history and language. He wrote more than 60 stories in the 273-day Long Island history project, which ran from September 1997 to June 1998, and spawned several books, a classroom curriculum, and other media projects.

The purpose of the Herman Klurfeld Memorial Scholarship is to identify and reward an outstanding junior journalism major, one who best represents the goals and mission of the School of Communication and Journalism and who demonstrates great potential to succeed as a professional journalist upon graduation.

The scholarship is made possible by the generosity of the Klurfeld family. Professor James Klurfeld is a member of the School of Journalism faculty, a Newsday columnist and a former editorial page editor at Newsday.

For more than two decades Herman Klurfeld was one of the most influential newspapermen in America, although his name was largely invisible to the public.

Klurfeld was the chief writer for Walter Winchell, whose column appeared in more than 2,000 newspapers in the 1930s and 1940s and whose Sunday radio broadcast was heard by millions of Americans. In his role as Winchell's assistant, Klurfeld wrote several columns a week peppered with items ranging from the colorful exploits of Broadway personalities to the emerging threat of Adolph Hitler. He later wrote biographies of Winchell and journalist Drew Pearson.

Long into his eighties, Herman Klurfeld was still a compelling storyteller, regaling friends, family and visitors with his accounts of the famous, the powerful and of the power of words.

This scholarship was endowed in 2015 by Marcy McGinnis, an accomplished broadcast news journalist and executive and former associate dean in Stony Brook University's School of Communication and Journalism. It is intended to support, encourage and honor an undergraduate journalism major or minor student who excels in broadcast journalism at the University, demonstrates high academic achievement and shows exceptional talent, dedication and promise.

The Marcy McGinnis Scholarship should inspire students to recognize and respect the special place broadcast writing, reporting and producing has in the work of journalism and to nurture their visual storytelling talents.

Selection will be based on a body of work that demonstrates dedication and excellence in broadcast journalism in the areas of reporting, writing, producing, shooting and editing video, and on-air performance for class and special projects.  Video work produced in related on or off campus programs sponsored by the School of Communication and Journalism may be considered part of the overall body of work. Internships at broadcast news outlets and extracurricular work in the School of Journalism newsroom, studio and control room may also be considered part of the overall body of work.

Marcy McGinnis started her career at CBS News in 1970 as a secretary in the Special Events Unit and rose to fill several key executive roles, including senior vice president of news coverage from 1997-2005. In that role, McGinnis managed the network's worldwide newsgathering and news coverage operation. She was at the helm of the network's coverage of the attacks of September 11th, the wars in Afghanistan and Iraq and Hurricane Katrina.

After leaving CBS, McGinnis joined Stony Brook University in 2006 to help start the School of Journalism – the first journalism school in the State University of New York system. She established the broadcast journalism program and served as the school's Associate Dean from 2007-2013.

After Stony Brook, McGinnis returned to broadcast news to help start a new cable news network, Al Jazeera America, where she serves as Senior Vice President of Newsgathering. Based in New York, she manages the network's newsgathering and news coverage and the operation and staffing of its domestic and international bureaus.

Over the course of her career, McGinnis received numerous journalism honors including three national Emmy Awards for news coverage of Princess Diana's death, selection to serve a three-year term as a judge for the prestigious Alfred I. DuPont Columbia University Awards, and selection as a judge for the Overseas Press Club Excellence Awards and the Overseas Press Club Foundation Scholarship Awards. She was awarded honorary doctorate degrees from Marymount University (2005) and from Hofstra University's School of Communication (2002). Having graduated from Marymount College of Virginia in 1970 with an associate's degree, she was proud to earn her bachelor's degree in History from the State University of New York in 2009. 

The Paul A. Schreiber scholarship has been established to encourage and reward outstanding student journalism and will be awarded to a student who best demonstrates the objective of the School of Communication and Journalism in his or her body of work. The overall criteria include a student journalist's excellence in reporting, writing and multimedia; leadership; desire to pursue a career in journalism and being in good academic standing. Internship and extra curricular journalism work may be considered  as part of the overall body of work. Demonstrated leadership qualities as an editor, news director or producer  in terms of editorial policies, activities and impact. The scholarship winner will receive an award toward tuition at Stony Brook University.

Paul Schreiber, the School of Communication and Journalism's former Undergraduate Director, is a journalist and teacher who brought newsroom reality into the classroom. As a reporter and columnist during his 33 years at Newsday, Schreiber wrote about thousands of interesting people.  As an editor at Newsday, he oversaw the work of staff and freelance journalists spread all over the world. As a long-time instructor at Stony Brook University, he helped student journalists learn how to report and write clearly and effectively.

After graduating from the University of Miami, Schreiber was hired as a reporter by the Miami Herald. Schreiber joined Newsday in 1968 as a general assignment reporter. As Newsday grew into one of the country's biggest and best newspapers, he become a national desk reporter, copy editor, assistant national editor, night national editor, day national editor, chief of the copy desk, editorial writer, news editor and business columnist. In his last role at Newsday, Schreiber wrote more than 500 columns giving readers an inside look at people "Doing Business."

Between 1987 and 2000, Schreiber taught Feature Writing and Magazine Writing at Stony Brook and was director of the journalism minor. In 2002, the same year he took a buyout from Newsday, the Press Club of Long Island, the local chapter of The Society of Professional Journalists, named him "Outstanding Long Island Journalist."

He returned to Stony Brook in 2004.

He is a co-founder of the School of Journalism and co-creator of the school's News Literacy program. In addition to being a senior administrator in the School of Communication and Journalism, Schreiber taught Journalistic Judgment and Ethics and was the principal adviser for journalism majors and minors. He played a key role in securing national accreditation for the School in 2015. Schreiber was a member of the Stony Brook University's General Education Committee and the university's Task Force on Assessment.  In 2014, he was inducted into the Press Club of Long Island's Journalism Hall of Fame. He retired in 2017.

These awards, named in honor of the late education editor of Newsday and adjunct professor of journalism at Stony Brook, honor outstanding efforts of student journalists at Stony Brook and are presented annually to student journalists whose work demonstrates a commitment to excellence through leadership in campus journalism, outstanding work and/or impact on the Stony Brook community.

They are in memory of Martin Buskin, who taught the first journalism courses at Stony Brook, setting the stage for the Journalism Minor and by extension the Journalism Major. A Newsday editorial said of him, "Buskin's reporting was thorough and dispassionate, but his weekly column in the Viewpoints pages left no doubt of his commitment to educational reform. His belief in the value of racial integration and the necessity for more equitable taxation remained unshaken by years of controversy. Readers will certainly miss his authoritative voice. And it's hard for us to imagine Newsday without him."

The overall Buskin Award comes with a $1,000 prize. It is open to juniors and seniors who have earned at least 57 credits and are in good academic standing. A Cub Journalist of the Year award comes with a $250 prize. Both awards are presented at the annual School of Communication and Journalism Majors' Banquet in May. Names of the overall winners are showcased on Martin Buskin plaques next to the Newsroom.

For details and to apply, visit www.MartinBuskin.org

The Louis J. Marrone II Memorial Scholarship was created by the generous donation of the Shannon Family of Tower Fasteners Inc. to honor their long-time employee and dear friend.

Louis was a senior undergraduate at Stony Brook University when he tragically passed away in 2020 at the age of 23, just 16 credits away from graduation. Louis was a voracious reader, prolific writer, great interviewer and lover of literature, music and arts. Louis cherished his time at Stony Brook and was so proud to be accepted to and attend the University. He co-hosted an on-air talk show at WUSB, he was a contributing writer for The Statesman and The Stony Brook Press, he was the satire editor for The Stony Brook Press, he hosted several podcasts and he authored an online newsletter. Although only there for 3 1/2 short years he left us with a great body of work that lives in his many published articles and internet broadcast. Louis truly found his voice and passion for writing at Stony Brook. But more than his writing, it was his relationship and friendship with his fellow students and writers that made Louis special. Louis was a mentor to his fellow writers. He would continually encourage them to write and push their boundaries. He was open and accepting to all people and all points of view. Louis also had the ability to make new insecure writers feel welcome, important and heard. He would light up a room with his positive attitude and infectious laughter.

Click here for more details and to apply. 

This scholarship is offered through Stony Brook University's Office of Financial Aid & Scholarship Services. 
Melville Library N4004
Stony Brook University
Stony Brook, NY 11794