Home > Human Resource Services News and Events
Human Resource Services News and Events
Summer Appointments for Faculty and Non-Faculty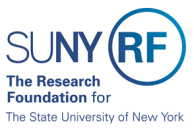 MEMORANDUM
| | |
| --- | --- |
| To: | Research Foundation Department Heads and Principal Investigators |
| From: | Tracey McEachern, Assistant Director Human Resource Services |
| Date: | April 8th, 2013 |
| Subject: | Summer Appointments on Research Foundation Payroll |
In order to assist you with your Research Foundation (RF) summer appointments we are providing the following guidelines:
The defined summer period for research

faculty

begins on May 27, 2013 and ends on August 23, 2013. These dates apply for anyone with an academic year obligation.
For summer only Project Aides (non-SUNY students) and positions without an academic year obligation, the Research Foundation has defined the period of employment to be no more than 4 months and must be between May 1 and September 30. Please refer to the memorandum authored by Steve Riccobono.
Appointments
Faculty:

All Research Foundation summer appointments must be approved by the Principal Investigator and the Dean.
Campus policy permits, subject to sponsor constraints, the recovery of 2.5 months of full time effort on sponsored projects during the summer (See Payroll Schedule).

Requests for more than 2.5 months (55 days), not to exceed 3 months of salaried effort for 2013, must be fully justified and approved by both the Chair and the Dean's office. The requests should identify the specific funding Project and Award and should address the faculty member's dedication of effort during the prior academic year.

As in the past, no more than two months (44 days) of total support may be obtained from NSF.
NSF limits salary compensation for senior project personnel to no more than two months of their regular salary in any one year. (This limit includes salary compensation received

from all NSF-funded grants

).

Non-Faculty:

All Research Foundation summer appointments to Postdoctoral Associates, Research Scientist non-teaching professional, and non-exempt support staff require the approval of the Principal Investigator.
New appointments must follow the regular recruitment and hiring process (summer Project Aide hires should follow the expedited hiring process as outlined in Steve Riccobono's memorandum).

H-1B Visa Holders:

State Faculty, with an H-1B visa for State employment are NOT authorized to work for the RF. In order for State faculty to receive summer RF funds:

The funds must be routed through their State payroll account,

or

International Services must file a concurrent H-1B petition for the RF employment. Several months lead time is required.

Graduate Students:

SUNY Graduate Students who have not yet graduated and who are

enrolled for summer classes or;
pre-registered for the Fall 2013 semester are eligible for employment as Research Project Assistants

Undergraduate Students:

Undergraduate students from any SUNY school who have not yet graduated and are:

enrolled for summer classes or;
pre-registered for the Fall 2013 are eligible for employment as Research Aides
Required Documentation
To avoid appointment and payroll delays please ensure that all forms are fully completed and submitted in a timely (see attached payroll calendar).
Employee Assignment/Information Change Forms:

For personnel not previously employed by the Research Foundation or those returning after a separation of more than one-year, an Employee Appointment Form must be completed.
For those employees

returning

to Research Foundation within one-year, an Employee Change Form must be completed.
All sections of the Appointment/ Change Form must be completed, and particular attention should be paid to:

People Data section/ Check Delivery Drop code :( see listing of Payroll Specialists by check drop).
Assignment section/ Status field: For appointments that will continue beyond September 30, please indicate "Regular". For research appointments that fall within the period May 27 to August 23, please indicate "Summer".

Withholding Forms for "new" Research Foundation employees:

Federal Tax Form W-4
State Tax Form IT2104 (or IT2104E if claiming exemption from State tax).
Returning employees need not submit tax forms unless they wish to change exemptions.

IRS Form 8223

for Non Resident Alien claiming exemption from taxes due to a Tax Treaty between the U.S. and their country.

E-Verify and Form I-9

All employees being newly hired to RF must be processed through the verification system

. It is

critical

that paperwork for new hires be submitted in a timely manner. I-9 forms must be verified by Human Resource Services by the first day of hire so that verifications can be performed in the required timeframe. Your employees

MUST NOT

start work until E-Verified.

All new hires

must bring a completed copy of the E-Verify Request Letter, plus acceptable I-9 identification documents, as indicated on the request letter, by their hire date to:

the Human Resource Services office at 390 Admin. Bldg. or
the HRS office in the Health Science Center, fourth floor room 047(across from Family Med)

Rehires

with a break of four (4) or more months must be E-Verified again.

Affirmative Action Documentation

The Research Foundation of Stony Brook University is required to "identify every applicant" even those seeking temporary summer employment. Please complete a SUSB 68 form for all professional and faculty hires and a Request to Hire form for non exempt RF staff.

Time Sheets

All RF employees must complete the appropriate time sheets/rosters. For summer faculty Human Resource Services will provide a separate monthly roster.
Social Security Number
Every employee must have a valid Social Security number issued by the Social Security Administration. Human Resource Services will provide a temporary pseudo social security number for campus use only. Those employees who have been issued this temporary number must apply for a permanent number at a Social Security Administration office within 7 days of appointment. When the employee receives the Social Security card, attach a copy of the card to an Employee Change Form and submit immediately to the Research Foundation Payroll Office/Human Resource Services.
Benefits
Summer appointments to The Research Foundation that fall within the period May 27, 2013 and ends on August 23, 2013 do not include benefit coverage, except for New York State Statutory Benefits and TIAA/CREF contributions for employees vested in the Research Foundation Retirement Plan. Employees whose appointments fall outside, or extend beyond the defined summer period (indicated as "regular" on the Appointment/Change Form), may be eligible to receive benefits during the summer and subsequent months, providing that the FTE is 50% or more.
Further Information
For information on Research Foundation Benefits please call 2-6180. For Payroll/Appointment information please contact your Payroll Specialist. All forms can be accessed on the HRS website at www.stonybrook.edu/hr
| | |
| --- | --- |
| CC: | B. Hsiao |
| | B. Chernow |
| | L. Johnson |
| | C. Mord |
| | S. Routh |
| | S. Riccobono |
| | M. Ricciardi |
| | L. Coleman |
| | VP/Deans Coordinators |