Home > Human Resource Services (HRS) at the Health Sciences Center (HSC)
Human Resource Services (HRS) at the Health Sciences Center (HSC)
Same Service, Different Locations
HRS is located on Level 4, Room 4-146 across from the escalators in the HSC.
The phone number is (631) 444-2015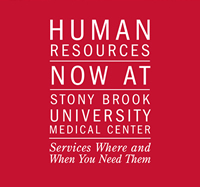 In addition to the Human Resource office located in HSC, employees can visit the HRS office located on West Campus.
HRS West Campus Office, Rm 390, Administration Building, (631) 632-6161
Employees from Hospital and Veterans home can access HR services at
Hospital HR, 3 Technology Drive, Suite 100,
(631) 444-4700
LISVH HR office at 100 Patriots Road, East Pavilion, (631)444-8617
No Appointment Needed
You can stop by the Human Resources office to ask questions and obtain forms during our hours of operation. If you need more detailed information, we will be happy to schedule an appointment for you to meet with a Human Resources specialist.
Location
Health Sciences Center (HSC)
Level 4, Room 4-146
Across from the escalators in the HSC
(631) 444-2015

Schedule
| | Time |
| --- | --- |
| Monday | 1:00 PM to 4:00 PM |
| Tuesday | 9:00 AM to 3:00 PM |
| Wednesday | 9:00 AM to 3:00 PM |
| Thursday | 9:00 AM to 1:00 PM |
| Friday | By Appointment Only |
For Information on a specific topic, please click below: