Fall 2017 Performances
Nataraja Vandanam: Love Songs to Shiva
Sunday, October 1, 2017 at 4–5:30 PM
Charles B. Wang Center Theatre
Choreographed by Mallika Sarabhai, the Darpana Performing Group will perform Nataraja Vandanam: Love Songs to Shiva. Four dexterous Indian dancers bring to the Wang Center a performance of traditional Bharata Natyam, a major genre of Indian classical dance for the Lord of the Dance, Shiva Nataraja. The great Hindu god Shiva has many representations in art, but perhaps the most familiar is as a dancing figure within a circle of fire.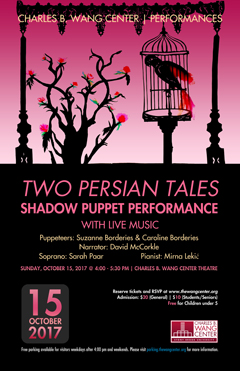 Two Persian Tales: Shadow Puppet Performance with Live Music
Sunday, October 15, 2017 at 4 PM
Charles B. Wang Center Theatre
Two Persian Tales intertwines the mediums of sharp-silhouette shadow puppetry and live vocal and piano music. "The Story of the Parrot and the Merchant" and "The Ant Who Saw a Pen" are stories drawn from The Masnavi, an epic poem by the celebrated 13th-century Persian Sufi poet Jalaluddin Mohammad Rumi. Rumi's work, written in beautiful verse, creatively addresses weighty philosophical, spiritual, and moral arguments. Two Persian Tales will be performed by puppeteers Suzanne Borderies and Caroline Borderies, narrator David McCorkle, vocalist Sarah Paar, and pianist Mirna Lekić.
Fairytale: A Creative and Traditional Korean Music Group
Sunday, October 15, 2017 at 4 PM
Charles B. Wang Center Theatre
Founded in 2011, Fairytale is a Korean music band that uses a hybrid style to keep traditional music alive while seeking to create music with pure sensibility. Fairytale's music is inspired by traditional Korean poems and songs, and they are major contributors to the popularization of Korean traditional music. At the same time, Fairytale promotes contemporaneity and popularity, transforming the old and conservative image of Korean traditional music to promote a place for traditional music in modern Korean pop culture.
Fairytale features Korean traditional instruments such as the daegum (a Korean bamboo flute, played by Seo Youseok), the geomungo (a Korean folk zither, played by Choi Jinyoung), and the haegum (a Korean fiddle, played by Ko Yunjin). Fairytale also includes percussions (played by Kim Kyuyoun), the piano (played by Oh Youngjin), and vocal song (by Jang Myeongseo).
---
Spring 2017 Performances
Chinese New Year
Saturday, February 4, 2017 at 2:00–6:00 PM
Charles B. Wang Center Theatre, Theatre Lobby, Main Lobby
Join us in saying goodbye to the Year of the Monkey and welcoming the Year of the Rooster at the Wang Center's signature Lunar New Year Festival. The highlights of the festivities are the annual Chinese New Year performance and family reunion dinner offered by the Confucius Institute. The performance includes a must-see magic show, Chinese dance, Chinese folk songs, and Peking opera. The celebration also offers traditional Lunar New Year craft activities from China, Japan, Korea and Vietnam. Enjoy our cultural offerings and stay for our grand finale dinner.
| | | |
| --- | --- | --- |
| Luanr New Year Family Activities | 2:00-4:00 PM | Theatre Lobby |
| Chinese New Year Performances | 3:00–5:00 PM | Theatre |
| Dinner | 5:00–6:00 PM | Main Lobby |
Co-presented with the Confucius Institute at Stony Brook University.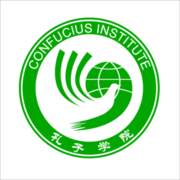 FESTIVAL
Lunar New Year: The Year of Rooster
Saturday, February 4, 2017 at 2:00 – 4:00 PM
Charles B. Wang Center Theatre Lobby
They Call Me Q
Friday, March 24, 2017 at 6:00 PM
Charles B. Wang Center Theatre
They Call Me Q is the story of a girl from Bombay growing up in the Bronx who seeks a balance between cultural pressures and the desire for acceptance into American culture. Qurrat Ann Kadwani transforms into 13 characters that have shaped her life, including her parents, Caucasian teachers, Puerto Rican classmates, and Indian and African-American friends. Laden with heart and humor, They Call Me Q speaks to the universal search for identity experienced by immigrants of all nationalities.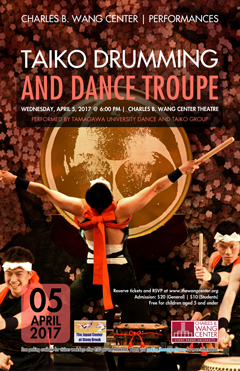 Taiko Drumming and Dance Troupe
Performed by Tamagawa University Dance and Taiko Group
Wednesday, April 5, 2017 at 6:00 PM
Charles B. Wang Center Theatre
One of the top-ranking taiko groups in Japan will perform thundering taiko drumming rhythms accompanied by traditional Japanese dance, with nearly 30 drummers and dancers taking the stage. Tamagawa University Dance and Taiko Group has been touring the world since 1961, visiting Mexico, England, Greece, Canada, Malaysia, Russia, Indonesia, Africa, and the United States. This is their 12th Annual East Coast Tour, which takes them from Washington, D.C. to Philadelphia and New York. Tamagawa University Dance and Taiko Group recently won third place in a competition against 450 other groups at the Tokyo International Taiko contest.
Presented with the support of the Japan Center at SBU.