Fall 2016 Performances
Chinese Peking Opera and Magic Show
Friday, September 23, 2016 at 6:00–7:30 PM
Charles B. Wang Center Theatre
To celebrate Global Confucius Day, the Confucius Institute at Stony Brook University will present a Peking opera. Peking opera is a form of traditional Chinese theatre that combines music, vocal performance, dance, and magic tricks. It was extremely popular in the court of the Qing dynasty (1644-1912) and has come to be regarded as a Chinese cultural treasure. With its elaborate and colorful costumes, the repertoire of Peking opera includes over 1,400 works, many of which are based on Chinese history, folklore, and, increasingly, contemporary life.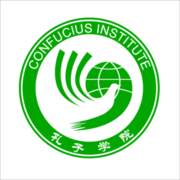 WORKSHOP
Chinese Peking Opera Dress-Up
Friday, September 23, 2016 at 1:00 – 6:00 PM
Charles B. Wang Center Theatre Lobby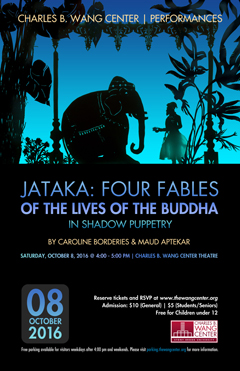 Jataka: Four Fables of the Lives of the Buddha in Shadow Puppetry
Saturday, October 8, 2016 at 4:00 PM
Charles B. Wang Center Theatre
French puppet masters Caroline Borderies and Maud Aptekar bring another fantastic show to the Wang Center. Using their shadow puppets, they interpret classical Buddhist Jataka tales with their own distinctive French flair. Narrated by an elephant, a parrot, and a golden peacock, the Jataka tales are stories of the Buddha's past lives. The show will offer simple yet powerful lessons in living with honesty, wisdom, and compassion that are sure to touch the hearts and minds of the young and older audiences alike.
WORKSHOP
Trick or Treat: Shadow Puppet Making
Saturday, October 8 at 1:30 – 3:30 PM
Charles B. Wang Center Theatre Lobby
---
Spring 2016 Performances
Beyond Sacred: Voices of Muslim Identity
by Ping Chong + Company and directed by Ping Chong and Written by Ping Chong and Sara Zatz, with Ryan Conarro and in collaboration with performers Tiffany Yasmin Abdelghani, Ferdous Dehqan, Kadin Herring, Amir Khafagy and Maha Syed
Wednesday, April 6, 2016 at 6:00 PM
Charles B. Wang Center Theatre
Beyond Sacred is an interview-based theatre production exploring the diverse experiences of Muslim communities within New York City. The five cast members of Beyond Sacred vary in many ways, but share the common experience of coming of age in a post-9/11 New York City, at a time of increasing Islamophobia. Participants come from a range of cultural and ethnic backgrounds and include young men and women that reflect a wide range of Muslim identities, including those who have converted to Islam, those who were raised Muslim, but have since left the faith, those who identify as "culturally" Muslim, and those who are observant on a daily basis. Beyond Sacred is part of Ping Chong + Company's Undesirable Elements project, an oral history theater project exploring issues of culture, identity and difference in the lives of individuals in specific communities.
Beyond Sacred was developed through a community-engaged process wherein Ping Chong + Company extensively interviewed local community members, who then become the performers. These interviews became the basis of the show's script, which weaves together personal, historical and political narratives. The goal of Beyond Sacred is to use theater and personal testimony to foster greater understanding among Muslim and non-Muslim communities in New York and beyond.
Beyond Sacred was commissioned by LaGuardia Performing Arts Center, where it premiered in April 2015, with the generous support of APAP and the Doris Duke Foundation Building Bridges Grant. 2015-2016 presentations are taking place with the support of the Doris Duke Foundation For Islamic Art.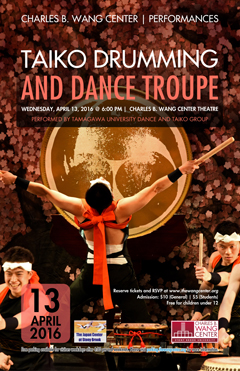 Taiko Drumming and Dance Troupe
Performed by Tamagawa University Dance and Taiko Group
Wednesday, April 13, 2016 at 6:00 PM
Charles B. Wang Center Theatre
One of the top-ranking taiko groups in Japan will perform thundering taiko drumming rhythms accompanied by traditional Japanese dance, with nearly 30 drummers and dancers taking the stage. Tamagawa University Dance and Taiko Group has been touring the world since 1961, visiting Mexico, England, Greece, Canada, Malaysia, Russia, Indonesia, Africa and the United States. This is their 12th Annual East Coast Tour, which takes them from Washington, D.C.to Philadelphia and New York. Tamagawa University Dance and Taiko Group recently won third prize in a competition against 450 other groups at the Tokyo International Taiko contest.
Presented with the support of the Japan Center at SBU.