Fall 2015 Performances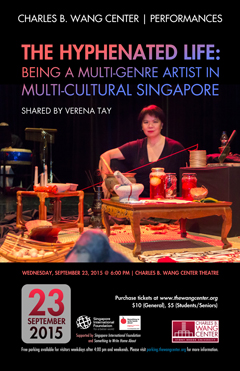 The Hyphenated Life: Being a Multi-Genre Artist in Multi-Cultural Singapore
Shared by Verena Tay
Wednesday, September 23, 2015 at 6 PM
Charles B. Wang Center Theatre
For thirty years, Verena Tay has practised theatre as well as telling, writing and editing stories in Singapore, one of the world's most multicultural and fastest developing nations. In this sharing, she will read/perform excerpts from her plays and short stories, talk about her creative inspirations and journey, as well as give some insights about the English language literary and theatrical scene in contemporary Singapore. Supported by the Singapore International Foundation and Something to Write Home About.
About the Artist
A Singapore-based writer and editor, Verena Tay (www.verenatay.com) has published a short story collection, Spectre: Stories from Dark to Light (2012) as well as three play collections, and has edited seven fiction anthologies, including the popular Balik Kampung series published by Math Paper Press. A seasoned storyteller and theatre practitioner, Verena has brought traditional and original stories alive in her unique fashion, delighting audiences in Singapore, Scandinavia, Australia, the U.S. and Malaysia. An Honorary Fellow at the International Writing Program, University of Iowa (Aug–Nov 2007), she holds three Master's degrees in English Literature, Voice Studies and Creative Writing.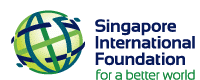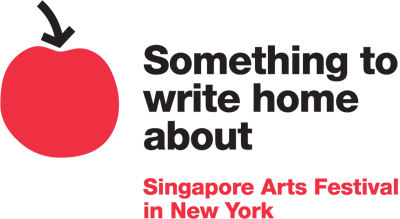 Two Tales of Tricksters from Southeast Asia
by French artists, Caroline Borderies and Christian Barthod
Saturday, October 24, 2015, 4PM
Charles B. Wang Center Theatre
Shadow puppetry is part of the rich theatrical traditions of many Southeast Asian countries. Colonizers and travelers from France encountered this art form in the eighteenth century and brought it back to Europe with them under the name ombres chinoises (literally "Chinese shadows", though the French mainly imitated Indonesian, Thai and Burmese styles.) These ombres chinoises were particularly popular in England and France from the eighteenth century until the end of the nineteenth century.
French puppet masters Caroline Borderies and Christian Barthod revive this cross-cultural art form by interpreting classical Asian folk tales with their own distinctive French flair. In this performance Ms. Borderies and Mr. Barthod will present "Two Tales: Xieng Mieng Stories", about the popular Lao character Xieng Mieng, who uses his quick wits and his sly sense of humor to challenge the king, and "The Adventures of Sang Kancil the Mouse-Deer" from Malaysia, about a popular character who uses wit and intelligence to triumph over big and mean-spirited animals.
This world-class puppetry will be a delight for kids and adults alike.
RELATED PROGRAMS
WORKSHOP
Trick or Treat: Shadow Puppet Making
Saturday, October 24, 2015, 1:30-3:30 PM
Charles B. Wang Center Chapel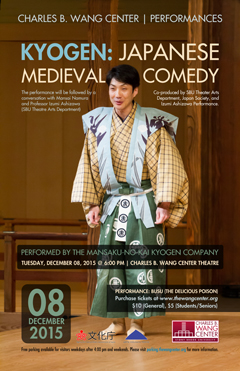 Kyogen: Japanese Medieval Comedy
Performed by The Mansaku-No-Kai Kyogen Company
Wednesday, December 8 at 6 PM
Charles B. Wang Center Theatre
The performance will be followed by a conversation with Mansai Nomura and Professor Izumi Ashizawa (SBU Theatre Arts Department)
The Masau-no Kai Kyogen Company was founded by Mansaku Nomura II, a Living National Treasure of Japan, and is now also led by his son, Mansai II, part of a 250 year-old theatrical family line. Kyogen is one of the four representative classical theater arts of Japan which includes Noh, Bunraku and Kabuki. Kyogen is a medieval popular comedy founded in the early 14th century in Kyoto and which became integrated into the middle of each Noh play. Mansaku has been a pioneer in sharing Kyogen, as both a traditional and contemporary art, with audiences around the world.
Co-produced by SBU Theater Arts Department, Japan Society and Izumi Ashizawa Performance.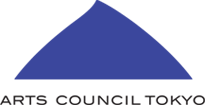 ---
Spring 2015 Performances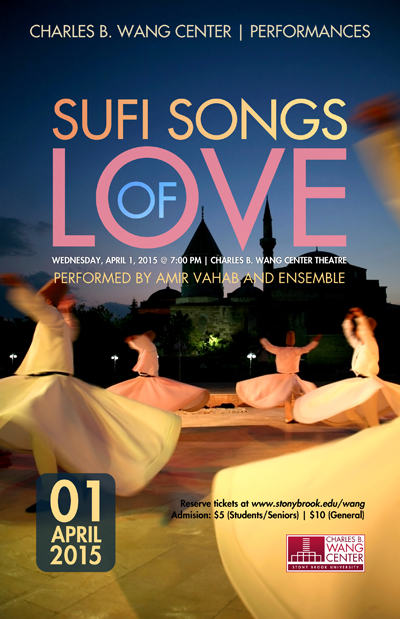 Sufi Songs of Love by Amir Vahab and Ensemble
Wednesday, April 1, 2015, 7PM
Charles B. Wang Center Theatre

Described by The New York Times as an "ambassador for a silenced music," Amir Vahab is one of New York City's most commemorated deliverers of Sufi music and poetry. The ensemble, formed by Amir Vahab in 1981, seeks to bridge an understanding between different cultures in the world through the embodiment of the mystical magic that is Sufi poetry. Amir Vahab's music is rooted in tradition, but has been influenced by contemporary sounds; like Amir himself, his music symbolizes diversity-in-unity. He aims to transport the listener into a spiritual existence in 13th century Persia through his performance: "Sufi Songs of Love"selected from the poetry of the great Sufi Masters Rumi, Hafiz and Yunus.
The lively folk and traditional music features the ethereal sounding ney (mystical reed flute), tar (instrument of lovers), oud (the short neck lute), tanbour (ancient sacred lute), saz (seven-stringed long neck lute), daf (large frame drum used for Sufi rituals), and tombak (Persian goblet drum). The concert concludes with a dynamic drumming performance that echoes the universal heartbeat of existence. Join us at the Wang Center for a night of magic you will never forget.
Japanese Noh Play: Virgin Mary of Nagasaki
Friday, May 15, 2015, 1PM
Charles B. Wang Center Theatre
The performance will be followed by a conversation with Kanji Shimizu and Professor Izumi Ashizawa (Stony Brook Department of Theatre Arts)
Noh theater is a vital form of Japanese classical drama that dates back to the ninth century. Renowned Noh master Kanji Shimizu brings this ancient form to life in a strikingly contemporary fashion in this piece based on Tomio Tada's Virgin Mary of Nagasaki, a play that revolves around the atomic bombing of the city. Following the performance, Shimizu talks about the stylistic and technical aspects of acting in Noh, such as posture and projection, and will reflect on the continuing relevance of this rich form.
Co-produced by SBU Theatre Arts Department and supported by Professor Izumi Ashizawa's Presidential Guest Artist Grant.
About the Performer:
Kanji Shimizu is a master teacher of Noh at Okinawa City Art University in Japan. He is trained in traditional Noh, yet also explores its experimental possibilities. Shimizu has performed at Lublin Music Festival in Poland, Kerala State Performance Festival in India and the Japan Society in New York City.