Fall 2014 Workshops

Tasting and Talk: Chinese Tea Drunk
by Shunan Teng
Charles B. Wang Center Chapel
Fee: $10 (General, Single Program) / $15 (General, Two Workshops) / $5 (Students, Single Program)
Tasting Chinese Tea
October 25, 2014 @1:00-3:00 PM
Which Chinese tea is the freshest and which one is the least processed? No, it's not the same tea! China is probably best known for green tea and oolong tea, but did you know that there are actually six different categories of Chinese tea? Shunan Teng held an educational Chinese tea tasting taught guests about the culture and the history behind each of these teas. Participants explored distinct taste profiles of each category of tea and learned what makes each tea different from the others and how to identify quality tea.
Brewing Chinese Tea
November 15, 2014 @ 1:00-3:00PM
Do you know what a Gai Wan is? And do you know that a Gai Wan is more commonly used in China to brew tea than a teapot? This hands-on workshop is perfect for tea lovers who know their tea basics and who are looking to step up their game. We'll compare Western style tea brewing with the traditional Chinese method. By the time we are done with our workshop you'll know all about leaf to water ratio as well the technique of using a Gai Wan like a seasoned tea master! The subjects of easily making a perfect green tea, of using the appropriate utensils, of employing correct serving etiquette and of precisely controlling water temperature will all be discussed.
About the Speaker
Shunan Teng is an expert on traditional Chinese tea. Ms. Teng is also the owner of Tea Drunk. Tea Drunk is a teahouse located in the East Village of Manhattan that promotes traditional Chinese teas and the Chinese tea culture. Every tea on their menu is hand sourced directly from its true origin area in China, directly from the tea farmers. Tea Drunk also offers a series of tea classes as well as tea tastings and special events. Ms. Teng's ultimate goal also includes bridging the divide between Chinese and Western cultures, since consuming Chinese tea in the traditional Chinese way provides insights into the deep and dynamic culture of China itself.
---
Made By Hand: Shadow Puppet Making Workshop


Saturday, November 1, 2014, 2:30-3:30 PM

In this hour long workshop taught by Caroline Borderies, participants will be introduced to the mechanics, techniques, and history of Southeast Asian shadow puppetry, including the French adaptation ombres chinoises. Borderies will offer her unique perspective on ombres chinoises, will demonstrate techniques for manipulating shadow puppets, and lead participants in making and animating their own unique puppet creations.

After the workshop at 4:00PM, there will be an hour-long performance of Caroline Borderies' French interpretation of popular Asian tales via shadow puppetry entitled Two Tales from South East Asia. By purchasing a ticket for the workshop, you are eligible to receive a discounted ticket for the performance. To receive a discounted ticket, you MUST check in to the workshop.

Please contact us at (631) 632-4400 or wangcenter@stonybrook.edu with any questions.
---
Hands-On Painting Workshop With Seongmin Ahn
October 7, 2014 @ 1:00-4:00 PM
October 8, 2014 @ 1:00-4:00 PM
Charles B. Wang Center Chapel

Keep your garden growing and your flowers flowing with Seong Min Ahn's helpful instruction on the subject of Asian traditional color painting. In this three-hour workshop Ms. Ahn explored the meaning of the peony in Asian art and culture. She guided guests by showing them how to paint peonies step by step. Along the way they learned wonderful Asian style folk painting techniques and how to build lovely flower images.

RELATED PROGRAMS

EXHIBITION: Luscious Peonies by Seongmin Ahn (On view from September 18, 2014 to January 10, 2015)
---
Canning Mao's Mangoes with Chef Paolo Fontana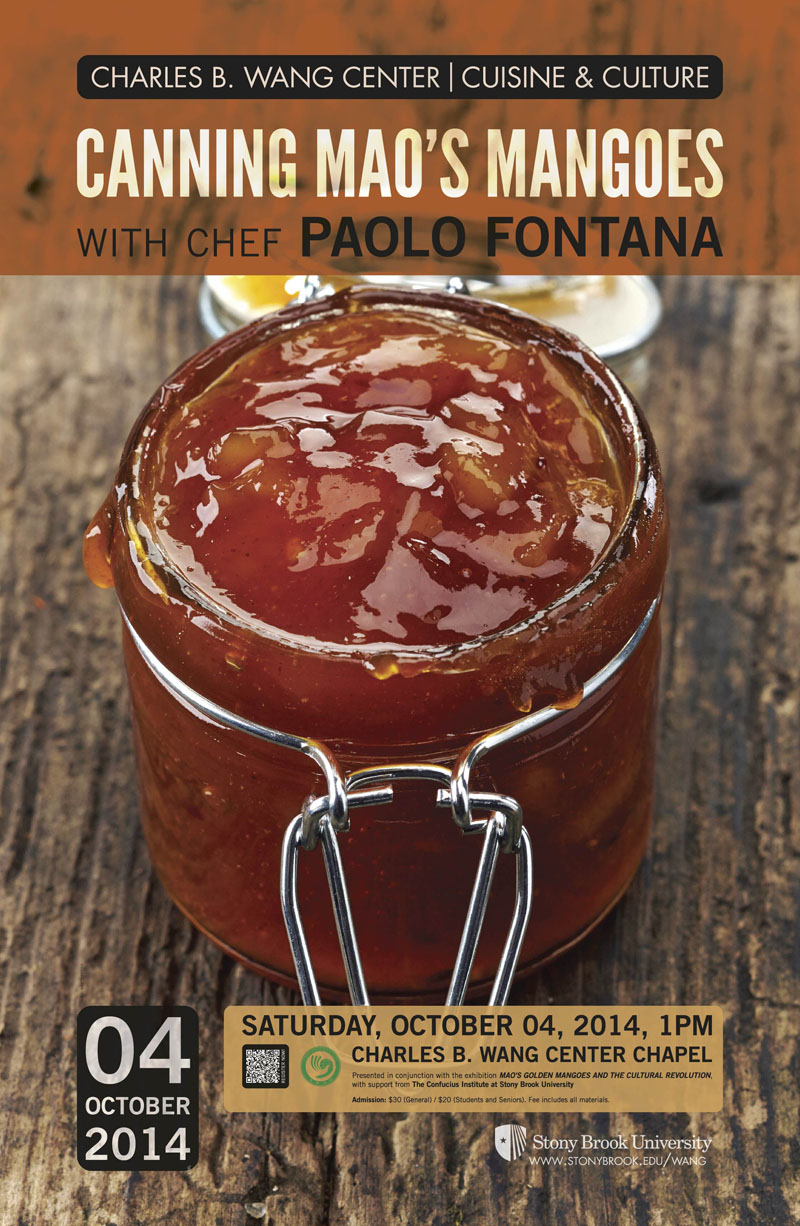 October 4, 2014 @ 1:00-3:00 PM
Charles B. Wang Center Chapel
This was a hands-on introductory class in home canning with a historical spin. The mango workshop is part of a larger cultural exhibit, Mao's Golden Mangoes and the Cultural Revolution at the Charles B. Wang Center. The mango held significances as official propaganda during China's Cultural Revolution (1966-76). Chairman Mao Zedong received a gift of several dozen mangoes from Pakistan's foreign minister in 1968. He distributed them to his worker Propaganda Team who were deeply moved by this gift. The workers decided not to eat the mangoes, but preserved them in various ways as a symbol of Mao's benevolence toward Chinese workers and treated them with near-religious veneration.
Efforts to preserve these precious fruits included wax reliquaries, plastic mangoes and mango images on buttons, posters, ornaments and dishware, which are all on view at the Theatre Lobby Gallery, Charles B. Wang Center. In this workshop Chef Paolo Fontana introduced the ancient art of Asian food preservation through the preparation of the popular South Asian pickle: the Mango Pickle. This creative workshop provided an excellent introduction to home canning.
ABOUT THE CHEF
Currently the executive chef at the Simons Center for Geometry and Physics Café, Chef Paolo Fontana grew up in New York as the son of immigrant Sicilian parents. His love for cooking started at a very young age, when he would spend time in the kitchen cooking with his mother. Chef Paolo has studied at The Culinary Institute of America in New York, Stony Brook University, and NYU, as well as in Avellino, Italy. Chef Paolo has also devoted himself to teaching the art of cooking to others as a culinary instructor at NYIT in New York.
Chef Paolo worked as an apprentice to world-renowned chef Mario Batali and as sous chef for one of his personal favorites, Chef Michael Romano. His talent and skills have taken him to an array of restaurants. He worked for New York culinary landmarks such as Union Square Café, Babbo, Gramercy Tavern, Craft, and most recently, Mirabelle, under award winning La Toque d'Argent recipient, Chef Guy Reuge. He has also worked at Chez Panisse in Berkeley, California.
RELATED PROGRAMS
EXHIBITION Mao's Golden Mangoes and the Cultural Revolution (On view from September 18, 2014 to January 10, 2015)
FILM Morning Sun (2003) Documentary Film by Carma Hinton, October 23, 2014 at 5-7 PM
LECTURE Sanctification of the Mango: Illustrated Lecture by Dr. Alfreda Murck on November 5 at 4 PM
---
Spring 2014 Workshops
Made By Hand: Asian Textiles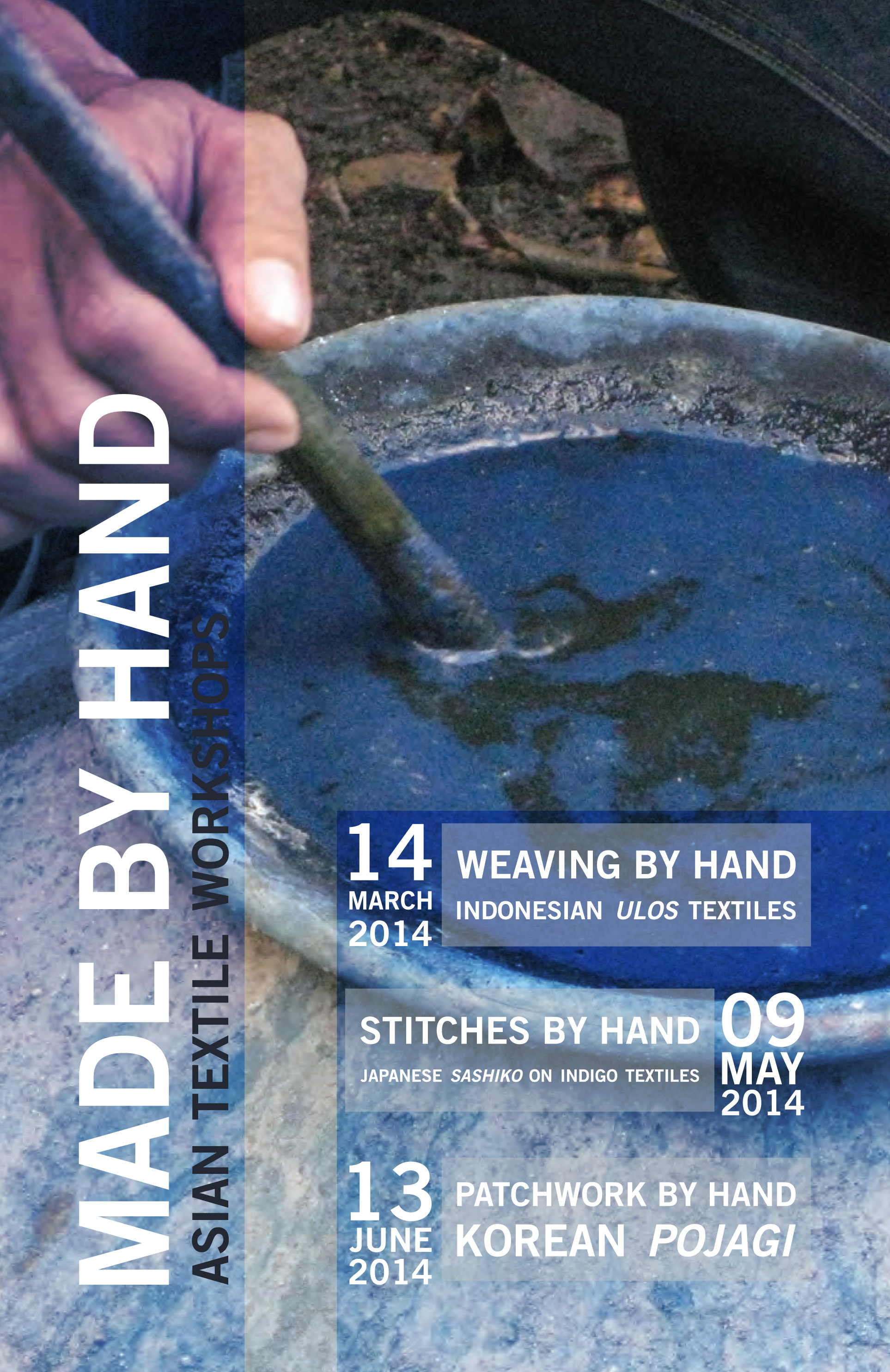 What are the distinctive handicrafts and decorative arts of various regions and cultures of Asia? What techniques do they use, and what do they tell us about taste, style, and tradition? In this series of hands-on workshops, participants will explore the history and aesthetics of various Asian crafts. Skilled workshop leaders will discuss key principles and demonstrate basic techniques – and participants will be invited to create objects of their own!
The following three workshops are presented in conjunction with our Spring 2014 exhibition Seas of Blue: Asian Indigo Dye.
Ticket Info:
Fee includes all materials, but participants are requested to bring their own scissors and a 12-inch ruler. Space is limited. Registration is required.
For your convenience, all workshops will be offered twice, in morning and afternoon sessions.
Patchwork by Hand: Korean Pojagi
Friday, June 13, 2014
Session 1: 10AM - 1PM
Session 2: 2PM - 5PM
Charles B. Wang Center Chapel
Taught by Wonju Seo, an artist featured in the Seas of Blue exhibition. In this workshop, participants will explore unique Korean summer fabrics, and learn how to include Korean pojagi in their everyday lives. The traditional aesthetics of pojagi will be compared to both traditional American quilts and contemporary abstract painting.
May
Stitches by Hand: Japanese Sashiko on Indigo Textiles
Friday, May 9, 2014
Session 1 10AM-1 PM
Session 2 2PM-5 PM
Charles B. Wang Center Chapel

Sashiko is a form of decorative reinforcement stitching or functional embroidery from Japan. Although traditionally used to reinforce points of wear or to repair worn places or tears with patches, this running-stitch technique is now often used for purely decorative purposes in quilting and embroidery. While The use of white cotton thread on traditional indigo blue cloth gives most sashiko its distinctive appearance. Taught by local artist, Judy Doenias, this hand-on workshop enhanced participants' appreciation of the exhibition Seas of Blue: Asian Indigo Dye.
---
March
Weaving by Hand: Indonesian Textile Ulos
Friday, March 14, 2014
Session 1 10AM-1 PM
Session 2 2PM-5 PM
Charles B. Wang Center Chapel


Taught by Merdi Sihombing, an artist whose work was featured in the Seas of Blue: Asian Indigo Dye exhibition. Mr. Sihombing is a renowned Indonesian fashion designer who devotes his artistry, innovation, and energy to designs employing traditional Ulos woven fabric. In this workshop, participants learned about the rich history of Indonesian textiles, and was introduced to various weaving techniques used to create gorgeous traditional Indonesian textiles.
Tea Talk: Appreciation and Perspectives of Asian Tea
Tea, in its many varieties, is central to culture, cuisine, and daily life. One of the first major commodities to be exported from Asia to the West, it has also played a crucial role in world economic and political history.
This series of lectures offered a rich blend of ideas and perspectives on tea in Asia. Speakers discussed various tea rituals; tea culture and connoisseurship; the economics and history of tea; and tea varieties and preparations. Tea tastings were offered at each lecture.
Chinese Tea Drunk by Shunan Teng
Saturday, February 22, 2014, 1:00 PM
Charles B. Wang Center Chapel
Shunan Teng provided a history of tea in China, discussed the distinctions between six different types of teas, and explained proper tea etiquette, including the use of traditional utensils. Teng is an expert on traditional Chinese tea, having backpacked to most of the tea producing regions of China herself. As the owner of one-of-a-kind NYC tea house Tea Drunk, which exclusively offers authentic single-origin tea, it is her mission to introduce authentic premium Chinese tea to the rest of the world by educating one tea enthusiast at a time. Teng's work bridges divides between Chinese and Western culture, showing that consuming Chinese tea in the traditional way offers insights into the deep and dynamic culture of China itself.

Japanese Tea Whisk by Souheki Mori
Saturday, March 29, 2014, 1:00 PM
Charles B. Wang Center Chapel
Souheki Mori believes that within the Japanese tea ceremony is a force invisible and precious, and that the practice of the tea ceremony is a path to spiritual growth. In the workshop, Mori performed a tea ceremony, and explained the history and symbolism of this practice.
Souheki Mori was born in Chiba, Japan. Trained with the Japan Association of the Tea Ceremony, Mori holds the title of Jufuku-an, and is certified as a Japanese tea ceremony teacher. Upon coming to New York in 2011, she set up Tea Whisk, an organization that introduces the beauty of the Japanese Tea Ceremony to America. She has conducted Japanese tea ceremonies at venues including the American Museum of Natural History, Grand Central Terminal's Vanderbilt Hall (for Japan Week 2012), Queens College, Harney & Sons SoHo, and Japanese tea house KeiSui-a.

The Korean Way of Tea by Jaenam Kim
Saturday, April 12, 2014, 1:00 PM
Charles B. Wang Center Chapel
This session invited participants to experience two traditional Korean approaches to tea: the ritual tea ceremony Cha-rye, and the "way of tea" practice Da-do.
Cha-rye is part of Korea's most important holiday, Chuseok or "Harvest Full Moon." On this day, Koreans travel to visit their parents and offer the first harvest of the year to their ancestors. The offering is called Cha-rye because tea represents the best of this offering. In contrast to Cha-rye, Da-Do is an ordinary part of daily Korean life. This meditative practice of preparing, serving, and drinking tea is conducted according to 'natural' cycles of birth, growth, harvest, and rest (or spring, summer, autumn, and winter).
Both Cha-rye and Da-do was presented by Jaenam Kim. Kim has given numerous lectures and workshops on Korean tea at numerous Buddhist temples, and at prestigious venues including Princeton University and the Korean Cultural Service in New York.