Fall 2014 Performances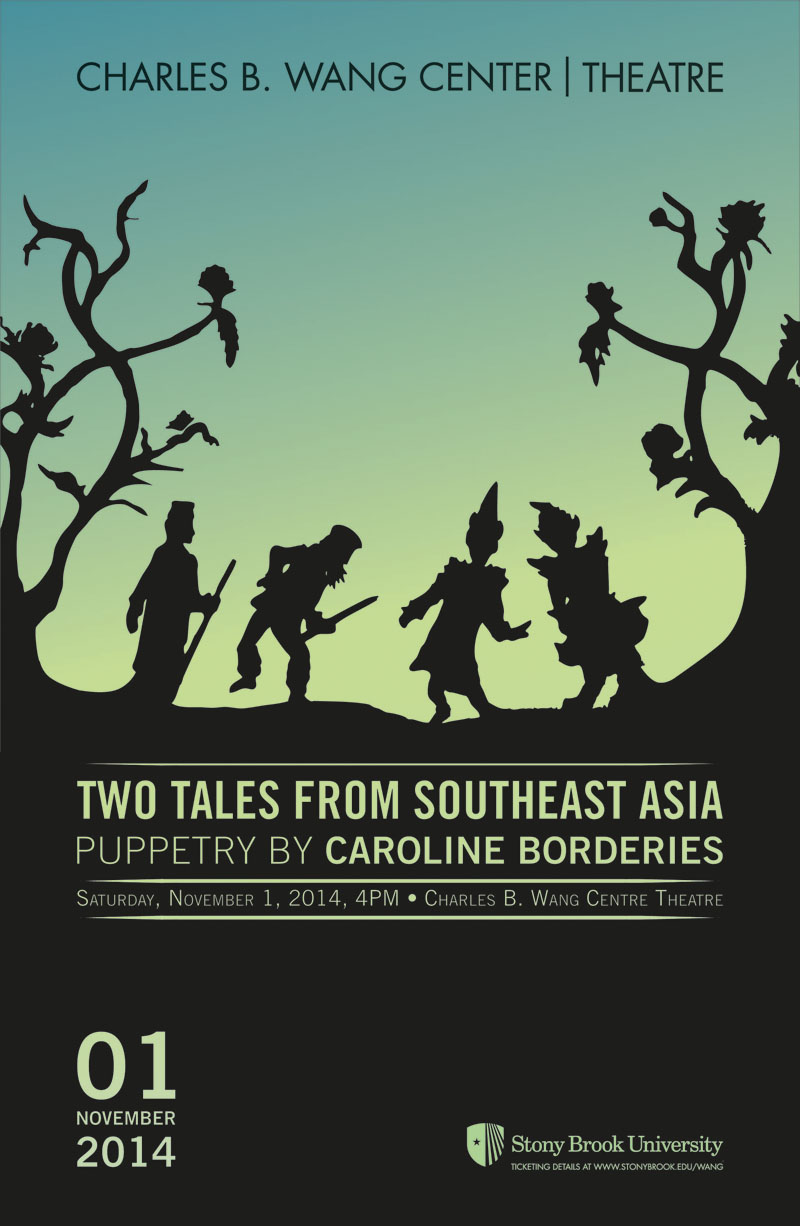 Two Tales from Southeast Asia by Caroline Borderies
Saturday, November 1, 2014, 4PM
Charles B. Wang Center Theatre

Shadow Puppetry, an ancient form of storytelling, is part of the rich theatrical traditions of many Southeast Asian countries. Colonizers and travelers from France encountered this art form in the eighteenth century, and brought it back to Europe with the name ombres chinoises (literally "Chinese shadows," though the French mainly imitated Indonesian, Thai, and Burmese styles). These ombres chinoises were particularly popular in England and France until the end of the nineteenth century.
French artists Caroline Borderies and Christian Barthod interpret classical Asian tales with French flair, reviving this cross-cultural form. In this program, Borderies and Barthod presents two tales: "Aung's Voyage," a Burmese story about a boy who learns the virtues of wisdom, goodness, strength, and knowledge; and "Xieng Mieng Stories," about the popular Thai character Xieng Mieng who uses his quick wits and sly sense of humor to torment and challenge the king. Children will enjoy the playful medium of shadow puppetry, while adults will take pleasure in the tremendous artistry and technical skill of Borderies and Barthod.
Complementary Program: Shadow Puppet Making Workshop
Saturday, November 1, 2014, 2:30 PM
Charles B. Wang Center Chapel
Acclaimed French artist Caroline Borderies presents an interactive workshop as a complement to her Two Tales from Southeast Asia program. Participants will be introduced to the mechanics, techniques, and history of shadow puppetry, and will be prepared for deeper appreciation of Borderies's performance. By registering for the workshop, you receive discounted admission to the performance in general seating. For more information regarding the workshop, please visit the "Workshops" page under the "Other Programs" tab found on our website.
The Life of Buddha
Thursday, September 25, 2014, 7 pm
Charles B. Wang Center Theatre
This theatrical production The Life of Buddha portrays the life journey and the religious pursuits of the Buddha, also known as Shakyamuni, or Gautama Buddha, including his role as founder of the Buddhist faith. Bringing the Buddha to life on stage in a beautifully poignant and highly captivating interpretation, the play is a must see for all those who are interested in the practice, origins, and evolution of Buddhism.
Scripted and directed by Lushin Dubey and Bubbles Sabharwal of the Theatre World New Delhi, choreography by Santosh Nair, and performed by a group of 14 professional actors, this highly praised production interprets and illustrates the life of the Buddha and received blessings from the Dalai Lama himself.
* NOTE: The performance will be approximately 80 minutes in duration without intermission.

Tickets may be purchased in advance by credit payment online, or cash/check in our office, Suite 302, until September 24th.
Please contact us at (631) 632-4400 or wangcenter@stonybrook.edu with any questions.
---
Spring 2014 Performances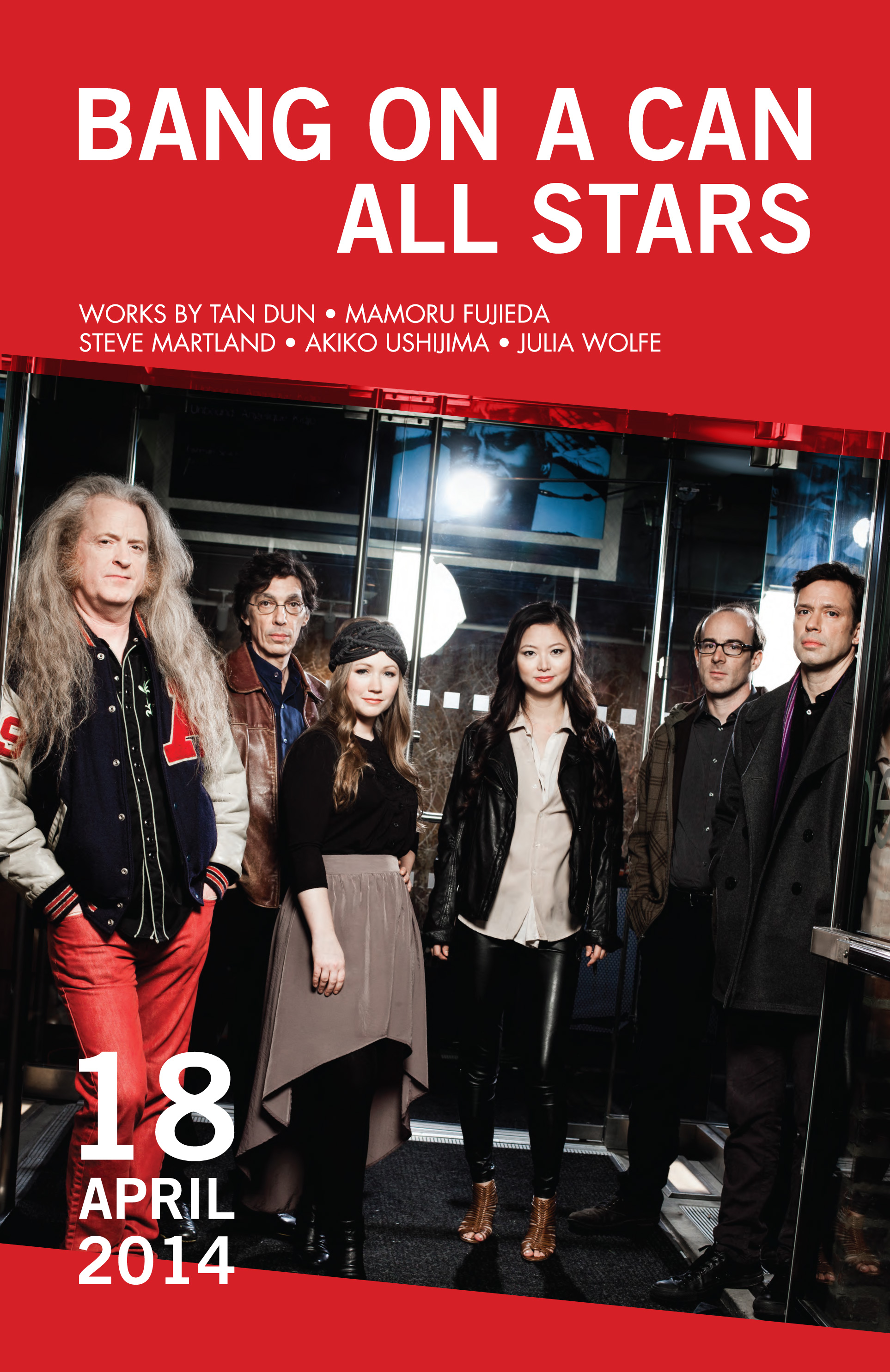 BANG ON A CAN ALL-STARS: BANG ON JA-PAN
April 18 at 7:00 PM
Charles B. Wang Center Theatre
The renowned electric chamber ensemble Bang on a Can All-Stars perform new and recently commissioned works from their impressive collaborations with leading Japanese composers and celebrated core selections from their innovative American and Asian repertoire. The program features music by the spectacular Japanese titan Somei Satoh, post-minimal innovator Mamoru Fujieda, and the playfully complex Akiko Ushijima. In addition works commissioned for the group from contemporary music superstars Tan Dun, Bang on a Can co-founder Julia Wolfe, and Britain's recently departed Steve Martland. This playlist will allow you to sample some of the previous Bang On a Can All-Stars performances.
Seating is extremely limited. Please make the payment online via credit card by following this link to submit your reservation. Seating is assigned and given on a first-come, first-serve basis, so be sure to reserve early in order for the best seats! Seats that have not been filled by 6:50 (10 minutes prior to the performance) are released to the general public, so please be sure to show up on time, no exceptions.
Kenichi Ebina: Winner of America's Got Talent
March 27 at 7:00 PM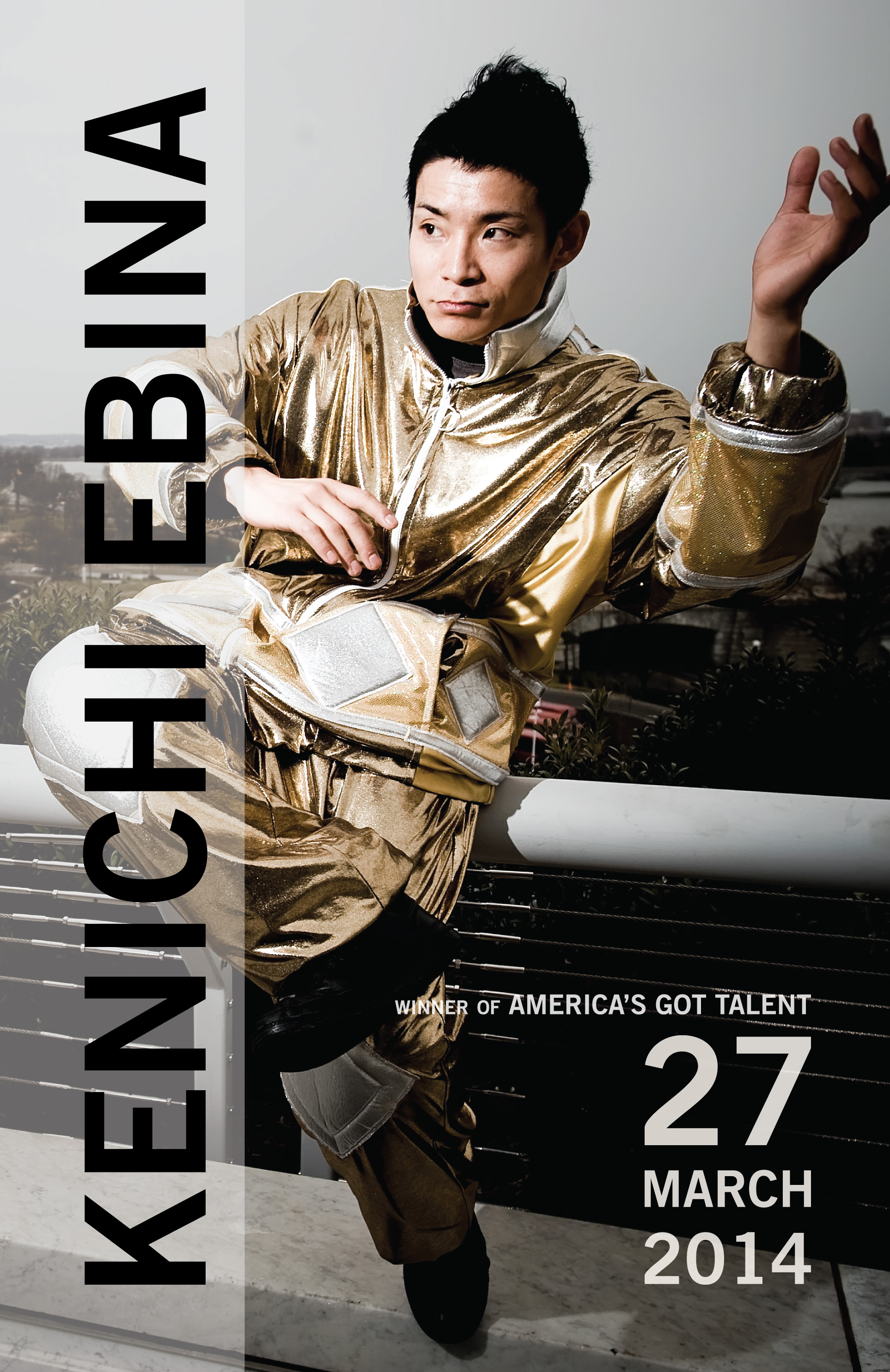 Charles B. Wang Center Theatre
Kenichi Ebina is best known for winning the eighth season of America's Got Talent on September 18, 2013.
Kenichi Ebina is a self-taught dancer, started out dancing freestyle hip hop and expanding his style to Poppin', Lockin', Mime, House, Jazz, Contemporary and ethnic dance. Kenichi's unique performance combines illusion with sound, light and visual effects. Ebina illustrated the growing interplay between Asian and American pop cultures for the Wang Center audience.
Co-sponsored by Stony Brook University's Japan Center.
SOLD OUT!