Fall 2014 Lectures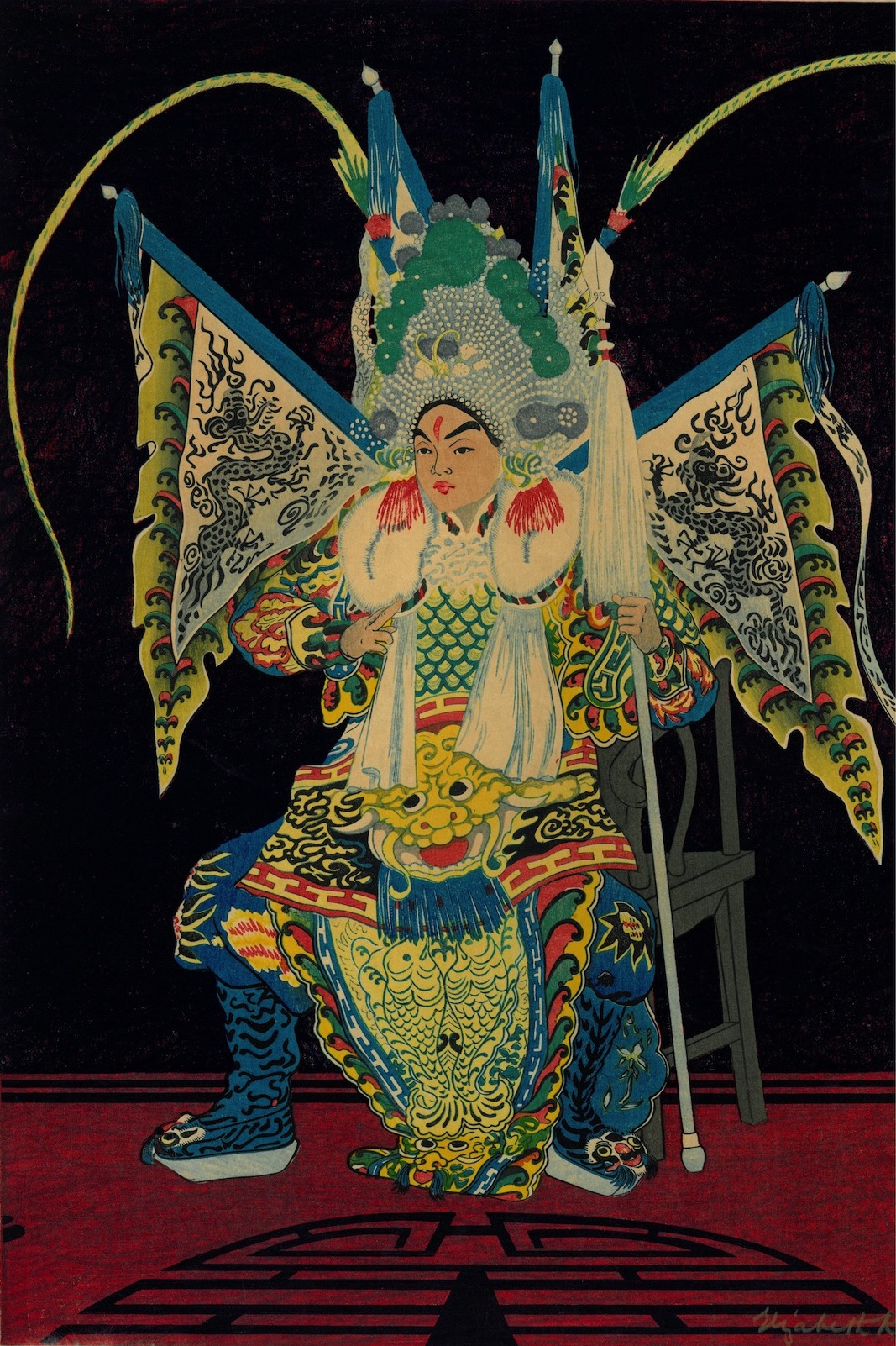 Image: Chinese Actor (1924), by Elizabeth Keith, Color Woodblock Print, 12 1/8 x 16 1/8 inches
Gallery Talk: Three Alternate Visions of East Asia
By Dr. Kendall Brown
Thursday, November 20, 2014 @11:30 AM-12:50PM
Charles B. Wang Center Lecture Hall 1
Free Admission!

In conjunction with the current exhibition, Visual Journals From Asia: The Early 20th Century Prints and Etchings of Paul Jacoulet, Elizabeth Keith & Lilian Miller, this lecture explores the lives, artistic careers and popular appeal of three Western print artists active in East Asia in the middle decades of the 20th century. It complicates orthodox notions of Orientalism by addressing issues of gender, sexual orientation and the joint artistic creation of Westerners and East Asians.
About the Speaker
Dr. Kendall Brown is Professor of Asian Art History at California State University Long Beach. He also recently served as Curator of Collections, Exhibitions and Programs at Pacific Asia Museum. Dr. Brown publishes actively in several areas of Japanese art. He is the author of Quiet Beauty: The Japanese Gardens of North America (Tuttle, 2013), Kawase Hasui: The Complete Woodblock Prints(Hotei, 2003), Visions of Japan: Kawase Hasui's Masterpieces (2004). Dr. Brown's curatorial and prose contributions to exhibition catalogues include Shin Hanga: New Prints in Modern Japan (LACMA, 1996); Light in Darkness: Women in Japanese Prints of Early Showa (1926-1945) (Fisher Gallery, 1996), Between Two Worlds: the Life and Art of Lilian May Miller(Pacific Asia Museum, 1998), A Japanese Legacy: Four Generations of Yoshida Family Artists (Minneapolis Institute of Art, 2002) and Taisho Chic: Japanese Modernity, Nostalgia and Deco(Honolulu Academy of Arts, 2002). He received a Ph.D. in art history from Yale University.
RELATED PROGRAM
EXHIBITION Visual Journals From Asia: The Early 20th Century Prints and Etchings of Paul Jacoulet, Elizabeth Keith & Lilian Miller (On view from September 18, 2014 to January 10, 2015)
---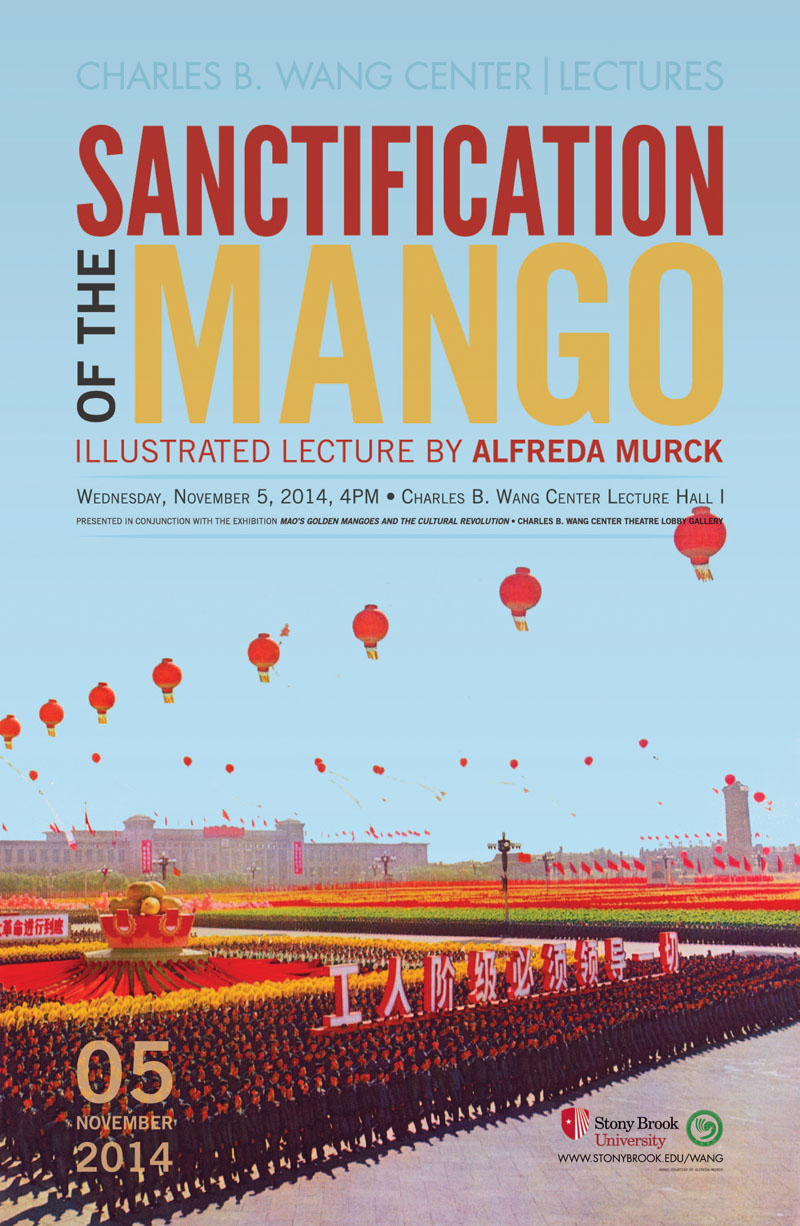 Image: Rectangular mango Vitrine with likness of Mao and standard inscription, 1968-69
Gallery Talk: Sanctification of the Mango
Illustrated Lecture by Dr. Alfreda Murck
Wednesday, November 5, 2014 at 4 PM
Charles B. Wang Center Lecture Hall 1
Free admission!
In China the summer of 1968 marked a turning point in the Great Proletariat Cultural Revolution (1966-1976). Student Red Guards, who had been the leaders, were by passed while workers were asked to take charge. In August 1968, a Pakistani foreign minister presented to Mao Zedong a crate of mangoes. Mao did not eat them, but sent them to workers who, ten days before, had put down warring factions of Red Guards at Tsinghua University and were continuing to occupy the campus. Greeted with awe and enthusiasm, the mangoes quickly became symbols of Mao's love for the workers. By October 1968 mangoes were featured in the National Day Parade with the slogan "The working class must be the leaders in everything."The story of the sanctification of the mango will be told through artifacts, photographs and magazines of the period.
About the Speaker
An historian of Chinese visual culture, Dr. Alfreda Murck last year returned from living for twenty years in Taipei and Beijing. In China, she worked at the Palace Museum and taught at the Central Academy of Fine Arts and Peking University. Dr. Murck contributed to exhibitions such as The Three Emperors, 1662-1795 at the Royal Academy, London, Eccentric Visions: The Worlds of Luo Ping (1733-1799)at the Museum Reitberg Zürich and the Metropolitan Museum. Besides numerous articles, she authored a book titled Poetry and Painting in Song China: The Subtle Art of Dissent (Harvard, 2000). Prior to living in Asia, Alfreda was Associate Curator of Asian Art at The Metropolitan Museum. Dr. Murck received her PhD from Princeton University.
Co-sponsored by the Confucius institute at Stony Brook University.
RELATED PROGRAMS
EXHIBITION Mao's Golden Mangoes and the Cultural Revolution (On view from September 18, 2014 to January 10, 2015)
WORKSHOP Canning Mao's Mangoes with Chef Paolo Fontana, October 4, 2014 at 1-3 PM
FILM Morning Sun (2003) Documentary Film by Carma Hinton, October 23, 2014 at 5-7 PM
---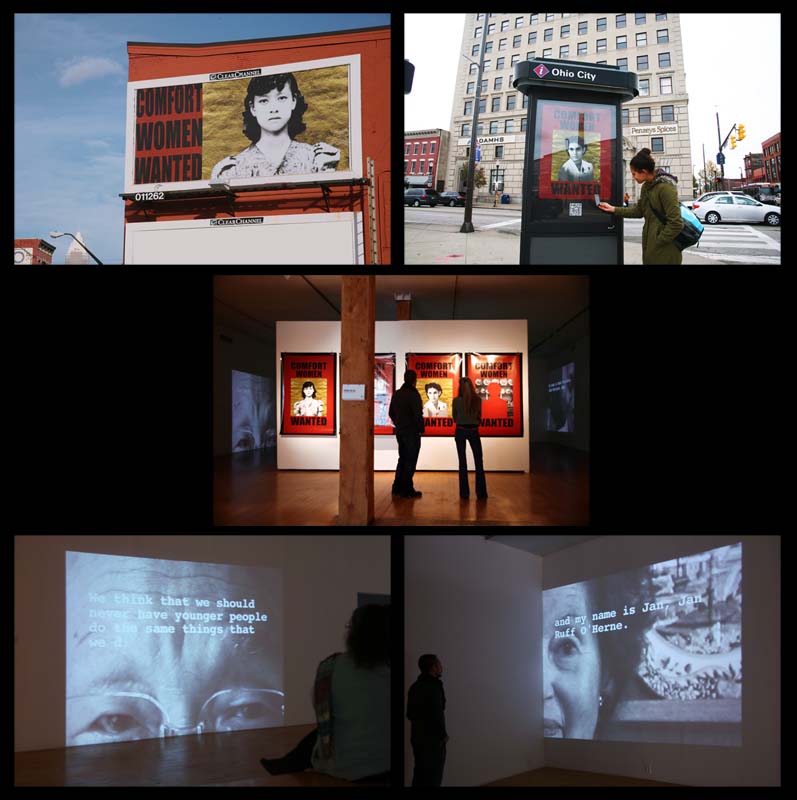 Image: Comfort Women Wanted Public Art Projects, Photograph & Video
Artist Talk: Comfort Women Wanted
With Chang-Jin Lee, Moderated by Prof. Peg Christoff, Asian and Asian American Studies
Monday, October 27, 2014 at 2:30 PM
Charles B. Wang Center Lecture Hall 1
Free admission!

A little-known and shocking story from World War II is that of the "comfort women," a euphemism for an estimated 200,000 sex slaves imprisoned to service members of the Japanese Imperial Army. Korean-born artist Chang-Jin Lee will speak about her research and artworks current on view at the Zodiac Gallery.
About the Speaker
Chang-Jin Lee is a Korean-born American artist who has exhibited internationally in the U.S., Asia and Europe, including an exhibition at The Queens Museum of Art in New York City, the Kunstmuseum Bonn in Germany, and The Incheon Women Artists' Biennale in South Korea. Lee has received numerous awards, including The New York State Council on the Arts Grant, The Asian Cultural Council Fellowship, The Socrates Sculpture Park Fellowship,The Asian Women Giving Circle Grant and The Lower Manhattan Cultural Council's MCAF.
RELATED PROGRAM
EXHIBITION: Comfort Women Wanted (On view from September 18, 2014 to January 10, 2015)
---
Artist Talk by Shiva Ahmadi
October 2, 2014 from 11:30AM-12:50 PM
Lecture Hall 2
The artist will narrate the history and politics of her country Iran (Islamic revolution and war with Iraq for 8 years) and their effects on her life and influence on her formal and conceptual aspect of work. Ahmadi will also talk about the recent creation of Lotus, especially Buddha she chosed from Asia society collection.
About the Artist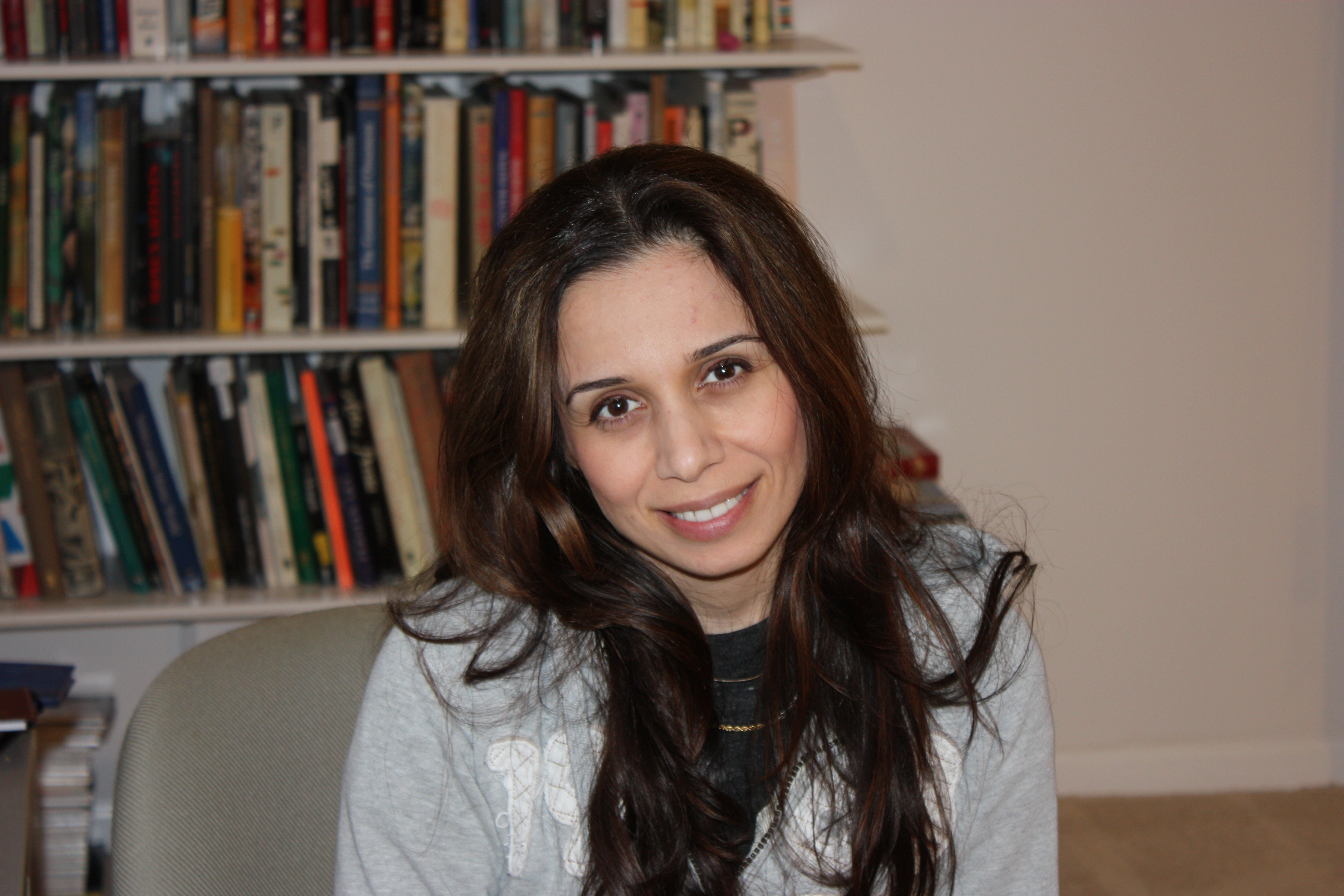 Shiva Ahmadi (born 1975, Tehran) currently lives in the United States. She received her BFA from Azad University, Tehran; MA and MFA degrees from Wayne State University and Cranbrook Academy of Art. She is a painter who works not only on two-dimensional surfaces, but also on oil barrels, which function as both content and surface in her work.
She was nominated for an Altoid Award by the New Museum, New York, in 2008, and received a Kresge Artist Fellowship in 2009. Her work was reviewed in The Boston Globe, 2007; The New York Times, 2008, 2009, 2010; Art in America, 2009; and The National, UAE News, 2012. She has taught at the Birmingham Bloomfield Art Center, Birmingham, Michigan; University of Michigan, Ann Arbor; and Wayne State University, Detroit. Currently she teaches at University of Michigan.
---
Spring 2014 Lectures
The Chinese in the United States: Their Early Cookbooks and Restaurants
Wednesday, May 7, 2014 at 1 PM
Charles B. Wang Center Theatre
Cookbooks are a treasured source of cultural information, history, social relationships, and recipes. Acclaimed and award-winning food historian, scholar, and registered dietitian Dr. Jacqueline Newman discussed the very first Chinese sojourners to the United States and shared fascinating tales of their early years on American soil. Dr. Newman also highlighted the first Chinese cookbooks published in the U.S., expounded upon what and why Americans love Chinese cuisine, and advised as to where to find it locally.
A food tasting followed her presentation, featuring recipes from the Jacqueline M. Newman Chinese Cookbook Collection, part of Stony Brook University Libraries' Special Collections. Compromised of more than 4,000 rare and scarce English-language cookbooks and unique research materials, it is the world's largest collection of its type. Copies of the recipes provided to guests. Co-sponsored by Special Collections of the University Libraries, The Confucius institute and the Charles B. Wang Center.
---
Marvels & Monsters: A Symposium on Asian Images in Comics and Graphic Narratives
April 23, 2014, 9:00 AM- 5:30 PM, Wang Center Lecture Hall 1
This one-day event included a tour of the accompanying exhibit by curator Jeff Yang, keynote speaker, talked by Asian American comics artists, and a panel of presentations by Stony Brook faculty and PhD students on graphic images of Asians in a variety of cultural forms (manga, film, video, social media).
For program note, please click here
The symposium was sponsored by University Libraries and made possible by the generous support of the Presidential Mini-Grant for Diversity Initiatives, Dean of College of Arts & Sciences, Center for Korean Studies, Cultural Analysis & Theory Department, Confucius Institute, Asian American Center, and the Charles B. Wang Center.
---
Maps of East Asia in the Early Nineteenth Century
March 24, 2014 By Dr. Richard A. Pegg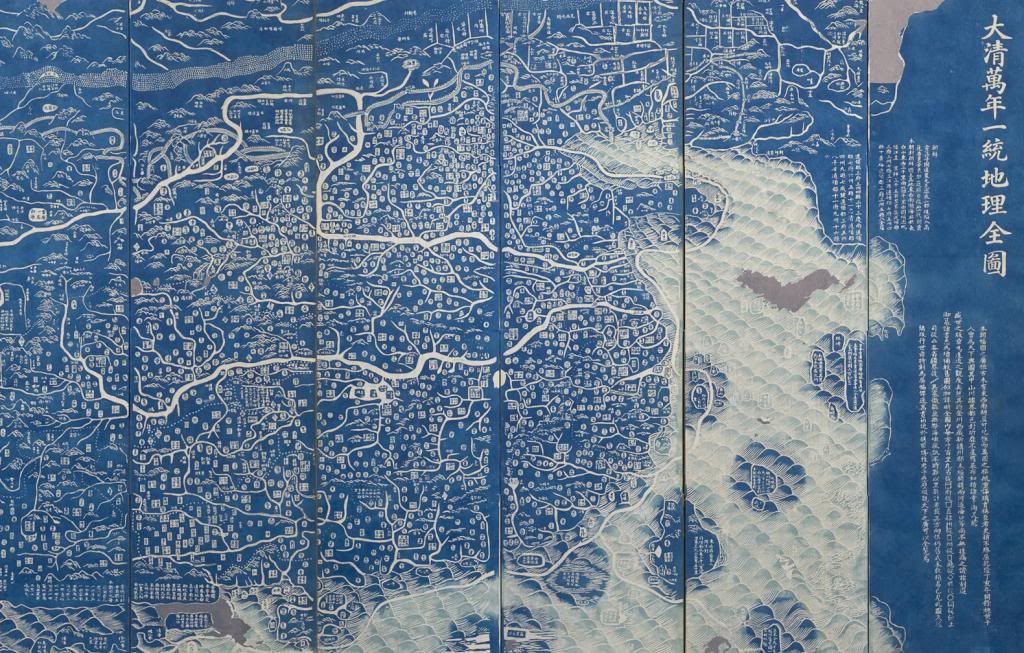 Maps are the manifestation of an intellectual construct of physical and metaphysical environments. They are rich cultural objects presenting and transmitting information about time and place of production. This lecture provided some of the particular practices and relationships between text and image in East Asian map making that are unique in world cartography. The talk presented, through comparison, certain similarities and distinctive differences in the representations of space, both real and imagined, in early modern cartographic traditions of China, Korea and Japan.
Dr. Richard A. Pegg is currently Director and Curator of Asian Art for the MacLean Collection. His upcoming book is entitled Cartographic Traditions in East Asian Maps.
Detail: Daqing wannian yitong dili quantu (Complete Geographical Map of the Everlasting Unified Qing Empire)
China, Qing dynasty, Jiaqing period (1796–1820), ca. 1811
Eight-panel folding screen, woodblock-printed blue ink on paper, 112 x 249 cm
MacLean Collection
Photo: James Prinz