Celebrating TEN AMAZING YEARS at the Charles B. Wang Center!
Wednesday, October 24, 2012
PATANG: Feature Screening with Short Film SANGAM
Discussion with Director Prashant Bhargava
PATANG (Prashant Bhargava / 2011 / USA / 93 minutes)
A poetic journey to the old city of Ahmedabad, PATANG weaves together the stories of six people transformed by the energy of India's largest kite festival.
Every year a million kites fill the skies above Ahmedabad–dueling, soaring, tumbling and flying high. When a successful Delhi businessman takes his daughter on a surprise trip back to his childhood home for the festival, an entire family has to confront its own fractured past and fragile dreams.
Music and fireworks, food and laughter, a kaleidoscope of color and light, the magic of the kite flying high – a traditional recipe of healing and renewal.
With naturalistic performances from actors and non-actors alike, bold, lyrical editing, vibrant cinematography and a kinetic score, Patang delights the senses and nourishes the spirit. Featuring Seema Biswas (The Bandit Queen, Water, Midnight's Children), Nawazuddin Siddiqui (Peepli Live, Dev D, Firaaq, Black Friday), and Sugandha Garg (Tere Bin Laden, Jaane Tu Jaane Na, My Name is Khan).
This film is joyous, but more than that: It's lovely in its construction... It flies as free and colorfully as a kite. (Roger Ebert, Chicago Sun-Times)
During the day and night of the festival... certain familiar themes appear: about wealth in the new India, family responsibility, old ways versus modern ones. They seem fresh here. So does Patang. (NY Times)
Uplifting... Colofully vivid - Reminiscent of Wong Kai Wai. (Robert Abel, Los Angeles Times)
SANGAM (Prashant Bhargava / 2004/ USA / 28 minutes)
Two South Asian men on a subway share their nostalgia, loneliness, hopes and despair about life in America.
Wednesday, October 24, 2012, 7:00 PM
Charles B. Wang Center Theatre
Suggested admission $5
Flier »
Trailer »
October 28 to October 30, 2012
A MANDALA FOR PROSPERITY: CANCELLED DUE TO FORECASTED WEATHER
This cancellation includes the Opening Ceremony, the Closing Ceremony, and the painting itself.
Tibetan Buddhist Monks create a Mandala, an aesthetic prayer in the form of an abstract geometric figure made of colorful sand particles as a blessing to the Wang Center on its Tenth Anniversary. On this occasion, the monks will create a Manjushree or Wisdom Deity Mandala. With wisdom comes prosperity, peace and harmony.
With special presence and invocation by the High Lama Khenchen Tsewang Gyatso Rinpoche and chanting and dance by The monks of Namdroling Monastery from South India.
In addition to chanting and dance the closing ceremony will consist of a lecture by the High Lama Khenchen Tsewang Gyatso Rinpoche on Wisdom and Prosperity, distribution of the sand and the immersion of sand into a flowing body of water.
Opening Ceremony: Sunday, October 28, 2012, 2:30 PM
Includes polyphonic chanting and dance. Closing Ceremony: Tuesday, October 30, 2012, 1:00 PM
Wisdom Brings Prosperity lecture by the High Lama Khenchen Tsewang Gyatso Rinpoche; chanting, dance and distribution of the sand; immersion of sand on flowing body of water (location to be determined).
Flier »
Video from the Namdroling Monastery »
Please note that the Wang Center is closed on October 29.
November 18, 2012
Journeys: Soh Young Lee and Friends – NEW DATE!

Soprano Soh Young Lee takes a musical journey around the globe, with an eclectic repertoire of opera, art song, folk music, and pop. With her crystalline voice and warm stage presence, Lee performs Native American, Korean, Chinese, Indian, Filipino, and Russian songs, sounding out her solidarity with the global village.
Joining Soh Young Lee are saxophonist T.K. Blue and Korean Opera (Pansori) singer Oak Joo Moon. Praised for his "personal, clear, and incisive" instrumental voice, T.K. Blue has recorded and performed with legendary artists including Abdullah Ibrahim, Dizzy Gillespie, Regina Carter, and Bobby McFerrin.
Recognized as a prodigy of Pansori, Oak Joo Moon has had a stellar career, including numerous international performances. She is a winner of the Korean Presidential Award (1998) and is the only official recognized National Korean Human Cultural Asset living outside of Korea.
Also featuring Keyth Hart (Piano/Voice), and Ann Zarkind (Piano).
Sunday, November 18, 2012, 4:00 PM Charles B. Wang Center Theatre Tickets: $35 (VIP) / $20 (General) / $15 (Seniors) / $10 (Students). Discount of 20% for groups of 5 or more. Reserve by telephone (632-4400), email (wangcenter@stonybrook.edu), or online at www.stonybrook.edu/wang.
Reserve by email »
Soh Young Lee Website »
Soh Young Lee on YouTube »
Oak Joon Moon Website »
Wednesday, October 24, 2012 to December 2, 2012
REINTERPRETATIONS II: Celebrating 10 Amazing Years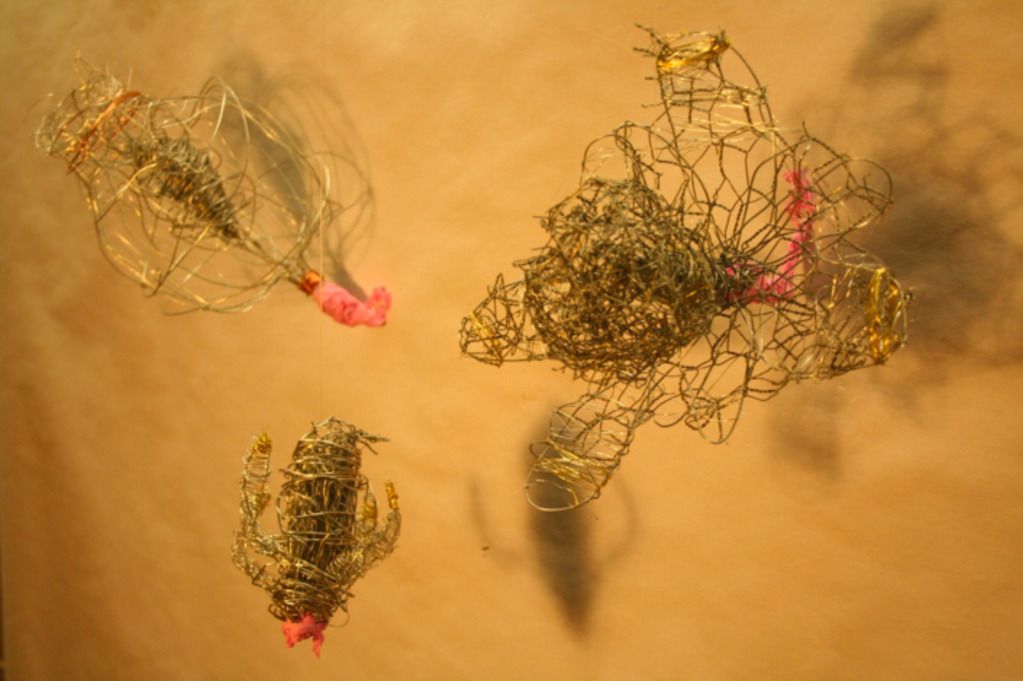 An exhibition directed towards the structure of the Charles B. Wang Center itself. Artists respond to and reflect on the Charles B. Wang Center as an architectural and sculptural phenomenon, revealing or highlighting elements of the building's function, aesthetics, and socio-cultural symbolism. We invite you to view these works -- and then to view the Wang Center in a new way.
Exhibition on view October 24 – December 2, 2012. Closing Ceremony: Wednesday, November 28, 2012, 2:30 PM Charles B. Wang Center Skylight Lobby
Free and open to the public.
Flier »
Interested in volunteering with this exhibition?
Please contact us! »