Upcoming Spring 2019 Films
There are no more films for spring 2019. Please check back later for new fall 2019 programs.
---
Past Spring 2019 Films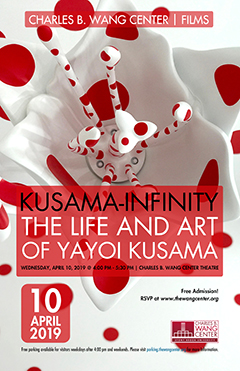 Kusama-Infinity: The Life and Art of Yayoi Kusama
Wednesday, April 10, 2019 @ 4 PM
Charles B. Wang Center Theatre
(2018| 80 minutes | Documentary | Directed by Heather Lenz)
Now the top-selling female artist in the world, Yayoi Kusama overcame impossible odds to bring her radical artistic vision to the world. For decades, her work pushed boundaries that often alienated her from both her peers and those in power in the art world. Kusama was an underdog with everything stacked against her: trauma growing up in Japan during World War II, life in a dysfunctional family that discouraged her creative ambitions, sexism and racism in the art establishment, mental illness in a culture of stigmatism, and ageism as she continues to pursue and be devoted to her art on the cusp of her 90s. In spite of it all, Kusama has endured and has created a legacy of artwork that spans the disciplines of painting, sculpture, installation art, performance art, poetry, and literary fiction. Working as an artist for more than six decades, Kusama continues to create new work every day, as people around the globe are viewing her installation Infinity Mirrored Rooms in record numbers.
---
Past Programs
Please visit here to view the past programs.