Skip Navigation
An Air of Respect: Infographic
Download the PDF (Acrobat required)  |  Right-click image to view full size  |  Text alternative for web accessibility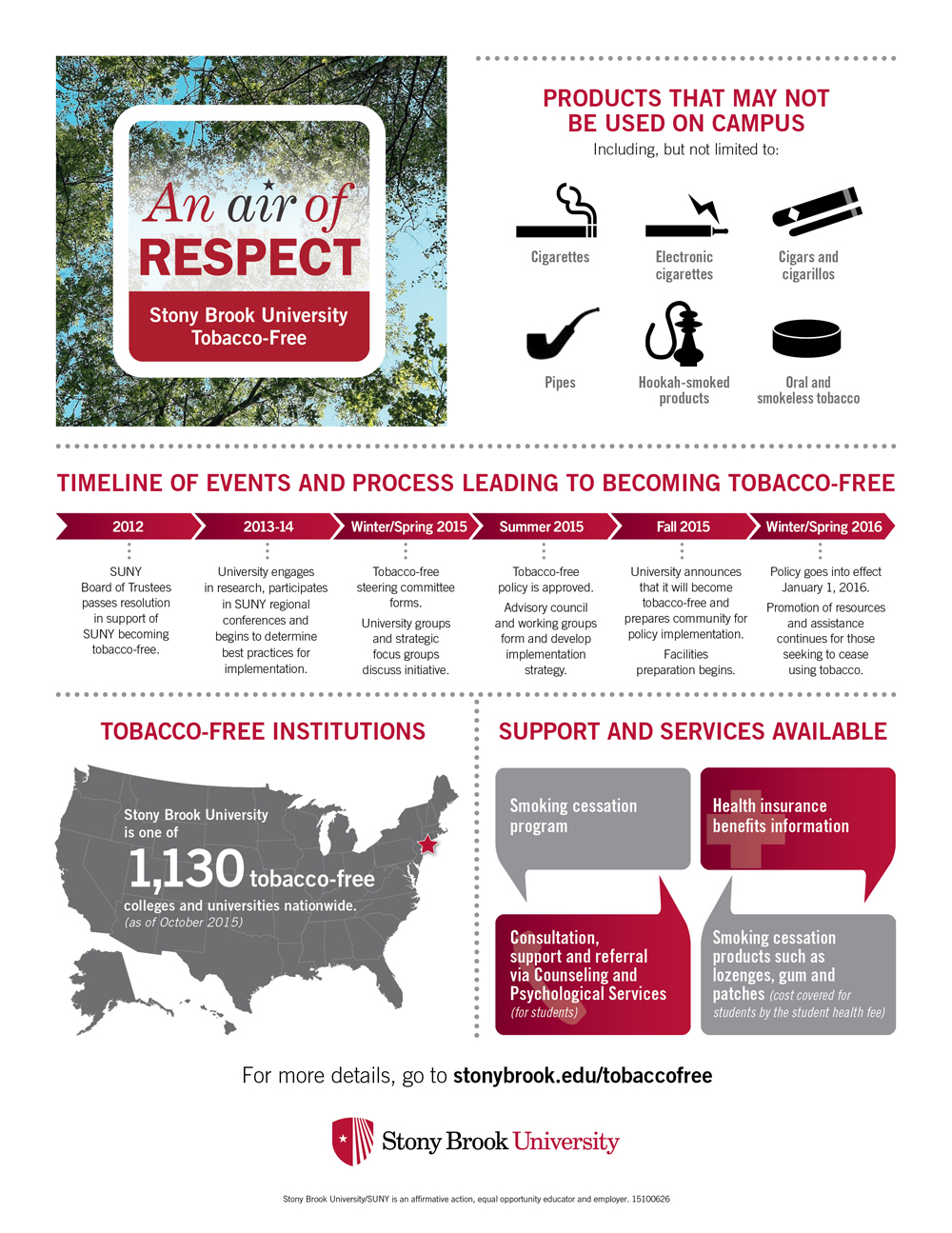 Text alternative for web accessibility
An Air of Respect: Stony Brook University Tobacco-Free
Products that may not be used on campus include but are not limited to:
    •    Cigarettes
    •    Electronic cigarettes
    •    Cigars and cigarillos
    •    Pipes
    •    Hookah-smoked products
    •    Oral and smokeless tobacco

Timeline of events and process leading to Stony Brook becoming tobacco-free:
2012: SUNY Board of Trustees passes resolution in support of SUNY becoming tobacco-free.
2013-14: University engages in research, participates in SUNY regional conferences and begins to determine best practices for implementation.
Winter/Spring 2015: Tobacco-free steering committee forms. University groups and strategic focus groups discuss initiative.
Summer 2015: Tobacco-free policy is approved. Advisory council and working groups form and develop implementation strategy.
Fall 2015: University announces that it will become tobacco-free and prepares community for policy implementation. Facilities preparation begins.

Winter/Spring 2016: Policy goes into effect January 1, 2016. Promotion of resources and assistance continues for those seeking to cease using tobacco.
Tobacco-Free Institutions: Stony Brook University is one of 1,130 tobacco-free colleges and universities nationwide (as of October 2015).
Support and services are available and include:
    •    Smoking cessation program
    •    Health insurance benefits information
    •    Consultation, support and referral via Counseling and Psychological Services (for students)
    •    Smoking cessation products such as lozenges, gum and patches (cost covered for students by the student health fee)