Skip Navigation

Research-Driven Experimental Theatre
Student New Works Festival
Stay tuned for more information on our next event!


Previous New Works: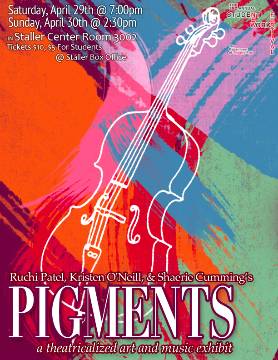 Pigments by Ruchi Patel
Pigments is described by Ruchi Patel as being "more interactive than theatrical," and the performance "combines technical elements of theatre (music, lighting, set design) to create a space that audiences can experience like an art installation."
Ruchi Patel is a junior Chemistry Major and Theatre Arts Minor. She is also a composer, arranger, violist and member of the University Orchestra and West African Drumming ensemble. Although she has been part of many productions in the Theater department, this is her first project on her own.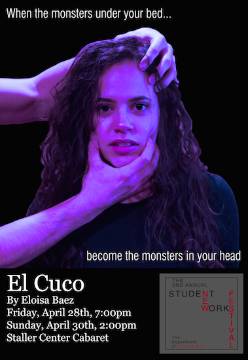 El Cuco by Eloisa Baez
"Si no te duermes, El Cuco te llevara," her mother said. "If you don't go to sleep, the  Boogeyman will get you." El Cuco , based on the legend of the Boogeyman, tells the story of  one girl's experience with an anxiety disorder. Each stage of this exhausting cycle is approached choreographically to embody something that is usually silent and hidden. Or how the monsters under your bed become the monsters in your head.
  Eloisa Baez is a senior Theatre Arts major.  Although most of her theatre work at Stony Brook has involved acting, including As You Like It (Celia) and Woyzeck (Marie), she was also recently Assistant Lighting Designer for the Theatre Department's production of Apparition . This is her first time directing and writing her own piece, and she is very excited to be a part of the Student New Works Festival.  
Hunger by Nihar Sonalkar  
Hunger is a play about a human and a dog. It tries to explore the meaning of loss and how a sentient being experiences it. In looking at this idea of loss through the perspective of a dog, the play asks the question of whether every sentient being has a notion of loss similar to human beings. Hunger also delves into the aspect of friendship - a bond between a dog and a human being. A friendship that transcends the physical world; existing as a purity in the psychological space of the mind.
Nihar Sonalkar is a senior Studio Arts and Theatre Arts double major with a minor in Writing. His first production as a theatre major was Cirque Du Mirage: The Human Spectacles; a play that looked at social injustices faced by individuals in our society today while trying to spark a conversation about them. His second project, An Octoroon , was a staged reading and panel discussion about the history of minstrelsy in America. For his third production at Stony Brook and as a producer of new works, he aspires to bring about a change in the structure of society on a global scale—bringing together cultures from different parts of the world in an effort to bridge the gap of misunderstanding that leads to inevitable conflict.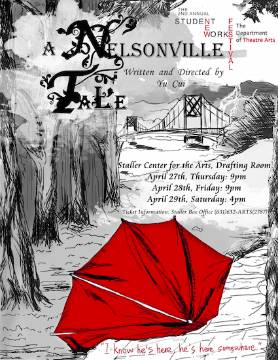 A Nelsonsville Tale by Yu "Fish" Cui
The director, Yu "Fish" Cui, wants to explore sexual abuse from the victim's point of view, and show the audience the trauma and lasting effects of undergoing this horrific experience. She says, "This piece is both experimental and immersive. I want to take the audience members through the mind of a girl who experienced sexual assault." This piece will play with lights, sound, and vivid imagery to showcase what is going on in the mind of the victim, as well as the consequences and lasting impact of this occurrence.
The director was inspired by Grimm's fairy tale Little Red Riding Hood . Although several allusions are made to the tale, this isn't a simple reenactment, or modernized retelling of the tale. Also, this production will feature an all female live cast, with only voiceovers made by men.
Yu Cui is a graduating senior from Stony Brook University who will be moving on to NYU's Tisch School of the Arts to study music in her graduate career.

Within a Box by Sydney Monroe Gaglio and Emily Gaines
Synopses and artist statement:   Within a Box is an audience-immersive, experimental theatre piece in which the audience is divided into two groups: animators and observers. Animators have the opportunity to create a story for the performers based off a first impression interaction while the observers act as bystanders to this act. 
At the Table by Kristen Spencer
At The Table is an episodic piece sewn together, and focuses on the stories of three women that come to sit at the table of life. The piece, as described by Kristen Spencer, "focuses on the relationship between life and how we react to and gain from the experiences we have with it, even if those experiences sometimes hurt us."
Kristen Spencer is a junior Theatre Arts Major, with a Business and Journalism Minor at Stony Brook University. She is the founding creator of "The Works," an on-campus project that included a series of performances during the month of February celebrating black theater, culture, and art.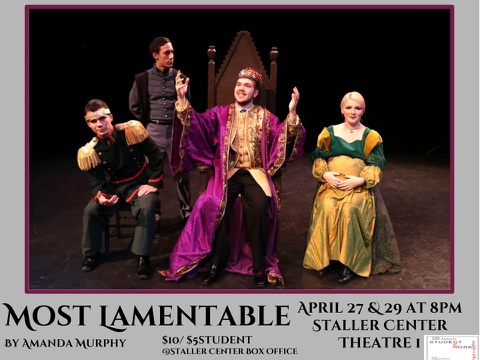 Most Lamentable by Amanda Murphy
Synopsis: Most Lamentable is a classic tale, served with a twist. Through a plot to seize the throne, the play examines the extremes it takes for an oppressed minority to achieve autonomy in a system that's rigged against them. Most Lamentable takes us back to medieval England to watch what happens when the King's world is turned on its head.
Artist Statement: The "key to writing" is to write about what you love. Someone gave me that advice a year ago, and at first, I didn't know how to follow it. What do I love? I'm passionate about Shakespeare. I obsessively read books about the Tudors. I love examining strong female characters in literature, art and history. But I couldn't write about any of that. Nobody wants to see another medieval comedy with a "plucky female character", do they? Then I realized: "originality" is just taking what's already been done (because everything has already been done), and molding it into something new.