Skip Navigation
SB Engaged
Why should your organization use SB Engaged?
---
SB Engaged is the online platform for all student clubs and organizations. Once a group receives full University recognition, the group will be given access to their own SB Engaged page. It  is used to house all of the documents and forms your group needs and it  is a great way to promote your upcoming programs!
Important information is shared via SB Engaged, so it is important to keep your page updated.  When students want to know how they can get involved on campus, they are directed to SB Engaged to learn about our clubs and organizations, and other events and opportunities. 
How should your group use SB Engaged
| | |
| --- | --- |
| | Any event your organization wants to host should be submitted  through 25 Live . Once the space has been confirmed on 25 live, you are able to submit the event on SB Engaged. |
•Go to the "Manage" tab and select the organization the event is for. From the Menu, select "events". On the top right, select the blue event "Create Event" tab and submit all information.
•This submission notifies the Department of Student Engagement and Activities that your event has been approved on 25 Live. All events must be submitted on SB Engaged within 48 hours of being approved on 25 live.
 • You will be asked for all information about your event, including date, time, information about resources (tables, chairs, A/V services, etc), and any forms that need to be submitted   (Minors, Animals, Food Permit, Fundraiser, Off Campus Trip forms, etc)
 • Once the information is received, staff will determine if the event can be approved based on the information provided.
 • If approved, resources will be updated on 25 live and then event will be assigned an
adviser. If denied, the organization will be notified through SB Engaged.
 • In most cases, the Event Coordinator will need to schedule a meeting with the Program Advisor to discuss the event and ensure proper planning.
 •   Do not begin advertising events until they are approved on SB Engaged and you  have met with an advisor!
 Be familiar with the timelines
Your group will use this form the most.   Events are processed based on the submission date, not the date of the event.   If your event submission is not within the above timeline, it will be denied!  You must use this form to request events anywhere on campus (unless you are a club sport team).
Report executive board changes
If your executive board changes during the academic year, it is important this is reported and the new person is approved.
               

✓ Fill out the E-Board Member Update Form, notifying
the Department of the change.

✓ You will need to provide basic information, such as
name, SBU ID number, SBU email address,
phone number, and local address for the new board member.

✓ The form will be reviewed by a staff member,
and either approved or denied.

✓ If approved, your group should update the roster
on SB Engaged to indicate the new person's role in the organization.

✓ If your group is funded, you must notify your
funding source of the change as well, as there
will likely be additional paperwork to complete to
remain in good standing with that office.

✓ This form is only for changes that occur during
the academic year, after the re-registration has been approved.

✓ F&S groups should contact the Office of Fraternity
and Sorority Life to determine the process for changes
in executive board, as it is slightly different and
does not always require use of this form.
Using the SAC Facilities Department resources
The SAC Facilities Department has many resources that are available for use by student groups hosting events in the SAC. The Portable Multimedia Kit is one of the most requested resources available!
               

✓ Each Portable Multimedia Kit includes a laptop,
projector and a set of speakers.

✓ These kits can only be used in SAC 3rd floor rooms.
They cannot be used in any other location or building.

✓ There are a very limited number of kits available,
therefore they are only assigned to single events and
are not available for block booking meetings. If your
group requires this type of technology for your meetings
please let us know and we can book your meetings
in an academic space with technology available.

✓ Requests for Portable Multimedia Requests must
be made no later than 1 week prior to your
reservation or it will be denied.

✓ Kits can be picked up at the SAC Info Desk 15
minutes prior to your reservation and should be
returned to the Info Desk at the end of your reservation.
The "About" Tab
The "About" tab allows groups to customize what the public can see about their organization.

✓ Go to the "Manage" tab and select your organization.
✓ From the menu select "About"
✓ Customize the group's profile picture, contact information, social media accounts, and other information (i.e. general body meeting times & locations, etc.)
Keep your Roster on your profile!
Each group should keep their Roster available on their profile! This allows people to know who is part of your organization and if they hold a position.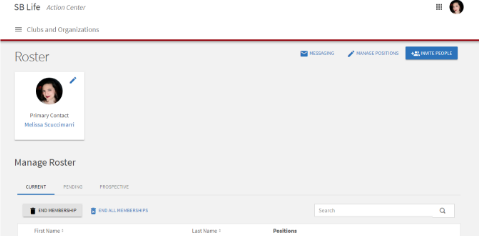 ✓Go to the "Manage" tab and select your organization
✓ From the menu select "Roster"
✓ On the top right you will see "Manage Positions" and "Invite People"
✓ The "Messaging" button will allow you to send an email message to everyone on your roster at one time! You can also choose to send a message to only some members.
The
"Photo Gallery"
The "Photo Gallery" is a great place to show off photos from all of the events that your club hosts. This is a great way to get others interested in your organization.


✓ Go to the "Manage" tab and select your organization.
✓ From the menu select "Photo Gallery"
✓ From the top right select "Create Album". Here you will have the opportunity to name your album and add photos. Create as many albums as you like!
Follow Us!
---
How to Use Corq
Check out all the events happening on campus here!