Skip Navigation
Fitness Class Schedule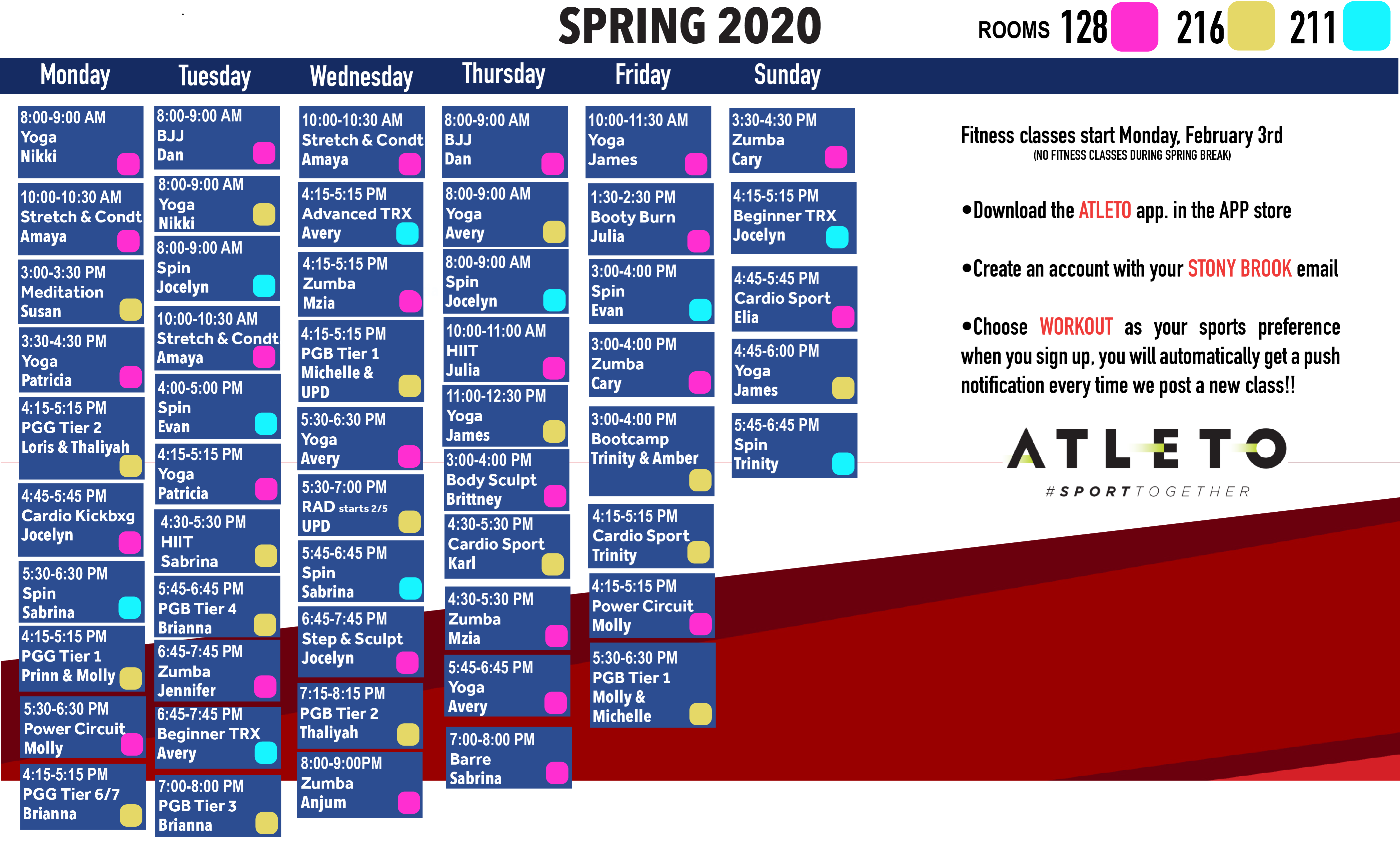 To register for classes, download the Atleto sports app, create an account with your Stony Brook email, and choose WORKOUT as your sports preference when you sign up. You will automatically get a push notification every time we post a new class.
Pink Gloves Boxing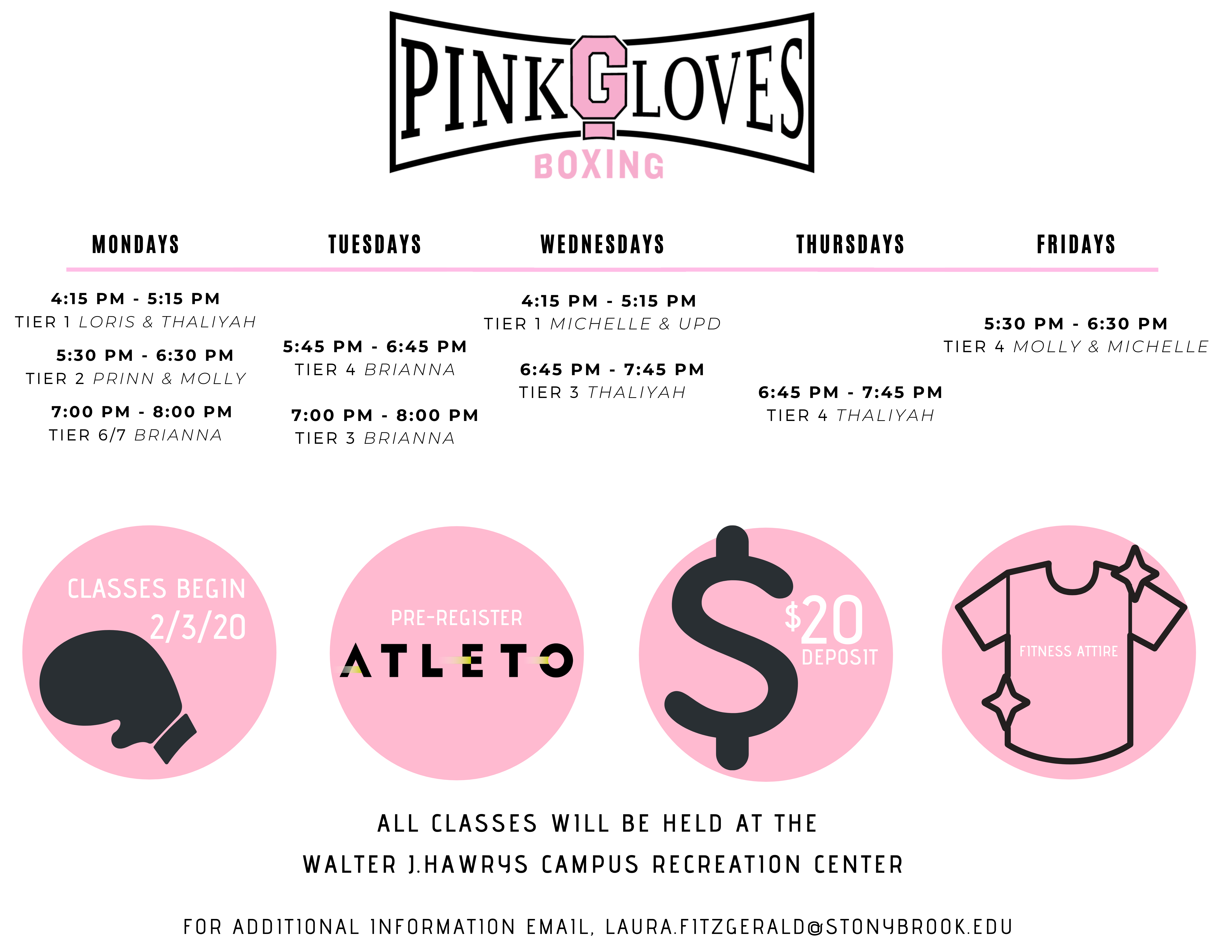 Provide a Fitness Class evaluation
Request a Fitness Instructor for your Event
Dance

   Belly Dancing

Learn to shimmy and shake to new routines every week! This class will teach you the basic moves of belly dancing  while getting a full body workout.

ZUMBA®

Ditch the workout, join the party! This program fuses hypnotic Latin rhythms and easy-to-follow moves to create a one-of-a-kind fitness program that will blow you away. Zumba® fanatics achieve long-term benefits while experiencing an absolute blast in one exciting hour of calorie-burning, body-energizing, awe-inspiring movements meant to engage and captivate for life! The routines feature interval training sessions where fast and slow rhythms and resistance training are combined to tone and sculpt your body while burning fat.

STRONG  by Zumba

Stop counting the reps. Start training to the beat. STRONG by Zumba® combines body weight, muscle conditioning, cardio and plyometric training moves synced to original music that has been specifically designed to match every single move. Every squat, every lunge, every burpee is driven by the music, helping you make it to that last rep, and maybe even five more.In a one-hour class you will burn calories while toning arms, legs, abs and glutes. Plyometric or explosive moves like high knees, burpees, and jumping jacks are interchanged with isometric moves like lunges, squats, and kickboxing. STRONG by Zumba® instructors change up the music and moves frequently to make sure you're always challenged to the max.

***This class is very different than a typical zumba class. Participants MUST be able to a large number of push ups, squats and burpees. This is a HIGH intensity fitness class.

 
Cardio

| | |
| --- | --- |
| Spin | Ride on a stationary bicycle to climb hills, flat roads, sprints, and jumps to fun, high intensity music. Prepare to sweat-water and towels are advised! |
| Spin after Dark | Treat yourself to a night of working out with this late night calorie killer. You'll feel like you're out on the town with black lights, high intensity music, and a disco ball to create a fun environment to climb hills and ride flat roads, sprints, and jumps on the stationary bike. |
| Pink Gloves Boxing© | With Pink Gloves Boxing (PGB) you'll take your workout to the next level, physically AND mentally. This small group fitness program empowers those who identify as women, fosters relationships, and works for all levels of fitness. It is structured similar to martial arts, where members level up, learning new skills and earning new gear. The program/classes focus will be with the 3 tools of empowerment; Fun, Community and Achievement. No experience necessary. Tier I, II, III/IV offered. Start with tier I and work your way up to III/IV upon successful completion of prior levels. |
| Cardio Kickboxing | Punch, jab, and blow off some steam in this class. Here you will learn and practice the basic form of kickboxing while having an awesome time toning up and improving your stamina. |
Strength & Conditioning

High Intensity Interval Training (H.I.I.T.)

Nothing but hard work in this class - you will focus on testing your strength and muscular endurance and push yourself through a wide variety of exercises and movements. Bringing a towel and a water bottle is highly recommended. If you want a REAL challenge, then this class is for you!

TRX® Circuit

Challenge yourself with a fast-paced workout that combines TRX strength exercises with cardio drills and body-weight exercises. Timed sets will keep your heart rate pumping as you power through the reps at your own pace. The TRX Suspension Trainer workout system leverages gravity and your bodyweight to perform hundreds of exercises. You're in control of how much you want to challenge yourself on each exercise – because you can simply adjust your body position to add or decrease resistance.

Beginner TRX

No experience required with the TRX suspension trainer. This class will teach you proper form and technique with a focus on the basic foundational movements of TRX-plank, push, pull, rotate, squat, and lunge.

Advanced TRX

MUST be able to properly set-up and adjust the TRX. MUST be able to properly perform the following without instruction: TRX pike, TRX plank, TRX burpee, TRX lunge, TRX atomic push up and other advanced TRX combination moves. Please be advised this class is for experienced TRX participants only.

Spin & Circuit

In this class you will cycle through circuit stations that include-spinning on a stationary bike, body-weight exercise, and TRX work on the suspension trainer. All stations will involved timed sets that are fast paced.

This class is a high intensity combination of cardio and strength for that whole body workout. Experience on the TRX and Spin bike are recommended as the intervals are timed and quick.

***Participants must have experience on the TRX and spin bike. Participants need to be able to do push ups, burpees, and other High Intensity excercises in fast pace intervals.

INSANITY ®

Burn calories and speed up your metabolism with effective max interval training. This class is a cardio-based total body conditioning program that will leave you feeling good and tired.

Pump & Sculpt

A fun and effective fat-burning and toning workout that sculpts your body from top to bottom. This whole body conditioning class will use dumbbells, bands, tubes, exercise balls, and body bards as resistance tools.  

Cardio Sculpt

A great class to take for those who want a 50/50 combination of cardio and strength for the whole body. Good for all levels.

Step & Sculpt

A 50/50 combination of step aerobics and strength training all tied into one class. This upbeat and fun class will have you stepping to the beat.

Body Burn

A combination of traditional body sculpting methods using free weights, resistance bands and your own body. Designed to provide you with a total body workout in one short hour! Good for all levels.

Core & More

This class is core conditioning to the MAX! Get in all the best parts of core conditioning plus a little MORE by elevating your heart rate and alternating to your major muscle groups when your core has had enough.

Ab Attack

A class dedicated specifically to your abs to burn away stubborn body fat, while toning and strengthening your core.

Butts & Guts

A class that targets specifically those stubborn areas we want to tone! Focuses mainly on the glutes and abs to get rid of that unwanted belly and lower body fat.
Self-Defense

Brazilian Jiu Jitsu

Introduction to Submission Grappling and Brazilian Jiu Jitsu. 

Rape Aggression Defense (R.A.D.)

Women's Only Self-Defense 

This class will develop and enhance the options of self defense so they may become viable considerations to the woman who is attacked. The R.A.D. program is not a traditional self-defense course. It fills a long standing void in personal defense training by enabling a person who identifies as female to quickly learn a set of cognitive and physical skills that will be beneficial for the years to come. It is encouraged to attend as many classes as you can from the first class in order to gain the full KSA's available.  (KSA's= Knowledge, Skills and Abilities)
Mind & Body


| | |
| --- | --- |
| Mindfulness Meditation | Mindfulness Meditation is the practice of focusing your mind on the present moment and non-judgmentally. This class is introductory and offers a brief taste of mindfulness meditation and is a good place to start if you are new to MM. Participants will experience and get acquainted with MM through guided practices. |
| Yoga | This revitalizing workout will combine both yoga postures and strength training. This efficient and unique combination of strength training and yoga provides cardio, works the core, challenges the balance, and sculpts a strong lean body. |