Skip Navigation
Fall 2023 Group Fitness Class Schedule
 Hi Seawolves! Click here to register for our LIVE fitness classes
Class registration will open 24 hours in advance.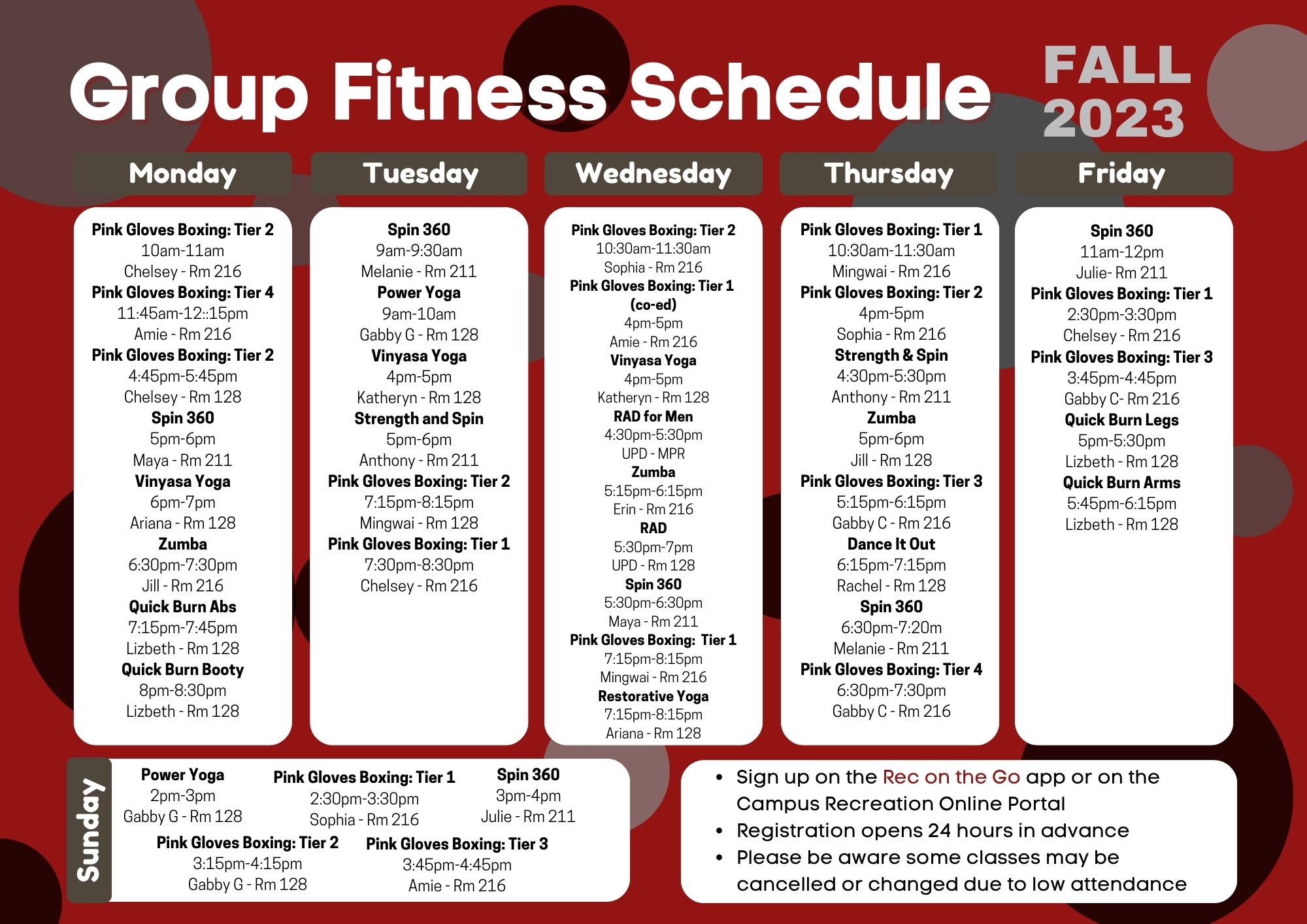 Dance

| | |
| --- | --- |
| ZUMBA® | Ditch the workout, join the party! This program fuses hypnotic Latin rhythms and easy-to-follow moves to create a one-of-a-kind fitness program that will blow you away. Zumba® fanatics achieve long-term benefits while experiencing an absolute blast in one exciting hour of body-energizing, awe-inspiring movements meant to engage and captivate for life! The routines feature interval training sessions where fast and slow rhythms and resistance training are combined to tone and sculpt your body while burning fat. |
| Dance It Out | Do you love learning choreography to popular songs? Do you miss going to dance classes growing up? This is the perfect class for you! It combines warm-up drills to improve fitness and flexibility then you'll focus on learning fun and energetic choreography! |
Cycling

| | |
| --- | --- |
| Strength and Spin | This unique class is the best of both worlds! You'll be riding along to the music in a spin class for half the time and building strength with stregnth training equipment for the other half.  |
| Spin 360 | Spin is a highly effective way to build cardiovascular strength and endurance. Designed for all ages and fitness levels, Spin offers a challenging ride with fun energizing music. It's the perfect opportunity to get your heart pumping while you burn some serious calories. |
Strength & Conditioning

| | |
| --- | --- |
| Quick Burn | Quick Burn is an effective workout is less time. Each class is only 30 minutes so you can get in, build strength and get out with more time to spare. Each class focuses on a different body part so you can take more than one and geta  full body workout! |
| Beginner TRX | No experience required with the TRX suspension trainer. This class will teach you proper form and technique with a focus on the basic foundational movements of TRX-plank, push, pull, rotate, squat, and lunge. |
Self-Defense

Pink Gloves Boxing

With Pink Gloves Boxing (PGB) you'll take your workout to the next level, physically AND mentally. This small group fitness program empowers those who identify as women, fosters relationships, and works for all levels of fitness. It is structured similar to martial arts, where members level up, learning new skills and earning new gear. The program/classes focus will be with the 3 tools of empowerment; Fun, Community and Achievement. No experience necessary. Tier I, II, III/IV offered. Start with Tier I and work your way up to III/IV upon successful completion of prior levels. Please only come if you can commit to the entire semester.

Rape Aggression Defense (R.A.D.)

Women's Only Self-Defense 

This class will develop and enhance the options of self defense so they may become viable considerations to the woman who is attacked. The R.A.D. program is not a traditional self-defense course. It fills a long standing void in personal defense training by enabling a person who identifies as female to quickly learn a set of cognitive and physical skills that will be beneficial for the years to come. It is encouraged to attend as many classes as you can from the first class in order to gain the full KSA's available.  (KSA's= Knowledge, Skills and Abilities)

RAD for Men

6-8 week self defense class for all genders.  Students will learn crime prevention tips and will learn and practice self defense skills.
Mind & Body


| | |
| --- | --- |
| Vinyasa Yoga | This revitalizing workout will combine both yoga postures and strength training. This efficient and unique combination of strength training and yoga provides cardio, works the core, challenges the balance, and sculpts a strong lean body. |
| Power Yoga | Refill your cup with this confidence boosting, centering practice. You'll leave feeling ready to take on the day and whatever life throws at you. |
| Restorative Yoga | This revitalizing yoga will help relax and restore the body. It is a perfect class to unwind and refocus. |