Skip Navigation
News Archive


SAC Winter Session Building Hours
 December 22 begins the Student Activities Center's annual winter session   hours of operation, which shall run until   Sunday, 1/21/2018 :
Monday

 

-

 

Friday

 

7:30 am - 9:00 pm

Saturday

 

&

 

Sunday

,

 

9:00 am - 9:00 pm
Please note the following exceptions for this season:
Monday, 12/25/17 , CLOSED
Monday, 1/1/2018, 8:00 am - 8:00 pm
Martin Luther King, Jr. Day,   1/15/2018, 8:00 am - 8:00 pm
Looking for a place to eat? Check out Campus Dining's winter schedule at   http://www.stonybrook.edu/commcms/dining/locations/hours.php
We resume normal operating hours on   Monday, January 22, 2018 .
Should you have any questions about building access, events, or services, please feel free to contact the building manager on duty at 631.632.6730 or   sacsbufm@stonybrook.edu  .

Revised Usage Fees Effective July 1, 2017
Any event scheduled on or after July 1, 2017 will use the updated rates.
In general, our rates have stayed the same as the 2016-2017 academic year, with a few tweaks to our staffing rates. 
See the full list of   Facility Usage and Resource Fees.
Have a Break In Your Schedule? Spend It At The SAC!
By Chris Bobby
Many students here at Stony Brook University have breaks in their daily schedules and don't know how to spend their time.  Resident students sometimes take a walk back to their dorm rooms and commuters often take the long journey back to the South P-Lot and sit in their cars.  No longer will students be doing either of these things when they find out all the different opportunities the Student Activities Center provides them.  The SAC provides various locations for students to spend their breaks.  Whether you are looking to get work done, getting a bite to eat, or looking to socialize with fellow students, the Student Activity Center is the place to be!
For students looking to get work done, the SAC provides many different places for you to sit down and study.  Traditions Lounge is a great place for you to get your work done and charge your devices at the same time.  Do you have a paper that needs to be written but your laptop needs to be charged? Traditions Lounge has plenty of outlets and two rows of stool table seating with outlets built right in.  Are you looking for somewhere a little quieter to get your work done or study?  The Commuter Lounge calls all commuters to come take a seat on their comfortable seating while relaxing in their quiet and enjoyable lounge.  
If you are a hungry student, the Student Activity Center is the place to be.  The dining facility at the SAC has some of the most delicious food you can imagine.   The Grill has all of your delicious grilled food options including: burgers, hotdogs, chicken sandwiches, fries and onion rings. If you love pizza, you'll love Urban Pizza.   Urban Pizza has all different types of pizza for you to enjoy while at Stony Brook.   Cyclone Salads and Wraps provide you with custom salads and wraps for your taste buds.  Choose what ingredients you want in your salad or customize your wrap to your liking and enjoy!  The Kitchen Table, Oodles, Soup, and Amore are also great options available to have a nice meal while on campus.  If you're not in the mood for a meal and you are just stopping by for a snack, the Student Activities Center has you covered on that too.  The Seawolves Marketplace has tons of options for you and your snacking needs.  Chips, candy, breakfast bars and more can be found while shopping around the Seawolves Marketplace.  The Seawolves Marketplace also offers fresh coffee and tea, along with water, sports drinks, sodas and more.
The Student Activity Center is also a great place to sit down and talk with friends.  Whenever you go in the main lobby or Traditions Lounge you will find students hanging out and enjoying their day with friends.  If you're a commuter or new student who doesn't know many other students, there is no better way to meet new people than coming to the Student Activity Center.  The Student Activity Center is filled with friendly students who are also eager to meet new friends. SAC 221 is a great place to hang out for students as well.  SAC 221 is always filled with laughs and cheers from students hanging out during their daily breaks in their schedules.  If you are really looking to have a good time, come try out our foosball and pool table located in the SAC. Students are constantly engaged by the the two gaming tables, having friendly games and fun times hanging out with friends.  
There is no better way to spend the break in your daily schedule than at the Student Activities Center.  So come visit the SAC to get your homework done, grab a bite to eat, or make and meet new friends. We'll see you there!
Stay Up To Date During Bad Weather
Planning on attending an event in the SAC and not sure if it's been canceled due to the weather? Contact the SAC Reservations Office at 631-632-4591. In the event that out office is closed, please contact the SAC Info Desk at 631-632-6730 to find out the details, or visit University Emergency Management.  
"The BEST Pool Table on Campus"
By Oscar Yeung
The Department of Facilities Operations for the Student Activities Center and Stony Brook Union is always looking for ways to provide convenience for students and make their campus experience more fun and engaging. One way to accomplish that is to make student's dining experience fun and interactive. Did you know that the SAC basement pool table has been moved to the upstairs dining hall room 221? Since the table was moved there, there are students playing pool there every day from open to close.
Most of the students like to play a couple games after they eat. All the feedback is quite positive regarding this small operational change so far. Jonathan Ma, a freshman said he would just come here to play pool whenever he has time because the location is really convenient. He loves playing pool because he thinks pool is a really strategy game and requires players to plan their every moves. The most interesting part though about playing pool is playing with someone else who has a different strategic than you so you can learn from them and the way they shoot. Another student, Alexander Sadegholvad, a sophomore at Stony Brook University commented that this is ''the BEST pool table on campus'' and he loves where the new location of the pool table is. Back in the old days when the table was located in the basement, students had to sign in and out for the equipment and sometimes it was difficult to complete the process when there were no staff members around. Now this whole new set of equipment is simply located next to the pool table.
As a result students can just pick up the equipment and start playing. Pool players get to enjoy their fun activity in daytime with a chance to socialize with others at the SAC cafeteria. Players would definitely love to engage in exciting activities with opportunities to challenge your friends. So what are you waiting for? Make sure you pay a visit to this pool table with your friends at SAC 221 today!    
Career Center Honored by Partnership Awards!
By Clara Yan 
The Stony Brook University Career Center was awarded the 2014-2015 Dr. Frederick R. Preston Partnership Award by the SAC and Union Facilities Operation team. The award recognizes the Career Center's success under the leadership of director Marianna Savoca. Her dedication to the University and advocacy for students has made the department an extremely effective and essential resource for students at Stony Brook University.
The Dr. Frederick R. Preston Partnership Award was established in 1995 at the Campus Life Awards Program. It is presented annually to a University department or an individual that demonstrates passionate and continuous support for the Office of the Dean of Students' mission. The Career Center's core values and goals directly align with the Dean of Students' mission; both departments strive to advocate for student needs by providing services, support, and programs that cultivate student growth.
The award also celebrates the Stony Brook University Career Center and the SAC and Union Facilities Operation team's collaborative work. Their joint efforts in planning, developing, and launching programs has created events like the Computer Science Tech Day & IT/Computer Science Job & Internship Fair and the Engineering Job & Internship Fair. The collective work is crucial in creating events and services for Stony Brook University students.
The Career Center is dedicated to educating and preparing students for their future careers, and to connecting hiring organizations with our diverse student and alumni talent. Visit us at the foot of the Zebra Path or online at stonybrook.edu/career.
A True Renaissance Woman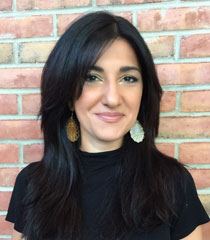 By Saba Babar
In 2015, the SUNY Chancellor's Award for Excellence in Professional Service was extended to   Hedieh Resciniti, Assistant Director of Facilities Operations in the SAC and SB Union. SUNY offers various types of Chancellor's Awards in order for esteemed individuals to be recognized and commended for their hard work and dedication to their state universities in one of five categories, including Faculty Service, Librarianship, Professional Service, Scholarship and Creative Activities, and Teaching. Hedieh received the Chancellor's Award for Excellence in Professional Service due to her continuous service to the campus community as she brings life into the events thousands of students participate in and enjoy each year. The Chancellor's Award allows us to gain some insight into individuals much like Hedieh, who work tirelessly behind the curtains for the sake of the campus community.
The nomination process for the Chancellor's Award for Excellence in Professional Service requires nominators to go above and beyond to elect a worthy candidate of this distinguished award. In this category, the nomination guidelines implore nominators to select individuals who serve as role models to the campus community and "have transcended the normal definitions of excellence." The nominees are also expected to have performed superbly in their position, as well as "beyond the parameters of the job description". In other words, it's clear that the nominee has to stand apart from the rest of the crowd in order to prove that they're worthy of receiving this extraordinary award. Up to fifteen letters of recommendation that demonstrate "the candidate's most outstanding qualifications and major achievements and addresses how the candidate excels" are also a key process in selecting a recipient of the award. Lastly, the campus selection committee submits their recommendations to President Stanley, and a summary of the presentation is given to SUNY to determine which nominee is the right fit for this award.
These guidelines are a testament to how many students, staff, and alumni took the time to write letters supporting Hedieh's candidacy for the award, because they deemed her to be a worthy recipient of the award. When I reached out to Graduate Billing Specialist Heidi Rademacher from the Reservations Office, she immediately responded with "I will enthusiastically give you dozens of examples of why Hedieh is the most thoughtful, hard-working, encouraging, and inspiring supervisor I've ever had". Heidi explained how when she once made a big mistake when starting off at her job, Hedieh was very understanding and "took the time to guide [her] through the process" of fixing her mistake. Heidi also described Hedieh's unique management style as being "ideal for helping students become independent and self directed". She added that Hedieh is truly the "driving force behind the team at the Reservations Office," as she encouraged her to develop meaningful relationships with her supervisors and co-workers, and ultimately to love her job. Michael Boerner, Graduate Events Management Specialist at the Reservations Office, was similarly enthusiastic in recommending Hedieh to me. He described Hedieh as contributing to a "[work] atmosphere [that is] always welcoming (and when it is needed, a little goofy)". He also described Hedieh's leadership style as being "thorough and innovative," which is what has helped the office to flourish. Ryan Tremain, a Billing Intern for the Reservations Office, praised Hedieh for her leadership skills, "positive, can-do attitude that quickly becomes infectious," and open-door policy. He says that she has the ability to "build [one's] work confidence through constructive criticism," which helps individuals to learn and to grow at their own pace. It's clear that many individuals look to Hedieh for guidance, as she demonstrates an ability to lead and positively influence the people around her.
Upon receiving the award, Hedieh was able to sit down with us for a brief interview and tell us about her story. Hedieh was born and raised in Tehran, Iran, until she and her family relocated to Queens, New York at the age of 8. Since then, she moved out to the Port Jefferson area and intended to pursue Fashion at FIT. However, she decided to stay local and pursued Psychology at Stony Brook University, moving on to earn her Master's in School Counseling at LIU Post. Furthermore, she became involved in several internships at JFK Middle School, Comesewogue High School, and Sachem North High School for School Counseling, additionally working as a Crisis Hotline Counselor at Response Hotline. Hedieh cites her experience working in retail at various companies, including Aeropostale, Warehouse of London, and Ann Taylor, since her high school career, as being integral to gaining the life experience she needed for her current job. She returned to Stony Brook as a Service Coordinator for the Facilities Operations in the SAC and Union for four years, before being promoted to Assistant Director, to which she's remained for the past seven years.
Hedieh's responsibilities consist of overseeing the Reservations Office, planning and managing the logistics for any events hosted by departments on campus or external organizations, including overseeing vendors, security logistics, billing, and website assessment. Hedieh enjoys overseeing traditional events, such as Strawberry Fest and Homecoming events, as well as large-scale events including conferences and award ceremonies, for the "detail and oomph" involved in organizing the events.
Along with receiving the prestigious Chancellor's Award, Hedieh has previously received the Beyond the Call Award, a departmental award that demonstrates Hedieh's exemplary character and work fulfilled on-the-job. Her positive attitude and enthusiasm for the job alone make Hedieh a remarkable woman, and a deserving receipt of the Chancellor Award. Furthermore, her background proves that she's versatile, with ample work experience that demonstrates that she has a lot to bring to the table. With the attention to detail and care she brings into our events, our campus shines just a little brighter each year.
Together We Will Rise 
By Saba Babar
On February 27th, 2016, I was fortunate enough to attend an opening program in the SAC Auditorium that celebrated this year's Black History Month with the theme "together we will rise." The event featured a powerful performance by members of the Stony Brook Gospel Choir and R N' Brook and a riveting panel discussion by Dr. John Bracey, Professor Sonia Sanchez, and Dr. James Smethurst.
Dr. Jarvis Watson, Assistant Dean for Multicultural Affairs, was the first to take the podium and open the event. He introduced the keynote speakers and gave guests the opportunity to follow the event on social media, with the hashtag #sbutogether, which was very indicative of the positivity that the event spread throughout the campus. Next, President Stanley's message was both clear and genuine, as he implored "our community to work together and to improve" to better understand each other. The event already seemed promising, if the opening speeches were anything to go by. Soon after, the entire crowd stood for Stony Brook's Gospel Chair and R N' Brook's performance of "Lift Every Voice and Sing," also known as "The Black National Anthem," an act of respect that was truly moving to witness.
The highlight of the event was when Dr. Bracey, Professor Sanchez, and Dr. Smethurst entertained the crowd with jokes and stories from their past, especially about the recently deceased poet Amiri Baraka. As Dr. Zebulon Miletsky, Assistant Professor of Africana Studies/History, described so accurately, hearing the tales of these renowned individuals felt as if we were all "in the presence of giants." The audience was filled with captivated students and adults alike, attention rapt as the guests explained their experiences growing up. Dr. Smethurst did a fantastic job of portraying how our generation expresses the same sentiments of the past, or how we all strive for equality. He cited Kanye West's song "New Slaves" as one recent example, explaining how, "the idea that something could be really popular and serious at the same time is very different… This art is more than just in a museum, it's for everyone."
The  event was a success, as the keynote speakers were able to relate to the audience and to create a warm and comfortable environment for the guests. One of the most powerful messages being conveyed earlier today was a reference to "SOS - Calling All Black People: A Black Arts Movement Reader," a volume written in collaboration by Dr. Bracey, Professor Sanchez, and Dr. Smethurst. Each individual who took a stand at the podium emphasized how, as a society, we must do our best to understand each other and to "[hear] and [heed] that SOS call that you acknowledge."
Sidney Gelber Auditorium Dedication
The Sidney Gelber Auditorium, formerly SAC Auditorium, was named in honor of Stony Brook's former provost and professor of philosophy.
The dedication ceremony on April 9, 2015 included remarks by his former colleagues and students and was hosted by Provost and Senior Vice President for Academic Affairs Dennis N. Assanis.  
Dr. Gelber was Stony Brook's first provost, first dean of Arts and Sciences, and second academic vice president. Dr. Gelber left an indelible impact on the University and had many professional accomplishments.
Welcome to Stony Brook!
We would like to welcome new and returning students back to campus and hope that our student centers will serve as a cultural hub that fosters a red hot school spirit. We wish you the best of luck and success! 

SAC Lobby Study Space & Charging Stations
Need a place to study or eat while charging your device?  Swing by the SAC Lobby!  We've added new tables, counters, red-hot Wolfie chairs, and convenience outlets.  These enhancements were generously funded by the Vice President for Student Affairs based on student feedback.  Enjoy!  
The SAC Breaks the Internet
By Saba Babar
In September 2015, the SAC and SB Union Facilities Operations Department implemented a new internship position for digital media available to students in order to access the digital realm, which is becoming a more prevalent method of communicating in this day and age. The internship is the result of the department's new plan to reach out to guests and students through a platform where they're most comfortable: social media. However, the outreach doesn't end there, as the interns will also be covering the latest events and stories on campus and publishing them on the department's website, in order to extend reach-out to guests and students of the SAC and the SB Union. The internship, supervised by Director Howard Gunston, consists of three interns, Oscar Siu Chi Yeung, Justin Laquinta, and myself, whose diverse backgrounds demonstrate that we each have a lot to bring to the table.
Oscar Siu Chi Yeung, born and raised in Hong Kong, moved to the US five years ago to Queens, New York. Oscar is currently a senior at Stony Brook, double-majoring in Psychology and Business Management, with a specialization in Marketing. Oscar's had plenty of work experience as a Seasonal Sales Associate at Macy's, an Undergraduate Research Assistant for the Psychology Department, and an Executive Team Leader Intern for Target. In his free time, Oscar enjoys playing Ping-Pong, reading, traveling, and is an avid Lego-collector. Oscar chose Stony Brook for its convenient location, and became involved in this internship "to gain hands-on experience" and "a strong start in the Marketing field." Oscar believes that this internship will help students to "utilize" and to become more familiar with "certain services and resources" our campus has to offer.
Justin Laquinta, a Valley Stream native, is a junior at Stony Brook, majoring in Business Management and minoring in Music. While this internship is Justin's first, he's been involved in lifeguarding and teaching swimming at summer camps and gym pools. In his free time, Justin enjoys reading, exercising, and managing and providing lyrics for his band "Swim". Justin spent his freshman year at Geneseo before "realizing [he'd] made a mistake leaving [his band]", and transferred to Stony Brook in order to save money. Justin joined this internship because "[Director] Howie sounded excited over the phone, so [he] figured there'd be happy, dedicated people to work with."
My name is Saba Babar and I'm currently a senior at Stony Brook, majoring in Business Management with a concentration in Marketing and minoring in Political Science. I was born in Jersey City, New Jersey, and raised in Huntington Station, New York for most of my life. While this is my first internship, I've had experience working as a Sales Associate at ULTA Beauty, KOHL's, and Bed Bath & Beyond, a volunteer on Stony Brook's Administrative Hearing Board, and on the Commuter Student Association and American Marketing Association's e-boards. In my free time, I enjoy writing, painting, watching movies, and playing video games with friends. I chose Stony Brook for its impressive reputation and convenient location, and sought out this internship in order to better understand which specialization of Business I wanted to pursue. I believe that this internship is the first step toward establishing an online presence for students to better understand and to become more involved in the culture on our campus.
This internship further promotes the department's vision for all guests to love their experience at the SAC, a goal that is nearly within reach, as surveys claim that 94% of guests fit into this category. Howie predicts that the internship will also benefit Stony Brook students, as it will "strengthen the direct line of communication between students and the student center that's here to support them." While the internship is still in its early stages, it shows great potential, as both employees and interns are greatly invested in the project, and have many different ideas to bring to the table.
Events Postponed - Monday, February 2nd, 2015
Out of an abundance of caution and in consideration of the hazardous road conditions expected this afternoon and evening, all Student Activities Center and SB Union events scheduled for today, Monday, February 2nd, 2015 have been postponed. Please check back with your event organizer for any further details.
SAC & SB Union Back To Scheduled Programming
Now that winter storm Juno has passed, we are glad to announce that the SAC and SB Union will resume regular operating hours and programming schedule on Wednesday, January 28, 2015.  Thus, we invite all to the  2015 Black History Month  Opening Ceremony  held on Wednesday, January 28th at 12:00pm in the SAC Auditorium. Please help us to celebrate the heritage of Black people in America, as well as internationally.
1/26 & 1/27 Winter Storm Updates
Due to the impending winter storm, all events held in the Student Activities Center and the SB Union on Monday 1/26/16 and Tuesday 1/27/15 have been either postponed or cancelled. We will however, continue to remain open today Mon. 1/26 until 11:00pm, and re-open tomorrow Tue. 1/27 at 8:00am. 
Finals Week Campus Dining Hours
Campus Dining Services has extended dining hours to accommodate the increasing student need for study space and dining options during Thanksgiving and Finals week. We invite students to come by and grab a snack, meal, or coffee, or simply indulge in our comfortable lounges, perfect for studying! For detailed information regarding Campus Dining Holiday and Finals dining hours please take a look at   Campus Dining's   Thanksgiving 2014 Hours and  Fall Final 2014 Hours