Skip Navigation
Transportation
Stony Brook commuter students make up nearly 50% of our campus population. With that said, not all commuters arrive to campus via the same mode of transportation. Some drive a personal vehicle, others walk or ride bikes, and plenty of commuter students utilize public transportation services.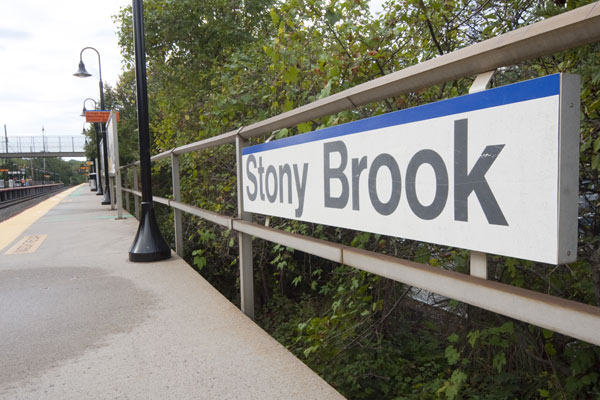 Visit the  Long Island Rail Road  website to map out, schedule and calculate the fare of your trip.
Tips & Tricks
Transferring at Jamaica:

Due to the nature of some train lines, you may have to transfer trains at Jamaica station to reroute to your destination
You will receive a notice when using the online Trip Planner and will be indicated with a J on timetable brochures
When your train arrives at Jamaica, the train you must transfer to is almost always immediately across the tracks
Look for the marquees on the sides of the train to make sure that it is going to the right destination
You will have ~2 minutes to transfer. In the event that your transfer is not across the platform, listen carefully to hear which track your train is located on
If you are unsure of which train to transfer to or where the track is located, ask a conductor or employee
CityTicket:
CityTicket is a new way to travel on Saturday and Sunday within the city limits on Long Island Rail Road or Metro-North Railroad

CityTicket costs just $4.25 and is good for one-way travel that begins and ends within New York City (LIRR riders can change trains at Jamaica as long as they continue their trips in the same direction)

On the LIRR, you can use CityTicket for trips within Zone 1 or between Zones 1 and 3 (see station lists and map for details); on MNR, you can use CityTicket for trips on Hudson or Harlem line trains between the Bronx and Manhattan
Bringing a Bike on the Train
Each bicycle taken on board LIRR trains requires a permit
For the most directive information regarding the Suffolk County Transit Buses, visit there website.
While some students do commute by bus, be mindful that it is not the most convenient nor accessible option. Be careful to know all you can about the schedules before committing to this mode of transportation.
For more information about special pricing and options for Stony Brook Students, click  HERE.
Special Transportation Services
Click HERE to view the options that Stony Brook offers to their students.
Please note: We are not the Office of Transportation and Parking.