Skip Navigation
October Is Domestic Violence Awareness Month
What is Domestic Violence Awareness Month?
Domestic Violence Awareness Month (DVAM) evolved from the "Day of Unity" observed by the National Coalition Against Domestic Violence in October 1981.
The goal of this event was to connect advocates across the nation who were working to end violence against women and their children, and the range of activities associated with the effort ultimately expanded to include events at the local, state, and national levels. 
In October 1987, the first Domestic Violence Awareness Month was observed, and the first national domestic violence toll-free hotline was launched. In 1989 Congress designated October as National Domestic Violence Awareness Month, and every year since organizations around the country have marked the month with a variety of awareness activities focused on a few common themes: mourning those who have died as a result of domestic violence, acknowledging and celebrating those who have survived, and connecting allies and others motivated to end all forms of relationship violence. (NCDSV, 1996)

Helpful Infographics
A Brief History of Domestic Violence Awareness Month
Domestic Violence: Myth vs. Fact

Domestic Violence Facts
Domestic violence is also referred to as dating violence, relationship violence, and intimate partner violence. It can include physical, emotional, verbal, and psychological violence, as well as stalking. It is associated with other forms of violence, and a variety of serious health consequences and economic impacts.  (CDC, 2020)
About 1 in 4 women and nearly 1 in 10 men have experienced contact sexual violence, physical violence, and/or stalking by an intimate partner during their lifetime and reported some form of IPV-related impact. (CDC, 2020)

More than half (54%) of trans and non-binary people have experienced some form of intimate partner violence, including acts involving coercive control and physical harm. (NRCDV, 2020)

U.S. crime reports suggest that approximately 1 in 5 homicide victims are killed by an intimate partner, and reflect that over half of female homicide victims in the U.S. are killed by a current or former male intimate partner. (CDC, 2020)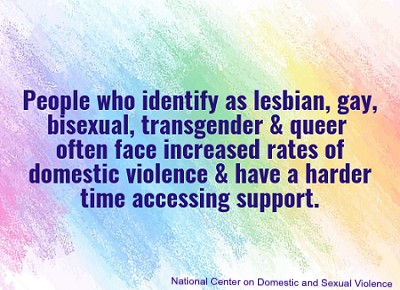 Domestic violence affects millions of people of every race, religion, culture and status. It's not just punches and black eyes -- it's yelling, humiliation, stalking, manipulation, coercion, threats and isolation. It's stealing a paycheck or a password, tracking someone online, texting non-stop, constant use the silent treatment, or calling someone stupid so often they believe it. (Break the Cycle, 2014)

Get Help
If you are experiencing relationship violence in any form, help is available on campus as well as through national and local resources.
For anonymous, confidential help available 24/7, call the National Domestic Violence Hotline at 1-800-799-7233 (SAFE) or 1-800-787-3224 (TTY) now.
Organizations like VIBS and LI Against Domestic Violence are available to local residents, and those living anywhere in New Your State can also access the state's Domestic Violence Hotline.
If you are not on Long Island or are out of New York State, learn more about your local resources on line or by contacting the National Domestic Violence Hotline: 1-800-799-7233 (SAFE)
Take action and make a difference!
There are lots of ways to get involved this Domestic Violence Awareness Month - attend a One Love or Green Dot training to learn more about how to recognize and respond to intimate partner violence, or participate in a workshop to learn how to support someone who has experienced relationship violence in any form. Check out CPO's Domestic Violence Awareness Month calendar or check out our SB Engaged page to see all of our upcoming opportunities!
Download the Domestic Violence Awareness Month Calendar

References and additional resources:
Break the Cycle (2014) It's National Domestic Violence Awareness Month!
https://www.breakthecycle.org/blog/it%E2%80%99s-national-domestic-violence-awareness-month
Centers for Disease Control (CDC) (2020) Preventing Intimate Partner Violence. 
https://www.cdc.gov/violenceprevention/intimatepartnerviolence/fastfact.html
National Center on Domestic and Sexual Violence (NCDSV) (1996) Domestic Violence Awareness Month History
http://www.ncdsv.org/images/DVAMhistory.pdf
National Resource Center on Domestic Violence (NRCDV) (2020) Violence Against Trans and Non-Binary People. https://vawnet.org/sc/serving-trans-and-non-binary-survivors-domestic-and-sexual-violence/violence-against-trans-and