Skip Navigation
Connecting with Others
Connecting with others is a great way to practice self care.  Allow yourself to be   connected  to   others , share your thoughts and feelings respectfully, and make time for yourself to do things you enjoy. Monitoring our emotional wellness is a lifelong task. Remember to treat yourself well. 
We know that connecting with friends and family can seem difficult during this time. To help, we have put together a list of various resources that you can use to connect with others that might not be physically close to you. 
We've also included some ideas of things you to do with others virtually! 
---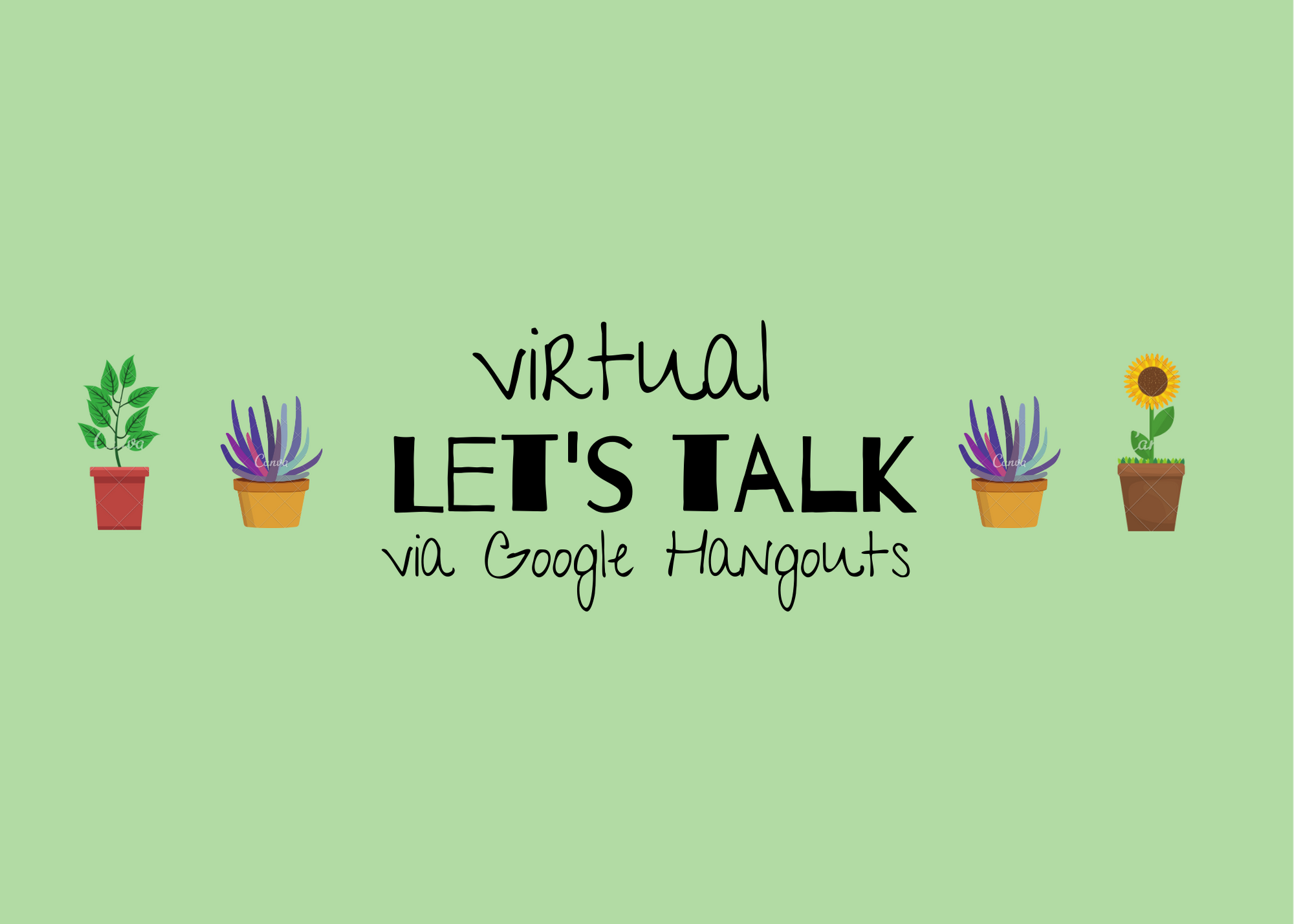 LET'S TALK is a free, brief, informal, and confidential conversation with a counselor which are now offered online via google hangouts. 
Let's Talk Sessions are offered:
Mondays 11am-1pm
Tuesdays 3:30-5:30pm
Wednesdays 12-2pm  
Thursdays 4:30-6:30pm  
Fridays 11am-1pm

To register for a virtual Let's Talk session please register at  https://tinyurl.com/virtualletstalk
To meet our Let's Talk counselors click here.
---
OUR FAVORITE WAYS TO CONNECT
DURING SOCIAL DISTANCING
Pizza Party: grab a slice with friends even when you're far away! You can each order a slice (or even a pie) from your favorite local pizzeria and then plan to jump on skype, facetime, google hangout or zoom to catch up with each other. 
Un-Birthday Party: in case you need a reason for cake the other 364 days of the year! Grab your favorite dessert, facetime with your friends and discuss your favorite desserts, bonus points if you swap your favorite recipes! 
Virtual Happy Hour: catch up over your favorite mocktails! Share how you are feeling, what life has been life since the start of the pandemic and how you are coping. 
Afternoon Tea: It doesn't have to be proper to be fun! Set up a time in the afternoon (maybe when you all finish work) to meet up virtually with your friends and have a cup of relaxing tea. 
Aftershow: tap your inner Andy Cohen and connect with your friends to dish after the latest episode of your favorite shows! Facebook Live now has a watching party feature where you can all watch the newest episode (ps our favorites are Grey's Anatomy or Brooklyn 99) and discuss all the plot twists.  
Let us know how you are practicing social distancing and self care during the corona virus by snapping a picture and sharing on social media! Tag us and use #seawolvesselfcare to be featured on our social media and website! 
Facebook: @sbucpo
Instagram: @cpo.sbu
Twitter: @sbu_cpo
---