Skip Navigation
National Suicide Prevention Month
Together, we can all help prevent suicide. Every year, mental health organizations and individuals across the U.S. and around the world raise awareness of suicide prevention during September, National Suicide Prevention Month.
Join CPO as we hold events all month long to raise awareness for suicide prevention, promote an open dialogue about mental health, and explore ways to care for oneself and others. 
We are in this together!
Text versions of these calendars are located at the bottom of the page. 
September 2021:  National Suicide Prevention Month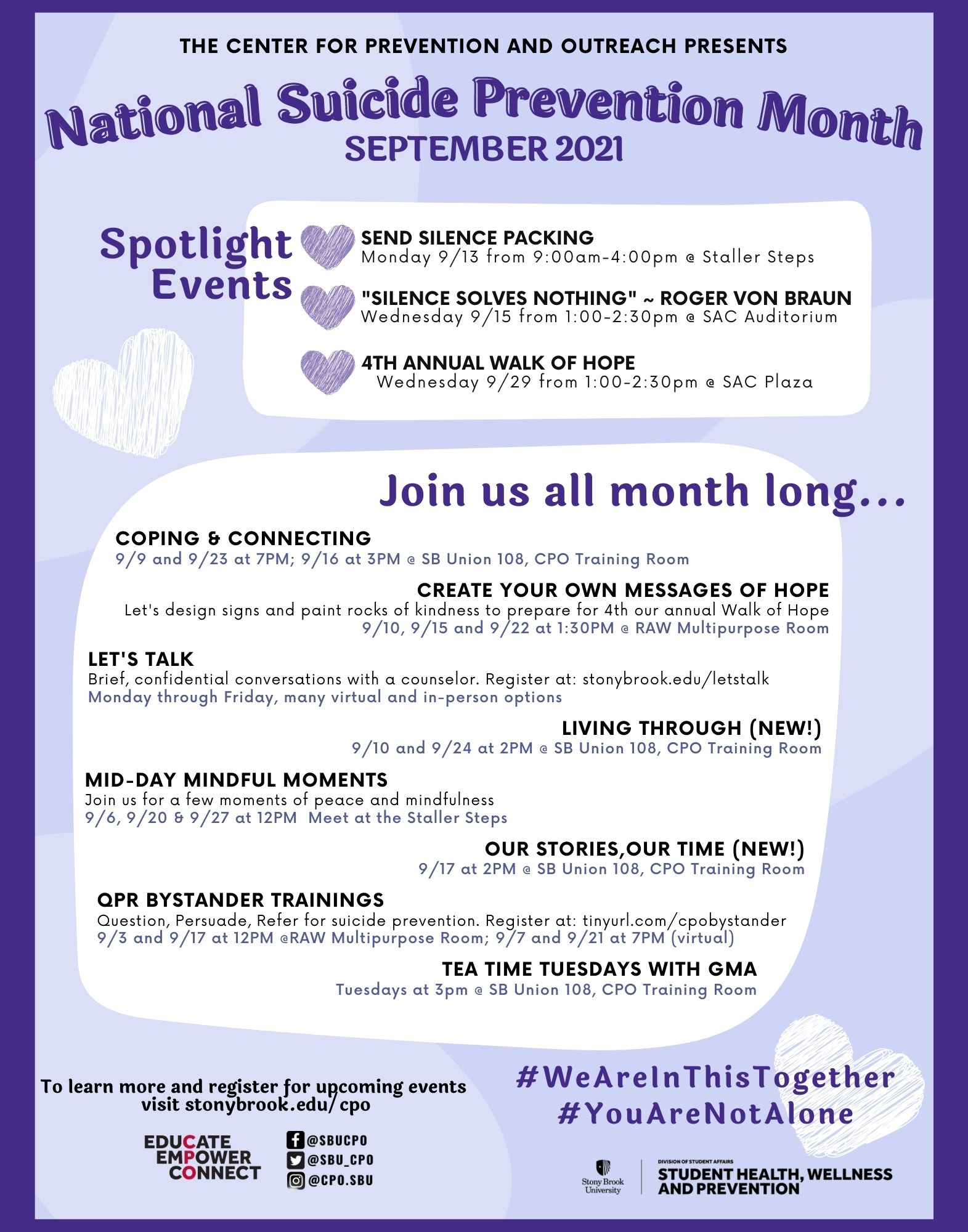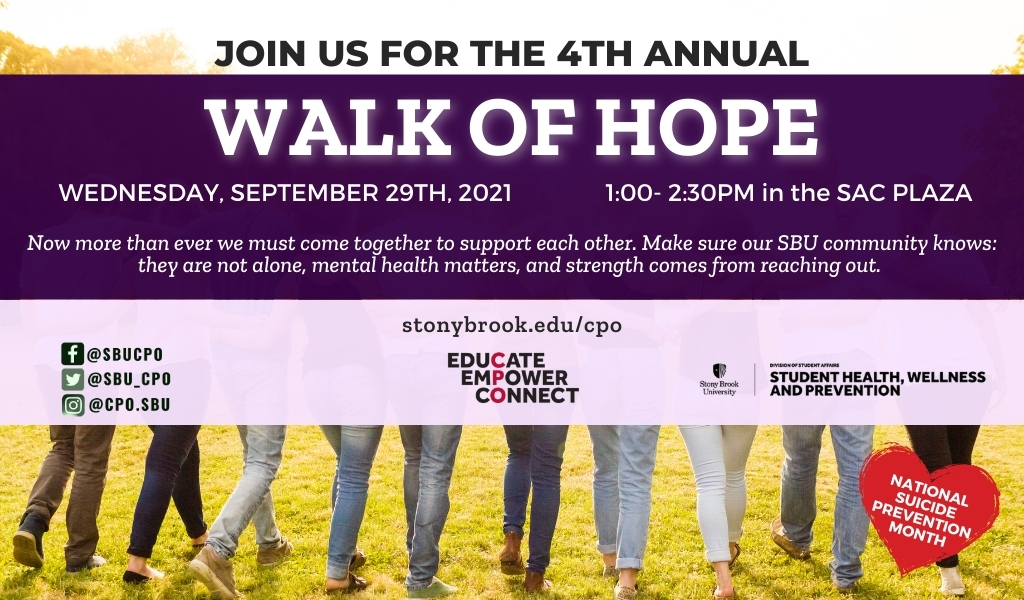 spotlight events
Send Silence Packing -

1,100 students die by suicide each year. Why aren't we talking about it?;

When: Monday 9/13 from 9:00am-4:00pm @ Staller Steps (In case of inclement weather: 9:00AM-4:00PM in Student Activities Center (SAC) Ballroom A)

"Silence Solves Nothing" ~ Speaker: Roger Von Braun -

Through awareness, education, and empowerment Mr. Roger Von Braun continues to help break the stigma associated with mental illness by sharing his story of loss and lived experience; When: Wednesday 9/15 from 1:00-2:30pm @ SAC Auditorium

4th ANNUAL WALK OF HOPE -

Now more than ever we must come together to support each other. Make sure our SBU community knows: they are not alone, mental health matters, and strength comes from reaching out;

When: Wednesday 9/29 from 1:00-2:30pm @ SAC Plaza
Join us all month long...
Coping & Connecting -

When: 9/9 and 9/23 at 7PM; 9/16 at 3PM @ SB Union 108, CPO Training Room

Create Your Own Messages of Hope - 

Let's design signs and paint rocks of kindness to prepare for 4th our annual

Walk of Hope; When:

9/10, 9/15 and 9/22 at 1:30PM @ RAW Multipurpose Room

Let's Talk -

Brief, confidential conversations with a counselor. Register at: stonybrook.edu/letstalk; When:

Monday through Friday, many virtual and in-person options

Living Through (New!) - When:

9/10 and 9/24 at 2PM @ SB Union 108, CPO Training Room

Mid-Day Mindful Moments -

Join us for a few moments of peace and mindfulness; When:

9/6, 9/20 & 9/27 at 12PM

Meet at the Staller Steps

Our Stories, Our Time (New!) - When:

9/17 at 2PM @ SB Union 108, CPO Training Room

QPR Bystander Trainings - 

Question, Persuade, Refer for suicide prevention. Register at: tinyurl.com/cpobystander; When:

9/3 and 9/17 at 12PM @RAW Multipurpose Room; 9/7 and 9/21 at 7PM (virtual)

Tea Time Tuesdays with GMA - When: 

Tuesdays at 3pm @ SB Union 108, CPO Training Room