Skip Navigation

The student employment program offers career building workshops to help on-campus workers recognize and develop skills, so they can make the most of their student employment. These workshops are a few among the many: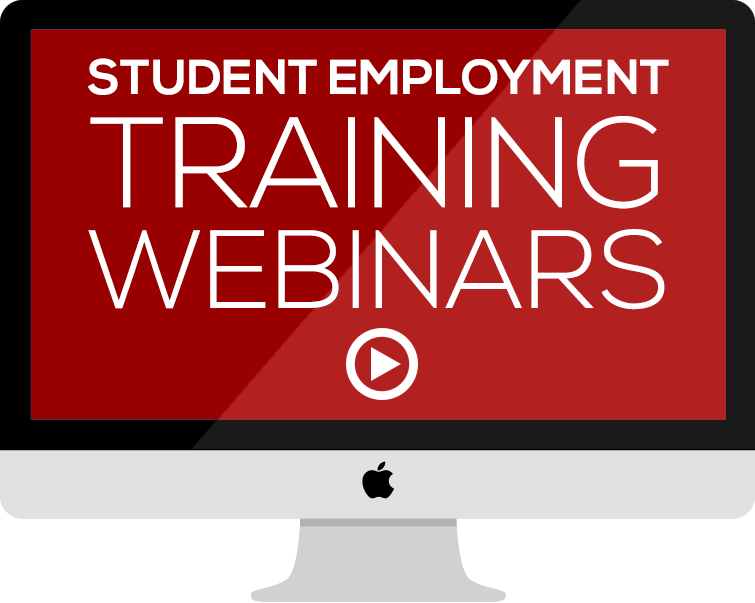 Being open to feedback is important in career growth and development. If you have trouble accepting and responding to criticism, or if you struggle to translate constructive feedback to literal action, check out the video to learn how to improve.
Exemplary Customer Service
Exemplary Customer Service
Working in customer service, attending to hundreds of people daily, is tough. But through this video, you can learn to stand out and perform your best in customer service.
Public Speaking 101
Public speaking is important in any job, whether it's to pitch an idea, give a presentation, or market a product. Even if you are the shyest or most outgoing of people, public speaking can be difficult. But don't be intimidated! Learn how you can improve your presentation skills through this video.
Transferable Soft Skills
Simply put, transferable skills are skills valued by employers that can be used in different jobs. Some examples include team working, communication skills, problem solving, and time management. Learn what transferable soft skills you have, how it relates to your future career goals, and how to use them to market yourself!! 
Conflict Resolution
Becoming "conflict competent" will help you resolve issues constructively and efficiently. In this video, learn how you can dissolve tensions ans reach an agreement through problem solving. 
Negotiation Skills in the Workplace
Getting A Job As An International Student
Getting A Job As An International Student
Applying for jobs can be stressful, but doing it in a new country can be even harder! In this video, you will learn the process of applying to on campus jobs as an International student.

DoIT created trainings for student employees who get paid through SOLAR.
Please see below for detailed tutorials and directions.

Do  you need to access your payroll information? Now you can do so online through New York State:
The Office of the State Comptroller (OSC) has implemented NYS Payroll Online, a service that allows you to view and update your employee payroll information. The system allows you to view and print your pay statement, manage your tax withholdings, and view and print current and prior year W-2s.​ There is also a link to the IRS Withholding Calculator for you to conduct a Paycheck Checkup​ to ensure you are withholding enough in payroll taxes.
You will access the system the same way you currently access your pay stub in Solar.​ For detailed directions on accessing NYS Payroll Online and Frequently Asked Questions, Click Here.
In order to log in for the first time, you will need the following information:
NetID

NetID Password

Last 4 digits of your social security number

NY State Employee ID Number

 
Once registered, you will be able to: ​​
View Current and Previous Paychecks

View Current Direct Deposit Account(s) - changes still need to be submitted through Payroll

Update Tax Withholdings

View and Print Current and Previous W-2s
If you have any questions, please contact State Payroll at 631-632-4888.
Frequently Asked Questions and Directions
Have questions about using the NYS Online Payroll system?
Click Here  for directions on how to use the system.
Click Here  for answers to frequently asked questions. 

Don't know how to use Ceridian Dayforce?
Click Here  to watch training videos that will help you learn more about putting in your time and attendance.
Not sure what all the symbols mean?
Click Here  to review the FSA Reference Guide.