Skip Navigation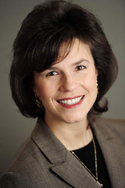 Marianna Savoca, PhD
As Assistant Vice President for Career Development & Experiential Education, Marianna leads campus-wide initiatives to scale career development and improve access to high-impact and career-relevant work-integrated learning experiences for all students, in all majors and degree levels. The Career Center oversees career development, experiential education, student employment, corporate recruitment, diversity talent-pipeline programs, and alumni career services.
Dr. Savoca has consulted for colleges and universities domestically and abroad, and now serves on the advisory board for the Future Talent Council, a global network of university leaders charged with creating scalable solutions to global higher education's pressing problems. In 2020, she began her two-year term as president of the National Society for Experiential Education.
At SBU, Dr. Savoca teaches HEA 526 (Career Counseling), HEA 528 (External Relations), & HEA 587 (Advanced Practicum), as well as undergraduate courses in leadership, career development, and internship. She has co-secured/stewarded grants of more than $2 Million to support student success. Publications include a book: A Good Job: Campus Employment as a High-Impact Practice (Stylus, 2018), and chapters in Advancing Talent Development: Steps Toward a T-Model Infused Undergraduate Education (Business Expert Press, 2020), and Handbook for Student Affairs Administration (Jossey-Bass, in press).
Her contributions to the field have been recognized with several awards, including the 2019 Distinguished Alumna Award from Indiana University, 2018-19 Innovator Award from the National Student Employment Association, a 2019 NASPA Silver Excellence Award for Outstanding Student Affairs' Program, 2016 AAC&U Faculty Fellowship, and a Fulbright for International Educators.  
Email: Marianna.Savoca@stonybrook.edu