Skip Navigation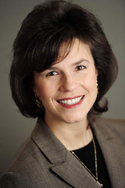 Marianna Savoca, PhD
As Associate Vice President for Career Readiness & Experiential Education,  Marianna leads campus-wide initiatives to scale career development and improve access to high-impact and career-relevant work-integrated learning experiences for all students, in all majors and degree levels. Her portfolio includes career development, a suite of career & life design courses for credit for undergraduates and graduate students, on-campus student employment, the Center for Service Learning and Community Service, internships, corporate recruitment, diversity talent-pipeline programs, and alumni career services.
Dr. Savoca has consulted for colleges and universities domestically and abroad, and is the immediate past president for the global Society for Experiential Education.
At SBU, Dr. Savoca teaches HEA 503: Leadership in Higher Education. She has also taught HEA 526 (Career Counseling), HEA 528 (External Relations), & HEA 587 (Advanced Practicum), various undergraduate courses in leadership, career development, and externship. She has co-secured/stewarded grants of more than $2 Million to support student success. Publications include a book: A Good Job: Campus Employment as a High-Impact Practice (Stylus, 2018), and chapters in Advancing Talent Development: Steps Toward a T-Model Infused Undergraduate Education (Business Expert Press, 2020), and Handbook for Student Affairs Administration (Jossey-Bass, 2023).
Her contributions to the field have been recognized with several awards, including the 2019 Distinguished Alumna Award from Indiana University, 2018-19 Innovator Award from the National Student Employment Association, a 2019 NASPA Silver Excellence Award for Outstanding Student Affairs' Program, 2016 AAC&U Faculty Fellowship, and a Fulbright for International Educators.  
Email: Marianna.Savoca@stonybrook.edu