Skip Navigation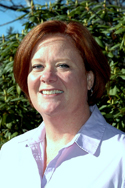 Julie Muller, MA
Julie Muller has been working in higher education for more than 20 years, specializing in intercollegiate athletics. She earned an MA in Industrial and Organizational Psychology from Fairleigh Dickinson University and holds Advanced Graduate Certificates in Coaching from Stony Brook University and in Non-Profit Management from Marlboro College Graduate Center.

Julie currently serves as the Commissioner for the North Atlantic Conference, an NCAA Division III Conference in New England and serves as the President of the Division III Commissioners Association. Prior to joining the NAC, she was the Assistant Athletic Director for Student-Athlete Services at Stony Brook University from 2000-2004 during which time she began in her current role as an Instructor in the School of Professional Development. Julie's career in college sports began at Fairleigh Dickinson University as a field hockey coach and advanced to the role of Associate Athletic Director and Senior Woman Administrator before heading back to her native Long Island.

In addition to Intercollegiate Athletics in Higher Education, Julie teaches several courses in the SPD Coaching Education Program.
Email: Julia.Muller@stonybrook.edu