Southampton Windmill Now a Literary Landmark

On Saturday, July 13, the windmill at Stony Brook Southampton was officially designated a Literary Landmark by the United for Libraries, in partnership with Empire State Center for the Book. The Designation Ceremony kicks off a yearlong celebration of the Southampton campus' 50th anniversary.
The 300-year-old windmill was granted landmark status because it was once the residence of Pulitzer Prize-winning playwright Tennessee Williams, who lived there in the summer of 1957 while writing the experimental one-act play "The Day On Which a Man Dies." The play portrays the last day of an artist's life and explores themes of life, death and desperation. It was written partly in response to the death of Williams' friend, the iconic artist Jackson Pollock.
Prior to the Designation Ceremony, there was a reading of At Stanley's Place, a new play by Frederic Tuten, a faculty member in the MFA Program in Creative Writing and Literature. The Stanley of the title refers to Stanley Kowalski from the Williams classic A Streetcar Named Desire. In addition to Streetcar characters Stanley and Blanche, characters from other major American plays populate the cast of At Stanley's Place.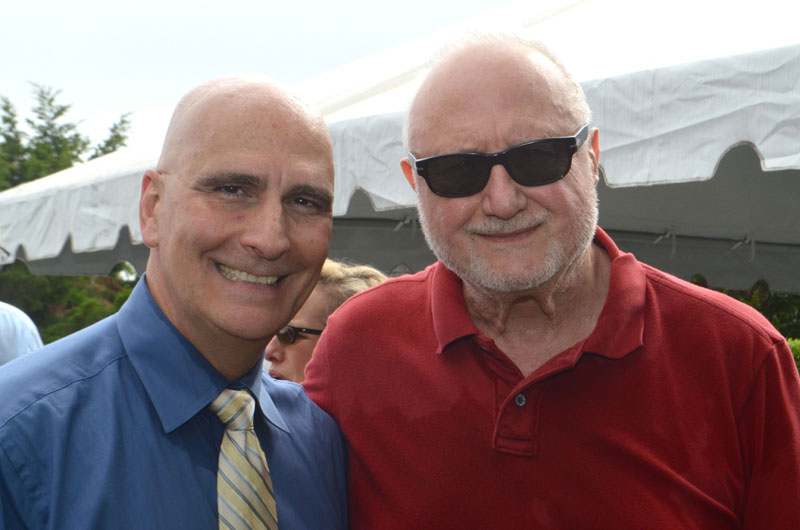 The dramatic reading was followed by remarks from Rocco Staino, chairman of the Empire State Book Festival, and Nick Mangano, Stony Brook director of the Southampton MFA in Theatre program, who began the application process for Literary Landmark status in September 2011 after hearing that Williams had lived in the windmill. Following the approval of his application, Mangano drafted the wording for the plaque to identify the newly minted 300-year-old landmark.
Roger Rosenblatt, a distinguished professor of English and writing, reminisced about the windmill in the earlier days of the campus, and poet Grace Schulman read some of Williams' lesser-known poems and shared her own memories about the playwright. Following the reading, the crowd gathered to unveil the plaque designating the windmill as a Literary Landmark.
Special guests included Congressman Tim Bishop, former Southampton College provost; Senator Kenneth P. LaValle; Assemblyman Fred Thiele, a 1976 Southampton College alum; and Southampton Town Supervisor Anna Throne-Holst, Deputy Supervisor Frank Zappone, and Town Council members Bridget Fleming and Chris Nuzzio. The audience included members of the Shinnecock Indian Nation, alumni and faculty from Southampton College, students enrolled in the Stony Brook Southampton Writers Conference, and other friends of the campus.
***
Photos by Star Black. Above right, Bob Reeves, Assembyman Fred Thiele and State Senator Kenneth LaValle. Below left, Nick Mangano and Frederic Tuten.