Skip Navigation
What Students Say
> Jump to What Alumni Say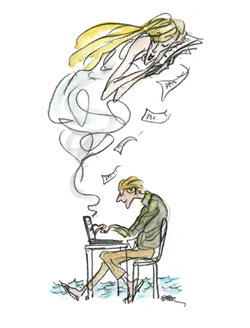 "Here one has the opportunity to watch the best, listen to the best, learn from the best—and then strive to be one's best in the process."
—Janet Demarest

"The Conference was superb. Who could imagine meeting poets Robert Wrigley, Billy Collins, and Paul Muldoon in the space of ten days? I am raving to all my friends about the breadth of offerings and how much I learned from the speakers at the panels."
—C. M. Griffin

"The Southampton Arts Conference is a unique opportunity for writers to learn more about their craft from some of the nation's best and most recognized writers. Whether you are an aspiring author, poet, playwright or filmmaker, you will find creative inspiration and practical instruction that will propel you toward your goals. Being submersed in the world of your art for five or 10 days can re-charge your creative batteries like nothing else."
—July L. Mandel

"Southampton Arts is a rare opportunity to advance your creative work, supported by astonishing talent and teachers. The spirit of camaraderie pervades every element of the experience. Give yourself the gift of Southampton Arts and you will take a bold step forward as an artist."
—Janice Maffei

"This unique and exhilarating experience gave me the confidence and freedom to create something new and original."
—Patricia Tilton

"I live outside Philly, I've never published anything, most of my friends aren't involved in the arts and I like my privacy....but I spend a lot of time fantasizing about being part of a salon.  For me, the Southampton Conference, the mix of people, their varied degree of accomplishment and areas of interest was like dropping in on a salon and not feeling like an outsider.  I'm already scheming about how I can attend both sessions of the Southampton Salon next year. "
—Laura Ellen White
"What was most rewarding about 20/20/20 was the 24/7 intensity. The first week we worked on our scripts while attending workshops and mentoring sessions with some of the most brilliant minds in the entertainment business. The second week we crewed on our collaborators films while preparing for our own, and the third week we edited non­stop in preparation to screen our short films. My mind was stretched in directions I had not thought possible. I was pushed hard, happily so, all the time knowing that I was part of a uniquely curated experience geared to propel all of us towards excellence. The knowledge gained is now embedded deep within, and I can't begin to describe my gratitude towards my talented collaborators, the program mentors and the administrators who passionately strived to make it a success. I am a better artist because of it."
— Jill Campbell, 20/20/20 Graduate Program in Digital Filmmaking


WHAT ALUMNI SAY
Helen Simonson, author of the best-selling Major Pettigrew's Last Stand, which was her MFA thesis manuscript:
"What is truly amazing about this program is that not only have I had the chance to learn craft from some of today's greatest writers in their fields, but also that these famous talents treat the students as fellow writers. To have my work taken completely seriously was at first a shock and then a complete joy. This leadership also encourages the student body to treat each other exceptionally well and it has been very valuable to attend workshops where tough criticism is delivered in an atmosphere of trust and mutual growth. I have made valuable friendships here and discovered that there can be room for many kinds of voices in the writing world. Essays with Roger Rosenblatt, humor writing with Jules Feiffer, poetry with Billy Collins—this is what a writing program should be. The chance to work with, and soak up craft from, the very best writers in their fields makes this program and summer conference a truly special experience. They say you can't teach writing and yet I can feel my skills expanding weekly in this program. I've learned to prize the story over the individual beautiful sentence. I've learned that every verb, every comma, and every white space between words matters in a poem. I've learned to give myself permission to wander wherever an essay takes me and then to shave every last unnecessary thought to achieve brutally crisp prose. Maybe you can't teach writing, but the faculty at Southampton teaches inspiration every day. There's something in the water of the East End of Long Island that nourishes art of all kinds. The concentration of master writers out here is truly spectacular and Southampton has become a kind of central meeting point. Not only do you have professors like Roger Rosenblatt and Jules Feiffer but then E.L. Doctorow drops by at the summer conference or Alan Alda comes to chat with students in the evening."

Tom Higgins, playwright of Wild Animals You Should Know, developed in playwriting workshops at Southampton and presented Off Broadway by the Manhattan Class Company at the Lucille Lortell Theatre: "To my mind, there are two kinds of workshop environments: those where one goes to get work done, to finish...and those where one goes to get inspired, to begin.  Southampton is that rare exception: it's both.  Prepare to complete your play and dream up something for the road home."


"Extremely fulfilling. It was incredible to discover this program, which fills a social gap as much as anything. I've become part of a community of like-minded individuals."
—Pat Hanrahan