Skip Navigation
News
News Archives:   2018 |   2017  |   2016  |   2015  |   2014  |  2013  |  2012
Stony Brook Launches BFA Degree in Creative Writing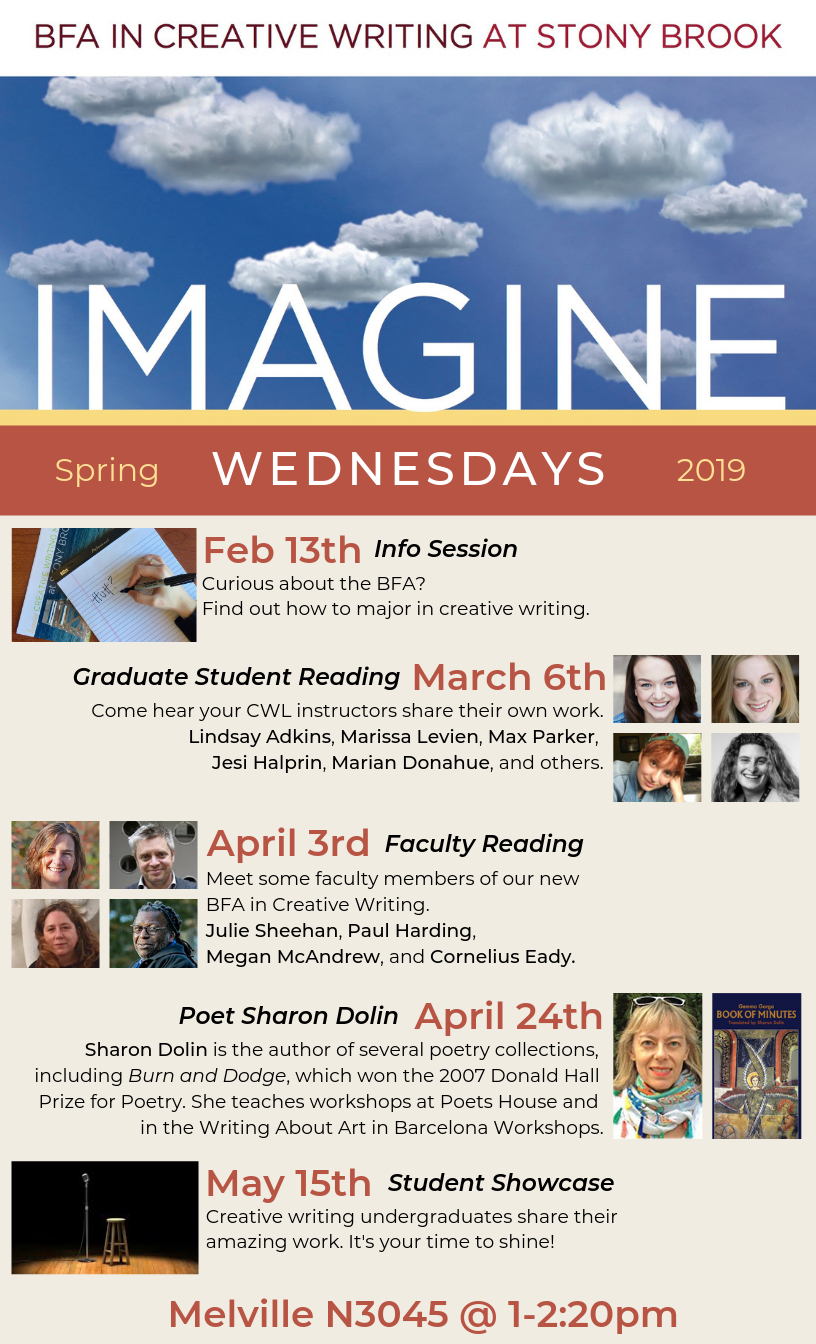 Stony Brook University announces a new undergraduate major in Creative Writing, earning a new degree, the Bachelor of Fine Arts. Modeled after its renowned MFA in Creative Writing program and sharing the same world-class faculty, the BFA supports the creation of original student work in the company of other like-minded artists. It is located on West Campus in the Melville Library.
The Creative Writing major offers a wide selection of writing workshops gathered under broadly defined course numbers, so that students can build their own BFA, specializing in the kind of writing they most yearn to master. In their senior year, they write a book-length manuscript under the one-on-one mentorship of a faculty member. Throughout, they are part of a tightly knit community of rigorous but supportive fellow majors.
Courses specific to the major will be available for current and future Stony Brook students starting in Fall 2019. The first cohort of majors will graduate as BFAs in Spring 2021. With a thriving minor in creative writing in its sixth year, many current students have already taken some of the required courses with such regular faculty as Star Black, Cornelius Eady, Neal Gabler, Paul Harding, Amy Hempel, Kaylie Jones, Megan McAndrew, Lou Ann Walker , and Julie Sheehan, who directs the program.
Admission is selective. "We're looking for serious writers who are passionate, curious, and eager to take a risk," said Sheehan," the kind who are already driven to write poetry, fiction, creative nonfiction, plays or screenplays, but who are ready to take it to the next level." High school students will need to earn admission to both Stony Brook University and to the CW major. They can apply to both simultaneously. Current students have until March 1, 2019, to apply for Fall admission to the major.
Talented writers can learn more about the BFA in Creative Writing at stonybrook.edu/bfa. The program is also hosting an informational session on Wednesday, February 13, 1-2:20 in Melville Library N3045, the first in a series of 'Imagine Wednesdays.'
Alice McDermott Joins Roger Rosenblatt at 92nd Street Y Event on Feb. 24
Stony Brook University's Distinguished Professor of English and Writing, Roger Rosenblatt, will appear with author Alice McDermott at the 92nd Street Y in Manhattan to discuss "The Writing Life."
From the 92nd Street Y website:
Writing is hard. The isolation and loneliness that come with working as a writer can be harder still. Is it worth it? How do celebrated authors like Alice McDermott and Roger Rosenblatt keep going?"

Join these two friends for an uplifting and inspiring conversation about the beauty and madness of writing life. They'll share insights, wisdom, and humor—as well as stories from their ongoing "humiliations competition" in which they report their latest hilarious humbling experiences as writers. And they'll discuss their faith in art as a light leading away from horror and cruelty and toward a nobler life.
The event will take place Sunday, Feb. 24 at 7 p.m. in Buttenwieser Hall, and is part of the 92Y Talks series.
Photo courtesy 92nd Street Y
Roger Rosenblatt is a novelist and essayist whose work has been published in 14 languages. He has written five New York  Times Notable Books of the Year and three  Times bestsellers, including the memoirs,  Kayak  Morning,  The  Boy  Detective, and  Making  Toast, originally an essay in the  New  Yorker. He has also written six off Broadway plays, notably  Free  Speech  in  America, a one-person play that he performed at New York's American Place Theater, and was one of the  Times Ten Best Plays of 1991, as well as the screenplay for his bestselling novel,  Lapham  Rising, shooting scheduled to begin this summer, and starring Frank Langella and Candace Bergen. Rosenblatt formerly held the Briggs-Copeland appointment in the teaching of writing at Harvard, where he earned his Ph.D. Among his honors are two George Polk awards, the Peabody and the Emmy for his work as an essayist at  Time magazine and on PBS; the Robert F. Kennedy Book Prize; a Fulbright Scholarship; seven honorary doctorates; the Kenyon Review Award for Literary Achievement; and the President's Medal of the Chautauqua Institution for his body of work. 
Alice McDermott's eighth novel is The Ninth Hour. Her previous novels include Someone, a finalist for the Dublin IMPAC Award, the National Book Critics Circle Award, the Patterson Prize for Fiction, and The Dayton Literary Peace Prize. Three of her earlier novels, After This, At Weddings and Wakes and That Night, were finalists for the Pulitzer Prize. Charming Billy won the National Book Award for fiction in 1998 and was a finalist for the Dublin IMPAC Award. Her writing has appeared in The New York Times, the Washington Post, the New Yorker, and elsewhere. She has received the Whiting Writers Award, the Carington Award for Literary Excellence, and the F. Scott Fitzgerald Award for American Literature. In 2013, she was inducted into the New York State Writers Hall of Fame. She is the Richard A. Macksey Professor of the Humanities at Johns Hopkins University.
For more information and to purchase tickets, visit the 92nd Street Y website.