Skip Navigation
Vanessa Delgado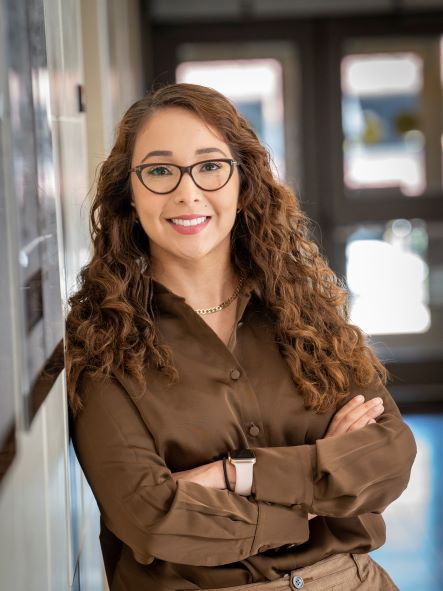 Inclusion, Diversity, Equity & Access (IDEA) Postdoctoral Fellow
Ph.D. University of California, Irvine 2022
Vanessa.Delgado@stonybrook.edu
Areas of Interest
Immigration, children of immigrants, Latinx families, and qualitative research methodology
Bio
Vanessa Delgado is an IDEA Postdoctoral Fellow in the Department of Sociology at Stony Brook University. Her research interests include immigration, children of immigrants, Latinx families, and qualitative research methodology.
Dr. Vanessa Delgado's research explores the incorporation pathways and educational experiences of Latino/a/x families. She employs qualitative methods to examine how Latino/a/x families navigate punitive immigration laws and policies and a restrictive socio-political climate. Drawing on in-depth interviews with Latinx young adults and their immigrant parents, she uncovers how legal status shapes the ways adult children of immigrants serve as language, cultural, and legal brokers for their families. Articles from her research are published in Law & Policy, Journal of Latinos and Education, Sociology Compass, Socius, and Journal of Marriage and Family. Her work has been supported by the Ford Foundation Fellowship, National Science Foundation, The University of California Institute for Mexico and the United States (UC MEXUS), UC Consortium on Social Science and Law, UCI Center for Organizational Research, UCI Center for Citizen Peacebuilding, UCI Inclusive Excellence, and other internal fellowships at UCI.
Vanessa received her Ph.D. and MA from the Department of Sociology at UC, Irvine and a BA from Washington State University.
Recent Publications
Delgado, Vanessa. 2022. "Leveraging Protections, Navigating Punishments: How Adult Children of Undocumented Immigrants Mediate Illegality in Latinx Families" Journal of Marriage and Family (online first)
Delgado, Vanessa. 2022. "Can Universities Counteract Immigrant Illegality? Examining the Role of University-Based Institutional Support on Californian Undocumented College Students' Experiences" Socius: Sociological Research for a Dynamic World 8, 1-13.
Delgado, Vanessa. 2020. "Decoding the Hidden Curriculum: Latino/a First Generation College Students' Influence on their Younger Siblings Educational Trajectory" Journal of Latinos and Education (online first) 
Delgado, Vanessa. 2020. "'They think I'm a lawyer': Undocumented College Students as Legal Brokers for their Undocumented Parents" Law & Policy 43 (3), 261-283.
Delgado, Vanessa. 2020. "Children of Immigrants as "Brokers" in an Era of Exclusion" Sociology Compass 14 (10), 1-11.