Skip Navigation
Gabriella Hassildine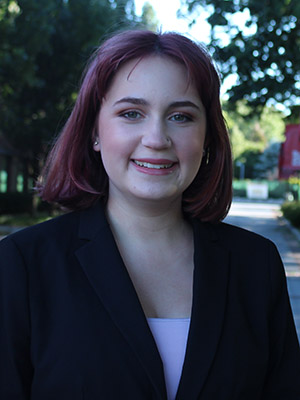 Gabriella (Bella) Hassildine is a senior undergraduate at Stony Brook studying Psychology and Studio Art on the pre-health track. At Stony Brook, she is a SOLII Scholar. Additionally, she serves as Chief of Staff for the Undergraduate Student Government, member of the University's Title IX Task Force, Vice President of Stony Brook's Best Buddies Chapter, a member of multiple student organizations, and a recipient of the 2022 Student Mental Health Advocate of the Year Award. She also served as a Student Representative on the Campus Safety Advisory Committee for the 2021-22 academic year.
Outside of Stony Brook, Bella serves the community as a volunteer EMT at Riverhead Volunteer Ambulance Corps, where she holds a regularly scheduled weekly shift, in addition to providing EMS coverage for standbys at multiple ambulance agencies across Suffolk County. She also serves as the Director of Communications for the Student Assembly of the State University of New York (SUNYSA).
Prior to attending Stony Brook, Bella attended Suffolk County Community College, where she graduated in May 2021 with an Associate's in Arts, Honors Diploma with Highest Distinction. At Suffolk, Bella was on an advisory committee for SUNY Chancellor, was a Peer Mentor and Orientation Leader, a member of three Honor Societies, and a recipient of the 2021 SUNY Chancellor's Award for Student Excellence, as well as the Honors College's 2021 Academic Excellence and Leadership Award. While at Suffolk, Bella spent 19 months serving as a contact tracer and case investigator for the NYS Department of Health during the COVID-19 lockdowns, where she educated patients on COVID-19, ensured they were able to safely isolate or quarantine, and connected them to invaluable long-term food, housing, and mental health resources.
Bella is a Long Island native and resides on the North Fork when not in school at Stony Brook. When not studying, you can find her painting, making music, and spending time with her two dogs.