Skip Navigation
2020-21 Provost's Lecture Series
Lecture Series Guidelines                         View the YouTube Playlist
---
Spotlight on COVID
Fotis Sotiropoulos

Wednesday, December 2, 12pm

How Far Is Far Enough and Can Masks Curb the Spread of COVID-19?  Insights on Effective Social Distance and Face Covering Gained by Numerical Simulation

Kenneth Kaushansky, Bettina Fries, Sharon Nachman

Wednesday, December 3, 12pm

COVID Vaccines in Development: Which Ones May Give Us Our Best Shot at Returning to Normalcy?
---
December 2: Fotis Sotiropoulos
How Far Is Far Enough and Can Masks Curb the Spread of COVID-19? 
Insights on Effective Social Distance and Face Covering Gained by Numerical Simulation
Wednesday, December 2, 2020
12-1 pm Eastern Time (US and Canada)  
Register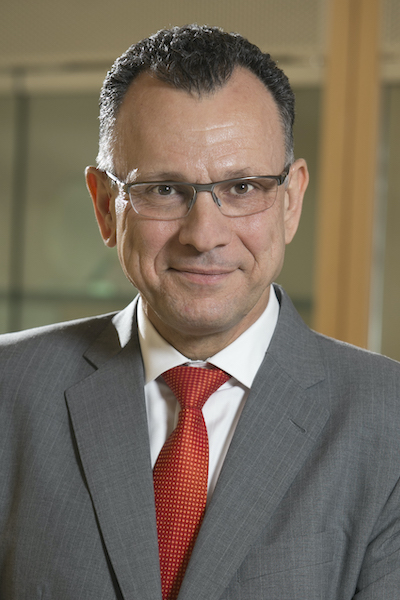 Fotis Sotiropoulos, Ph.D., serves as interim provost and dean of the College of Engineering and Applied Sciences at Stony Brook University, where he is also a SUNY Distinguished Professor of civil engineering. Before joining Stony Brook, he was the James L. Record Professor of Civil Engineering, director of the St. Anthony Falls Laboratory and director of the EOLOS wind energy research consortium at the University of Minnesota, Twin Cities (2006–2015). Prior to that, he was on the faculty of the School of Civil and Environmental Engineering at the Georgia Institute of Technology, with a joint appointment in the G. W. Woodruff School of Mechanical Engineering (1995-2005). His research focuses on simulation-based engineering science for tackling complex, societally relevant fluid mechanics problems in energy, environment, aquatic biology and human health applications. He has authored over 200 peer-reviewed journal papers and book chapters, his H-index is 64, and his research results have been featured on the cover of several prestigious journals. He has been awarded the 2019 American Geophysical Union (AGU) Hydrology Days Borland Lecture in Hydraulics, the 2017 Hunter Rouse Hydraulic Engineering Award from the American Society of Civil Engineers (ASCE), a 2014 distinguished lecturer of the Mortimer and Raymond Sackler Institute of Advanced Studies at Tel Aviv University, and a Career Award from the National Science Foundation. Sotiropoulos is a fellow of the American Physical Society (APS) and the American Society of Mechanical Engineers (ASME) and has twice won the APS Division of Fluid Dynamics Gallery of Fluid Motion (2009, 2011).
Abstract:
The Coronavirus disease outbreak of 2019 (COVID-19) has been causing devastating loss of life and unprecedented economical loss throughout the world. Social distancing and face masks are widely recommended around the globe in order to protect others and prevent the spread of the virus through breathing, coughing and sneezing. Existing guidelines, however, vary considerably (e.g., CDC vs. WHO guidelines) and many are based on decade-old scientific studies. To expand the scientific underpinnings of such guidelines, Stony Brook University researchers have developed high-fidelity computational fluid dynamics models to elucidate the underlying physics of saliva particulate transport during human breathing and coughing with and without facial masks. Numerical simulations on massively parallel supercomputers are carried out under both a stagnant ambient flow (indoor) and a mild unidirectional breeze (outdoor) conditions, incorporating the effect of human body anatomy on the flow, accounting for both medical and non-medical grade masks, and considering a wide spectrum of particulate sizes, ranging from 10 to 300 micro meters. The numerical results clearly show that the CDC-recommenced social distancing guideline of 6 feet alone, i.e., without wearing a facial covering, cannot protect against the spread of COVID-19. Results show, for instance, that during coughing in an indoor environment, some saliva particulates can travel in excess of 8 feet and linger suspended in the air for several minutes before settling to the ground. Facial coverings, on the other hand, whether medical or non-medical grade, can be very effective in curbing the spreading of particulates expelled during breathing or coughing, and when used in conjunction with social distancing guidelines, can protect against the spread of the virus.
Free and Open to the Public.
This is a Live Virtual Event. Co-sponsored by the Senior Vice President for Health Sciences and Dean, Renaissance School of Medicine.
---
December 3: Kenneth Kaushansky, Bettina Fries, Sharon Nachman
COVID Vaccines in Development:
Which Ones May Give Us Our Best Shot at Returning to Normalcy?
Wednesday, December 3, 2020
12-1 pm Eastern Time (US and Canada)  
Register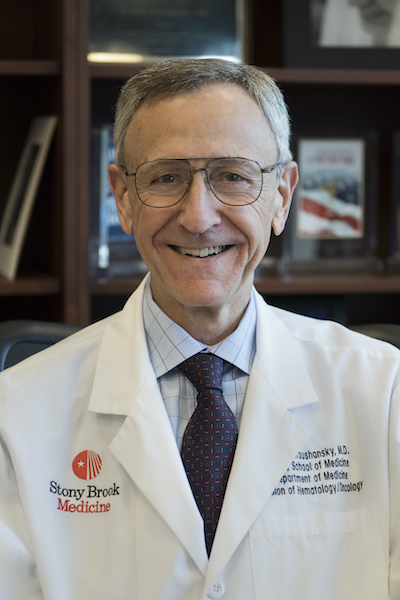 Kenneth Kaushansky, M.D., MACP, is the Senior Vice President for Health Sciences at Stony Brook University and the Dean of the School of Medicine. Dr. Kaushansky is a world renowned hematologist, physician-scientist and teacher whose transformative contributions to understanding hematopoiesis have been recognized by his election into the Institute of Medicine and the National Academy of Sciences. His research has led to several significant discoveries, for which he received the Dameshek Award from the American Society of Hematology, the Outstanding Investigator Award from the American Society for Medical Research and the Ernest Beutler Award from the American Society of Hematology. Dr. Kaushansky is an inventor on six issued US patents that have been licensed or assigned to two companies. He has published over 140 peer reviewed papers and over 115 invited papers, Editorials or Textbook Chapters. He has served as Editor-in-Chief of Blood and on the Editorial Board of The Hematologist. He currently serves as lead editor of Williams Hematology Hemostasis and Thrombosis. Dr. Kaushansky is a Fellow of the American College of Physicians, Member of American Academy of Arts and Sciences, and a Master, American College of Physicians.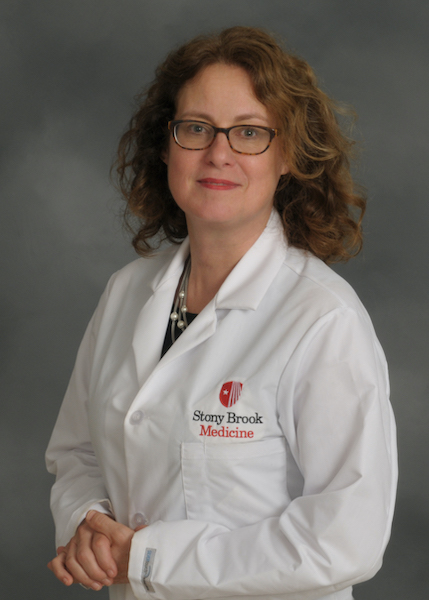 Bettina Fries, M.D., is a nationally recognized physician-scientist in the field of microbiology, who joined Stony Brook Medicine as tenured Professor and Chief of the Division of Infectious Diseases in the Department of Medicine in August 2014. She also has a co-appointment in the Departments of Microbiology and Immunology, where she mentors and teaches graduate students. She continues to practice as an ID consultant and Internal Medicine Attending at Stony Brook University Hospital as well as the Veterans Hospital in Northport. Dr. Fries has received numerous extramural grant support, including 18 straight years of support by the National Institutes of Health. The primary focus of her research is on the pathogenesis of chronic fungal infections as well the development of monoclonal antibodies against multidrug-resistant bacteria. These antibodies serve both therapeutic and diagnostic purposes. Her structural analysis on how antibody-cocktails result in allosteric changes is highly relevant for the current search to develop Antibody-cocktails for treatment of Sars-CoV2. During the pandemic she advised the team leaders of the Hospital Incident Command center about emerging novel therapeutics to treat Covid19 disease. She applied her authentic curiosity to finding solutions and early on engaged SBU in clinical trials. Her expert opinion was sought within the university, by local government, press and the public. Nationally, Dr. Fries is a Fellow of the Infectious Disease Society of America and the President elect of the Medical Mycological Society of the Americas (MMSA). In 2019 she was elected member of the American Academy of Microbiology (ASM) after being a productive member for 20years. She was also chosen to serve as a distinguished lecturer for ASM. From 2018-2019 she served as the President of the Infectious Diseases Society of New York. Currently she serves as the Co-chair of the IDSA task force to integrate regional chapter organizations and foster lobbying the federal and NY state government for IDSA pertaining issues. She is a regularly invited reviewer for journals and grants, served as a charter member (until 2017) of the AIDS-Associated Opportunistic Infections and Cancer Study Section of the National Institute of Allergy and Infectious Diseases (NIAID). Dr. Fries has published over to 90 original scientific manuscripts. She is also a regularly invited speaker to various international and national conferences.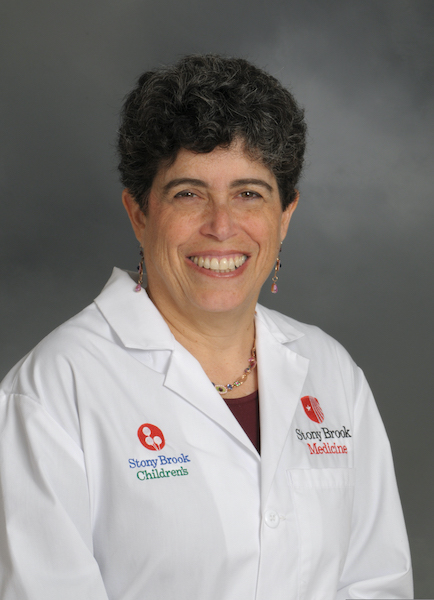 Professor Sharon Nachman is a scientist and pediatric clinical investigator with more than 25 years of continuous NIH support (U mechanism from the IMPAACT network) dedicated to developing and implementing clinical therapeutic trials for infants, children, adolescents and pregnant women. She has had leadership roles in over 25 clinical trials developed through the PACTG and now IMPAACT network, including 20 as either protocol chair or vice chair. All studies have enrolled, analyzed, and published results that have changed the way we evaluate and treat HIV infected and exposed children and women worldwide. While much of her work has centered around these populations, she also developed studies helping to define the dose and PK for new antibiotics, evaluate new vaccines and understand the long term issues that develop in infants born to HIV+ women worldwide. Professor Nachman serves as the PI and Chair of the IMPAACT Network
Abstract:
SARS-CoV2 is the RNA virus responsible for the COVID-19 pandemic. The infection first appeared in Wuhan, China and has swept through nearly every country in the world, with the US displaying one of the highest infection rates and mortality rates of any country on the planet. At the time of writing, over 11 million Americans have been infected, one million of whom did so in the past week alone. And nearly 250,000 Americans have died of severe COVID-19 disease.
Over the past 10 months, a number of new drugs and treatment protocols have been established, including many at Stony Brook Medicine, that have reduced the morbidity and mortality of this disease. However, none of these interventions has the potential for a significant reduction in the pandemic. Rather, a robust immune response to the virus in the majority of the population ("herd immunity") is likely the only solution to the pandemic.
This mini-symposium will first discuss the basic biology of the immune response to foreign invaders, which forms the basis of the development of a vaccine for SARS-CoV2. Work with the two preceding severely pathogenic strains of coronaviruses, the causative agents of SARS (2003) and MERS (2011), identified the coronavirus spike protein as the site by which each virus enters host cells that bear the appropriate receptor. Recent work with purified SARS-CoV2 also identified the spike protein as a logical candidate for the target of a vaccine that would block viral entry into human host cells, thereby eliminating infectivity. The three basic types of the vaccine under current development, RNA, vector-borne and purified protein, all designed to elicit an immune response to the SARS-CoV2 spike protein, will be discussed. The second talk will focus on current clinical trials of six of the vaccine candidates, including the two RNA vaccines for which 45,000 person and 30,000 person clinical trials have recently been completed, with reported 90-95% effectiveness in preventing natural acquisition of infection, and near elimination of severe, life-threatening disease, albeit with minor side effects in a minority of individuals. The final talk will discuss some of the current efforts to develop passive immunity, for example, with convalescent plasma or a cocktail of anti-spike protein monoclonal antibodies. Other treatments, but primarily will focus on the logistics that must be considered in the widespread use of any anti-SARS-CoV2 vaccines to develop herd immunity. At this time, the pandemic will no longer be sustained and will be extinguished.
Free and Open to the Public.
This is a Live Virtual Event. Co-sponsored by the Senior Vice President for Health Sciences and Dean, Renaissance School of Medicine.
---
November 18: George Em Karniadakis
From PINNs to DeepOnets: Approximating functions, functionals, and operators using deep neural networks for diverse applications
Wednesday, November 18, 2020
2 pm Eastern Time (US and Canada)  
Register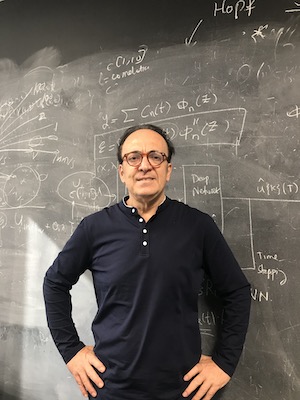 George Em Karniadakis received his SM and PhD from Massachusetts Institute of Technology. He was appointed lecturer in the Department of Mechanical Engineering at MIT in 1987 and subsequently he joined the Center for Turbulence Research at Stanford/Nasa Ames. He joined Princeton University as assistant professor in the Department of Mechanical and Aerospace Engineering and as associate faculty in the program of applied and computational mathematics. He was a visiting professor at Caltech in 1993 in the Aeronautics Department and joined Brown University as associate professor of applied mathematics in the Center for Fluid Mechanics in 1994. After becoming a full professor in 1996, he continues to be a visiting professor and senior lecturer of Ocean/Mechanical Engineering at MIT. He is an AAAS fellow (2018), fellow of the Society for Industrial and Applied Mathematics (2010), fellow of the American Physical Society (2004), fellow of the American Society of Mechanical Engineers (2003) and associate fellow of the American Institute of Aeronautics and Astronautics (2006). He received the Alexander von Humboldt award in 2017, the Ralf E Kleinman award (2015), the J. Tinsley Oden Medal (2013), and the CFD award (2007) from the US Association in Computational Mechanics. His h-index is 103, and he has been cited over 52,000 times.
Abstract:
Karniadakis will present a new approach to develop a data-driven, learning-based framework for predicting outcomes of physical and biological systems, governed by PDEs, and for discovering hidden physics from noisy data. He will introduce a deep learning approach based on neural networks (NNs) and generative adversarial networks (GANs). He will also introduce new NNs that learn functionals and nonlinear operators from functions and corresponding responses for system identification. Unlike other approaches that rely on big data, here we "learn" from small data by exploiting the information provided by the physical conservation laws, which are used to obtain informative priors or regularize the neural networks. He will demonstrate the power of PINNs for several inverse problems in fluid mechanics, solid mechanics and biomedicine including wake flows, shock tube problems, material characterization, brain aneurysms, etc., where traditional methods fail due to lack of boundary and initial conditions or material properties. He will also present a new NN, DeepM&Mnet, which uses DeepOnets as building blocks for multiphysics problems, and he will demonstrate its unique capability in a 7-field hypersonics application.  
Free and Open to the Public.
This is a Live Virtual Event. Co-sponsored by the Department of Applied Mathematics and Statistics and the Institute for Advanced Computational Science.
---
For more information, please email provostlectureseries@stonybrook.edu