Skip Navigation
2019 Provost's Lecture Series
Lecture Series Guidelines                         View the YouTube Playlist
February 8: Richard Prum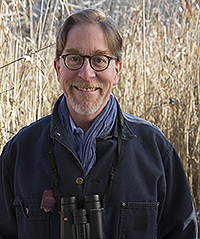 The Evolution of Beauty: Darwin's Really Dangerous Idea
Richard Prum is the William Robertson Coe Professor of Ornithology at Yale University. He is an evolutionary biologist and ornithologist with broad interests in avian evolution, behavior, systematics, color production, color vision, the evolution of feathers, the theropod dinosaur origin of birds, and more. Prum has received the MacArthur, Guggenheim, and Fulbright Fellowships. His 2017 book, The Evolution of Beauty: How Darwin's Forgotten Theory of Mate Choice Shapes the Animal World– and Us, was named a Top Ten Book of 2017 by the New York Times, and was a 2018 Pulitzer Prize Finalist in General Non-Fiction. Prum's writing has been published in the The New Yorker, The New York Times, The New York Times Book Review, Natural History, and Scientific American. A life-long birdwatcher, Prum has done field work on every continent.
Co-Sponsors: Department of Ecology and Evolution, Living World Lecture/Science Open Nights 
Abstract: Mate choice in animals is commonly thought to select for the evolution of honest signals that indicate objective information about mate quality. This seminar will explore the authentically Darwinian alternative that animals select their mates based on their subjective preferences– i.e. what they like. Consequently, ornaments are neither honest, nor manipulative; they are merely beautiful. This aesthetic perspective on evolutionary process places the subjective experience of animals at the center of scientific explanation, and may provide insight into change aesthetic marketplaces for fine art, music, and commercial arts.
Friday, February 8,  7:30 pm,  Earth and Space Sciences, Lecture Theater 001