Skip Navigation
Presidential Search Update
Welcome to Maurie McInnis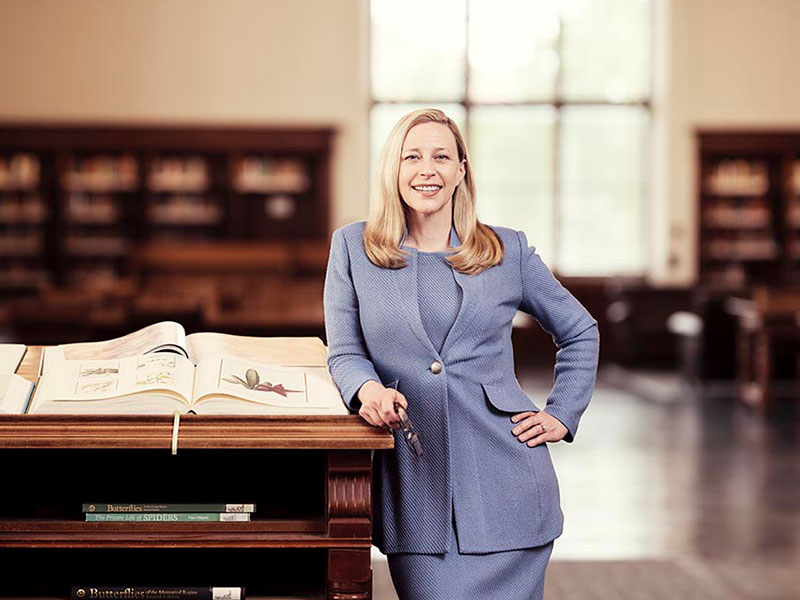 Dear Stony Brook Community,
SUNY, like many colleges and universities around the country has moved its operations online to keep our students, faculty and staff safe, while doing our part in managing the challenges of the COVID-19 pandemic. Our work continues thanks to the efforts and creative thinking of our Stony Brook community who stepped up to ensure that our students continue to receive the terrific education they've come to expect. And just as our day to day business continues, our efforts to find our next President Stony Brook continued too.
In August of 2019, we launched an exhaustive national search and on behalf of the Stony Brook Presidential Search Committee, chaired by Kevin Law, I am delighted to announce the selection of  Maurie McInnis Ph.D. as our sixth President. Dr McInnis, currently the executive vice president and provost at the University of Texas – Austin was named President after a unanimous vote today by The State University of New York Board of Trustees, Chaired by Merryl H. Tisch.
We take this action because we believe that in doing so, we lay the foundation for the future when we emerge from this crisis, stronger, together (#SUNYTogether). 
This is an exciting moment for Stony Brook University, and I'm confident Dr. Maurie McInnis will take the university to even greater heights in achieving its unique role in fostering innovation, creativity and research that impacts the state, country and the world. Dr. McInnis's scholarship that advances cross-disciplinary research, her extraordinary advocacy on the part of faculty excellence and her demonstrated excellence in fostering greater opportunities for students through higher education aligns perfectly with the mission of Stony Brook University.
I also want to thank Interim President Dr. Michael Bernstein. He accepted the role in August and continues to lead the Stony Brook campus in extraordinarily uncertain times. I am grateful for his leadership.
While the current COVID19 pandemic doesn't allow us to be together to celebrate this terrific news, there will be a time soon when our community will be able to come together to welcome Dr. McInnis to our Stony Brook family.  
I would like to thank Kevin Law, the Chair of the Stony Brook Council, who led the search and his committee of outstanding faculty, students, staff and Council members for their hard work helping the SUNY Board of Trustees select the sixth president to lead Stony Brook University. 
Sincerely yours,
Kristina M. Johnson
SUNY Chancellor
Search Committee Membership
Linda Armyn, Stony Brook Council
Mark Aronoff, Faculty Representative (Linguistics)
Kimberly Joy Dixon, Member of the Professional/Support Staff (Career Center) 
Axel Drees, Faculty Representative (Physics & Astronomy) 
Joshua Dubnau, Faculty Representative (Anesthesiology)
Brooke Ellison PhD '12, Faculty Representative (Health and Rehabilitation Sciences)
Richard L. Gelfond '76, Hon. '04, Stony Brook Foundation 
Christopher Hahn, Stony Brook Council 
Shaheer Kahn-Undergraduate Student Representative 
Father Alex Karloutsos, Stony Brook Council 
Kevin S. Law '82, Stony Brook Council and Search Committee Chair
Celia Marshik, Faculty Representative (English)
I. Memming Park, Faculty Representative (Neurobiology & Behavior)
Clint Rubin, Faculty Representative (Biomedical Engineering)
Nicole Sampson, Interim Dean, College of Arts & Sciences 
James H. Simons, Hon. '92, Stony Brook Foundation 
President Harvey Stenger, Binghamton University, Chancellor's Designee 
Christina Vargas '90, MA '93, Alumni Representative 
Xiaoqing Zhang-Graduate Student Representative
Campus Liaison - Judith Greiman
Campus Support Staff - Rachel Cavanagh
Chancellor's Staff - Zulaika Rodriguez, Paul Patton
The timeline for a presidential search — from its initiation and development of a search committee to candidate review, interviews and final selection — takes several months.
Details are included here:
PRESIDENTIAL SEARCH PROSPECTUS - 
Posting for the position, including details on the college, community and campus.
Isaacson, Miller (IM) is one of the country's largest, national, retained search firms dedicated to the full range of public and civic missions. With over 255 employees, 74% of whom are women, 20% people of color, in offices in Boston, Los Angeles, Philadelphia, San Francisco, and Washington, DC. IM conducts 300+ executive searches annually and has engaged in over 7,000 searches in the firm's history.  IM recruits outstanding leaders who strengthen organizations that advance the public good.
Higher education constitutes its most robust practice area, accounting for more than two-thirds of searches. The firm has developed both a deep network of contacts in the academy and the capacity to reach creatively outside the academy for appropriate candidates.
Michael Baer is the lead search consultant, and he will be assisted by  Ernest Brooks.